Family Holiday traditions are very weird, like how my family does an Egg Nog tasting every Thanksgiving… after dinner. You know, because we're still hungry and it's not like Egg Nog is filling at all. In fairness, it was a tradition born by accident. One year, literally everyone thought they were in charge of bringing egg nog, so they brought a couple and we ended up with, like, 15 of them. Since then, we've intentionally started doing this. Sometimes, this gets super complicated and involves blind tastings and whatnot, but the last couple years have been pretty informal. Check out some previous recaps: [2013 | 2012 | 2010 | 2008].
The past few years have represented an attempt to find different egg nogs instead of crowning the same two every year (usually local mainstays Wawa or Swiss Farms). This has been fine, but I don't think any of those actually beats our normal champions. This year, we returned to previous champions, and went for some new things too. Not a crazy number of entries this year though: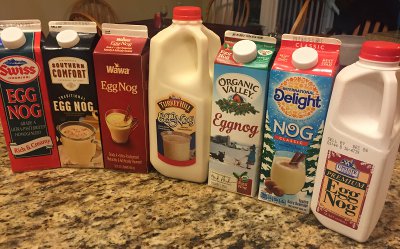 For posterity, the Egg Nogs pictured here are (from left to right):
Swiss Farms Premium Egg Nog
Southern Comfort Traditional Egg Nog
Wawa Egg Nog
Turkey Hill Egg Nog
Organic Valley Eggnog
International Delight Classic Nog
Upstate Farms Premium Egg Nog
So we've got three former winners (Swiss Farms, Wawa, Upstate Farms), two standard, middle of the pack entrants (Southern Comfort and Turkey Hill), one I don't remember having before (but which I apparently have), and one that isn't even Egg Nog. It's always amusing how these weirdos try to trick people into drinking this stuff. The giveaway is the use of the word "Nog" without the corresponding "Egg". That International Delight nog is described as a "Festive Dairy Beverage" whatever that means. You might think this would be a shoe-in for "Worst in Show", but in reality, it was kinda just like milk with some cinnamon and nutmeg or something. Not bad at all, but not really anything like an egg nog either.
In an odd turn of events, Upstate Farms got under some people's skin and ended up taking the award for worst egg nog. I didn't think it was that bad, but it was clearly inferior to the top two, Wawa and Swiss Farms. Someone mentioned that Upstate had a sorta artificial, chemically character to it. I didn't really get it, but whatever! Swiss Farms took first place, and at this point, remains undefeated. Personally, I still go for Wawa, but that's just me.
It was fun, as usual, but it was a pretty low key year. Perhaps next year will be the year we finally break down and make our own egg nog. If we can get over our fear of making everyone sick, which seems likely? I feel like it should be simple enough, but we'll see. Otherwise, I want to find something I can bring to rival Swiss Farms. It's good, but I don't know that it's quite as dominant as its performance the past few years indicates. Until next year!