The 2022 Hugo Awards finalists were announced last week, so it's time for the requisite congratulations and/or bitter recriminations. I fell off the Hugo bandwagon last year, but got back in this year and submitted some nominations, so let's take a look at the finalists and see how I did:
Best Novel
I've only read one of the finalists for Best Novel, but it was one of the books I nominated. Project Hail Mary by Andy Weir was probably my favorite SF of the past couple of years and it was naturally one of my nominations, so it's clearly the book to beat on my ballot.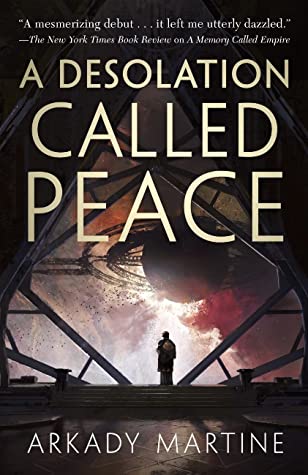 A Desolation Called Peace, by Arkady Martine, is the sequel to A Memory Called Empire, which won Best Novel in 2020 and which I enjoyed quite a bit. I've already started this one, and it seems to be stepping up a bit from the first, which is a good sign.
The Galaxy, and the Ground Within, by Becky Chambers, was on my radar and Chambers has been frequently nominated (this book is part of a series that won Best Series a couple years ago), but I never got around to it. I'm somewhat mixed on her Wayfarer's books. I really loved one of them, thought another was solid, and didn't particularly care for the last one. This sounds interesting enough, so we'll see how it compares…
Light From Uncommon Stars, by Ryka Aoki, is completely new to me. The title makes it sound like SF, but the blurb is pretty definitively fantasy: featuring cursed violins, Faustian bargains, and queer alien courtship over fresh-made donuts. Those are some interesting ingredients, but it also sounds like the sort of thing that might not cohere for me.
A Master of Djinn, by P. Djèlí Clark, sounds like a fun little fantasy mystery set in Egypt. Apparently part of a series that Clark established via novellas the past few years, he's been a mainstay of the Hugos for a while now, though this is his first novel.
She Who Became the Sun, by Shelley Parker-Chan, sounds an awful lot like a more serious take on Mulan. It seems to be a solid story, but honestly, I'm not seeing much in the way of SF or fantasy elements, though I guess there could be some alternate history tropes going on here… I guess we'll find out soon enough!
Overall, it's an interesting ballot. In terms of genre, we've got 3 SF and 3 Fantasy. Interestingly, the three Fantasy novels are all debuts, while the SF are from established authors. Three finalists appear to be part of a series, though only one of those seems to require you to have read a previous book. A male author (2 male authors) shows up on the best novel ballot for the first time since 2018. As of right now, I'm still assuming that Project Hail Mary will top my ballot, but you never know.
Short Fiction
A lot of common names show up on the Novella ballot, and actually all the shorter fiction categories have authors that are popular with Hugo voters. I'll probably take a swing at Short Stories again this year, even though I'm inevitably disappointed by the category (though they are easy to read, since they're so short)…
Best Dramatic Presentation
The big surprise here is that Hugo voters actually put some more thought into this ballot than usual. Oh sure, you've still got Marvel and Disney entries, and Dune was pretty much a lock, but the big surprise is that The Green Knight garnered a spot. Space Sweepers is also nominally interesting here as well, as Hugo voters don't typically go for foreign flicks. I suspect Dune will still win it, but it's a more varied ballot than usual. In terms of the Short Form award, it's nice to see 5 nominees from shows that haven't been nominated before. This is a far cry from when this category was generally referred to as "Which Dr Who episode should we give an award to?" (which, granted, has been a while, but still.)
Other Categories and Assorted Thoughts
Congrats to all the nominees, it seems like a fine set of finalists.
Best Series continues to be something of a popularity contest, but then, that's generally what the Hugos are… At least none of these series are also nominated in the Best Novel category this year. I'm guessing it's Seanan McGuire's year, but you never know.
Lodestar Award for Best Young Adult Book has one novel I actually read in preparation of the Hugos this year, but didn't particularly love. Chaos on CatNet, by Naomi Kritzer, probably makes more sense as a YA book. Some interesting ideas about AI and the way apps/games/algorithms can impact privacy and security, but it felt a bit messy to me…
So there you have it, the 2022 Hugo Awards in a nutshell. I'll definitely be reading the novels, and maybe some of the short stories too, so keep an eye out for reviews…