Yes, we watch a lot of movies during the Six Weeks of Halloween, but that's not the only way to celebrate the season. I don't talk much about the hayrides or haunted houses (or haunted… dining establishments?) or pumpkin mutilation carving ceremonies that I partake in during this most hallowed of seasons, but there's not really a ton to say about those experiences other than the fact that the pandemic has eased a bit, such that social interaction is actually possible these days, which is nice. Anywho, I also like to tailor my reading towards the season though, and while we're a far cry from the pandemic fueled record of 9 books, we're still averaging about a book a week (which is generally my target for the whole year). Let's see what kinds of spooky literature we could scare up this year:
Halloween Reading Roundup 2022
Dark Entries by Robert Aikman – While most of his stories are pretty firmly categorized as horror, Aikman was an ornery sort who seemed to look down on the genre, instead referring to his stories as "strange tales." Which isn't entirely wrong, because these stories are unlike anything I've read. Even stories that hew to some semblance of conventional tropes end up in a flummoxing place. Like you get to the end of the story and ok, the woman's house is haunted by the ghost of her father, but… is her father's ghost also her baby's father? Aikman, of course, would never answer that question directly and the story itself barely hints in that direction. Maybe I'm the weird one? That's the sort of feeling an Aikman story gives you. Indeed, it's difficult to capture what makes these stories work because almost anything I tell you about them will sound deeply unsatisfying. But they're not, which is a neat trick that I don't think many writers can pull off. The prose is not baroque or otherwise filled with hooptedoodle; Aikman certainly knows how to let things breath without making a story feel like an empty stylistic exercise. These aren't propulsive action-packed stories, but neither are they dull literary experiments. Again, difficult to encapsulate.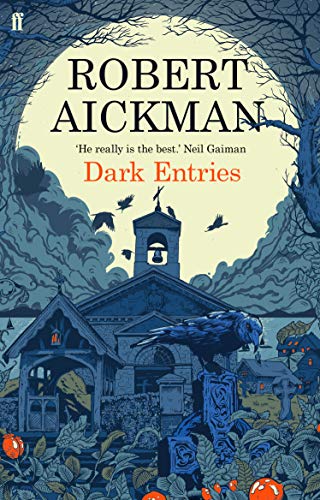 Dark Entries was his second collection of stories, originally published in 1964, and it seems like a pretty good place to start. Six stories, most of them memorable and disconcerting in their own way. The highlight, to my mind, was "Ringing the Changes", a sorta horror story about marriage, but as previously mentioned, it's hard to really capture the essence of the story. It invokes a wonderful atmosphere of creeping dread that grows more and more surreal as the story progresses (while always remaining grounded). At one point, a crowd of townfolk parade through the town chanting:
'The living and the dead dance together.
Now's the time. Now's the place. Now's the weather.

Page 76, Dark Entries by Robert Aikman
Something about the whole thing just struck me as wonderfully macabre, and it's almost the perfect slogan for The Six Weeks of Halloween as a concept. You better believe Aikman will be revisited in future 6WH reading (I've already secured a copy of The Wine Dark Sea for just that purpose).
---
A Collapse of Horses by Brian Evenson – My favorite discovery of last year's 6WH reading was Brian Evenson, so I took a flier on another short story collection of his. While I do think that the collection I read last year, Song for the Unraveling of the World, is superior, this one ended pretty strong. Unfortunately, it's a little more uneven and it starts slow. About halfway through, things pick up, and Evenson's stripped down, simple, but still evocative prose always keeps things moving. His stories tend to be on the shorter side as well, so even if you find yourself not like a story, it won't be long until you get to the next one.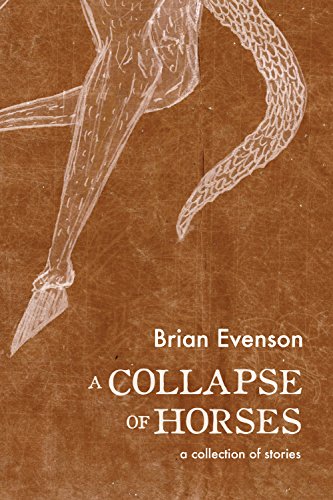 Highlights include the story "The Dust" (which is actually one of the longer stories), "The Window", and the eponymous "A Collapse of Horses." A couple of the stories contain Aikman-like strangeness, albeit in a more obviously horror story framework, like "Click" or "The Moans." Altogether a solid, if more uneven, collection (which, to be fair, is generally what collections tend to be like.)
---
Those Who Hunt the Night by Barbara Hambly – Alright, I think we've covered the highfalutin literary stuff I've read this year, let's get to something a little more pulpy. And to be clear, I love pulpy, and this is a great example of that sort of thing. A retired British spy named James Asher is recruited to hunt down a vampire killer that's been plaguing London's vampire community. His handler is one Don Simon Ysidro, a 400 year old vampire that does not trust humans, but needs a human ally, as Ysidro cannot investigate during the daylight hours (which is when the vampire hunter strikes). Naturally, there is a deep lack of trust between Ysidro and Asher, both worried about the sudden but inevitable betrayal this situation seemingly demands of them.
There's some nice bits of tradecraft as befits Asher's history as a spy, and his background in linguistics comes in handy as well. There's plenty of vampire lore which is slowly doled out as Asher investigates. This dynamic, where someone is trying to investigate an insular group who won't share information, is normally something that might get on my nerves, but everyone's motivations are well established and the consequences of sharing too much are also high enough that it all works without feeling like lazy storytelling.
Hambly is an established writer of fantasy and historical fiction, but her style here does appeal to the science fiction nerd's attention to detail. Lots of speculation and exploration of unintended consequences, historical context, and so on, that I found quite engaging (though I suspect fans of more schlocky horror might be bored by this level of detail). Thematically, she's exploring the ideas of predation and trust in a careful way (i.e. What are the ethics of hunting humans for survival's sake?), and just in case you were concerned: the vampires here are basically portrayed as sympathetic but asexual monsters, only touching on attraction and desire as a tool for hunting (i.e. there's no Twilight or Anne Rice-style fetishization of vampires to be found here).
This is apparently a long-running series, and yes, I will most definitely be revisiting this in future 6WH. Recommended!
---
October Dreams: A Celebration of Halloween – An anthology featuring stories from a wide variety of authors. The stories themselves are a bit of a mixed bag, which is par for the course when it comes to this sort of thing, but one thing I will say about them: They really take the theme of the anthology seriously. When they say this is a "celebration of Halloween", they mean it, and nearly every story takes place on Halloween night and prominently features the holiday in some way. As such, it's kinda perfect reading for the season.
Highlights include Peter Straub's excellent "Pork Pie Hat" about a jazz musician's memorable childhood Halloween, "The Black Pumpkin" by Dean Koontz (about a pumpkin monster, I guess?), "The Circle" by Lewis Shiner (about authors reading spooky stories to each other on Halloween night), and several others. I also have to laugh at "Buckets" by F. Paul Wilson, the sort of story that touches a political third rail, but really goes for it.
The stories are interspersed with nonfiction chapters where authors share "My Favorite Halloween Memory" that are probably more miss than hit. Some are decent and interesting, but most come off as pure filler. Similarly, there are a few chapters about Halloween movies and stories that are solid, but not exactly authoritative. Still, all in all, a pretty fantastic little collection, especially for the time of year.
---
On a Pale Horse by Piers Anthony – Pulpy tale of a man who inadvertently kills Death, and therefore must take over the job himself. He thus travels the world, reaping the souls of those whose balance between good and evil are in question, determining if they belong in heaven or in hell. New to the job, he quickly stumbles into a trap set by the devil himself.
I heard of this book decades ago, but never really pulled the trigger until now. I thought about a normal guy learning to become the personification of Death would be spooky, and to some extent, I suppose there's a little of that. But ultimately, this becomes a sorta episodic story as each victim of death pleads their case (or doesn't, as it were). The nuts and bolts of the afterlife are not especially interesting (and I'm once again struck by how many stories people tell about how badly human beings do succession planning – is this really the best way to fill the office of Death?) and there's a whole love story subplot that is pretty cringey. Ultimately, the book winds up being fine, I guess, but I wasn't taken with it enough to want to explore the whole series, so this is one thing you won't see me revisiting in future 6WH marathons…
---
The Tomb by F. Paul Wilson – The Keep was one of my favorite horror books when I read it as a teenager, but for some reason, I've never revisited that series (dubbed The Adversary) or Wilson in general, so I thought it was time. This book is supposed to be the second in the series, but it's the first appearance of another character that Wilson has built a series around, one Repairman Jack. He's basically a mercenary, living off the grid, fixing things for people who cannot find help elsewhere.
As this novel opens, Jack is hired by two people. One, to find a necklace stolen in a mugging, and the other a British heiress who had disappeared. Wanna bet that these two stories connect? Of course they do, and along the way we're treated to Indian folklore and monsters and magic elixers, and so on. As a character, Jack isn't quite as impressive as he's made out to be (it's one of those things where everyone has a lot of respect for him and talk about how great he is, but when you see his working methods, they don't seem particularly impressive), but he's still a solid character and Wilson is a decent enough storyteller such that even when you can see where the story is going or you've predicted a twist, it doesn't really matter that much.
This doesn't really connect with The Keep at all, at least, not directly, but from what I gather, future books in both series have some sort of connection. This is not a total homerun, but I'm still amenable to revisiting the series at some point…
---
So there you have it: Six Weeks of Halloween, six books read. This pretty much wraps up the 6WH for 2022, but as per usual, I'm already looking forward to next year's festivities…