From all appearances, the Six Weeks of Halloween is primarily a movie watching exercise, but all is not what it appears: the Halloween season is filled with other nominally spooky activities like hayrides, haunted houses (and haunted dining establishments and haunted mini-golf and haunted bonfires/cookouts, you get the picture), pumpkin mutilation carving ceremonies, and of course, lots of Halloween Reading. The past few years have led to several new discoveries on the horror writer front, but I also like to dip my toes into some more obvious choices, so let's see how this year's selections fared:
Halloween Reading Roundup 2023
Wounds, by Nathan Ballingrud (aka The Atlas of Hell) – A collection of six stories ranging from short to novella length, it's named after a (not very well regarded) movie adaptation of one of the novellas, but the original title of The Atlas of Hell is a much more fitting descriptor of the collection. (Now that the movie has come and gone, future editions of this will revert back to The Atlas of Hell as title and man, even the artwork is much better…)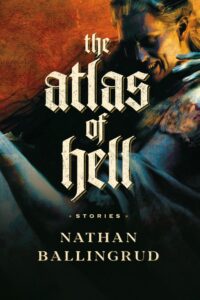 All of the stories touch on Ballingrud's peculiar conception of hell as a physical location, some more than others, and "The Atlas of Hell" is also the name of the first story, a horror/crime hybrid that works well as an introduction to this vision of hell. "The Diabolist" veers in a completely different direction, taking a mournful first person perspective that speaks to the reader in an odd way. It's a stylish approach which only serves to make the more traditional horror elements more effective. "Skullpocket" goes even further afield, telling the story of how a particular town is coexisting with literal ghouls with an almost YA tone to it (my guess is that this would be the most divisive of the stories). "The Maw" returns to more conventional territory, though as the characters start to explore Hell's intrusion into our reality, the distressing imagery and creepy ideas become more effective. "The Visible Filth" is the aforementioned novella that got adapted into a movie. It's about a bartender who finds a cellphone in his bar and starts getting increasingly disturbing text messages. It's a neat setup, and it actually reminded me of a more serious and sober take on something like Unfriended 2: Dark Web. It wasn't my favorite story and it's not an obvious choice for an adaptation, but it's certainly creepy.
"The Butchers Table" is the longest story in the collection, and by far the best. Ballingrud accomplishes in just 100 pages what most writers would spend 500 pages (or more) to do. Several of the other stories in the collection touch upon the mythology that Ballingrud is building, but mostly on the periphery. Here, it emerges fully formed and perfectly calibrated. This story packs in so much: pirates, satanists, cannibal priests, disturbing hellscapes where, like, the characters hang out in a giant corpse of an angel, and absolutely terrifying monsters called Carrion Angels that are hot on our protagonists' heels. It's truly impressive how much worldbuilding Ballingrud was able to pack into this story without descending into tedious info dumps and still finding room for the requisite intrigue and betrayals that you'd expect given the type of people involved. I will most certainly be reading more Ballingrud during future Six Weeks of Halloweens…
---
X's For Eyes, by Laird Barron – A genre mashup evoking the like of the Hardy Boys and The Venture Brothers taking on elder gods and touching on cosmic horror, this is a short novella (novelette?) that incorporates plenty of corporate skullduggery, science fiction, and a heaping helping of adventure.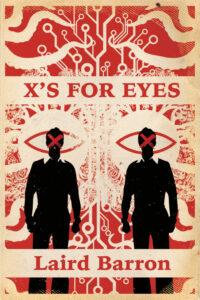 Not quite as impressive or seamless as Ballingrud's "The Butcher's Table", this nonetheless manages to pack a lot of ideas and worldbuilding into a quickly paced thriller. It's not quite episodic, but there are some jarring and sudden twists and turns that might throw you for a loop, but I wound up quite enjoying this. Recommended!
---
Skeleton Crew, by Stephen King – Over the past several years, I've been working my way through King's major short story collections. As with all such endeavors, especially longer ones like this, the stories can be hit or miss. But it's Stephen King, so most are a hit.
Notable stories include "The Mist", a novella that's almost too perfectly constructed (with a great movie adaptation as well). "Mrs. Todd's Shortcut" has a great progression and might be my favorite of the collection. "The Jaunt" is the odd science fiction story that King manages to add his usual touch to. "The Raft" is also quite effective for such a simple story (and the best part of Creepshow 2). "Survivor Type" has a delightfully macabre premise that would be a spoiler by itself. "The Ballad of the Flexible Bullet" is also quite effective and clearly taps into the fears writers (perhaps particularly fears of horror writers) have about where their inspiration comes from.
As usual, some of the stories fall into King's standard traps. He sometimes writes himself into corners, and some of the stories can get wordy and go on for too long, which brings down the pacing some too. That said, he's a consumate storyteller, and his skill is on ample display. I'm a little disappointed that I've seemingly exhausted his major short story collections, though there are a couple of other collections (of novellas and the like) that I could check out in future marathons. Or maybe I'll finally bite the bullet and read It.
---
The Dead Friends Society, by Paul Gandersman & Peter Hall – Longtime readers of this blog know that I have an inexplicable love of slasher movies, but I've had a lot of trouble finding books that can execute the formula well. This is actually a decent example of that sort of thing, though there are some severe flaws. An old house with a tragic past is haunted by a masked killer known as The Fireman, and our heroes must find a way to prevent the tragedies of the past from being revisited upon the present.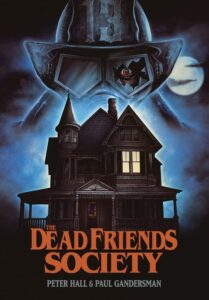 There's the shape of something quite good here, but several aspects of the story kept pulling me out of it. We spend too much time in our main character's head. She has the makings of a solid final girl, but is hamstrung by uncertainty and constant whining about this or that. Look, there's plenty to whine about, but it's boring as hell and makes the story drag. Oddly, if they made a film out of this, I think it could be far more effective, as we wouldn't get the agonizing inner monologue of the final girl. Her actions are competent and even effective, but it doesn't feel like it because she's constantly berating herself. Side characters are marginally better, but they come off as one dimensional and it's still slow going after the exciting initial set-piece. The pacing bogs way, way down for a long time in the middle before picking up again towards the climax. The motivation and powers of the Fireman are unclear, though that's more or less par for the course on this type of thing.
I listened to the audiobook for this one, and I didn't especially like the reader, which I'm trying not to hold against it. Not sure if, for example, the excessive pop culture references are as annoying as they seem because of the way it was performed, but regardless: there's too much of that sort of thing here. All of that said, there's some surprising twists that I was definitely not expecting, and there's an effective mix of slasher and ghost story going on here. I genuinely think a movie adaptation could greatly improve upon this story, if only because we wouldn't have to deal with the constant whinging.
---
Traveling With the Dead, by Barbara Hambly – The sequel to Hambly's Those Who Hunt the Night, one of my favorite discoveries of last year, comports itself quite well, though it does perhaps go on a bit too long. That first novel was about a former spy being recruited to hunt down a vampire killer that was plaguing London's vampire community. This time around, Asher notices an infamous spy from a foreign power smuggling a vampire away from London. He immediately pursues, while his wife follows on his heels, enlisting the services of Don Simon Ysidro, the suave London vampire that has become something of a friend to the Asher family. Like the previous book, there's plenty of tradecraft, intrigue, and vampire worldbuilding. This does bog down in the middle section as all of the chess pieces are being maneuvered for the final showdowns and revelations, and some of that maneuvering is repetitive, but Hambly is a good storyteller, and I appreciate the attention to detail. I don't think this is as successful as the first book, but I like it well enough.
---
Dead Silence, by S.A. Barnes – A deep space salvage crew stumbles upon a long lost ghost ship and sets about securing a big payday. Naturally, they don't call it a ghost ship for nothing, and our salvage crew starts to find all sorts of suspicious stuff about the long dead passengers, who all seemingly went insane and killed each other. Will our heroes suffer the same fate?
Unfortunately, I don't think this novel clicked with me. Part of this might be that the main protagonist is absolutely obnoxious and, like the protagonist in The Dead Friends Society, we spend a lot of time getting inside her head. It also speaks to modern horror's obsession with characters who are severely traumatized and emotionally stunted. I suppose it could be something of an empathy shortcut to give someone a tragic backstory, but it's getting tired at this point, and the romantic angle feels a bit perfunctory as well. Later, we get the bog standard modern sci-fi explanation of corporate greed as the root of all evil, another trend that's becoming overused these days.
It's not a terrible novel, but it's one of those things where I feel like the blend of horror and science fiction clash a bit. Sometimes that oil and water approach can work, but, um, you need an emulsifier like mustard to really get it going properly. How's that for a tortured metaphor? Unfortunately, the science fiction elements generally take a back seat to the horror here, and the horror… isn't very scary or even creepy. This does seem to be a popular book though, so I'm clearly the outlier, though it's ratings are not astronomical…
---
Hidden Pictures, by Jason Rekulak – Fresh out of rehab, Mallory hopes to get her life back in order by taking a job as a nanny to 5-year old Teddy. Things are going well, but soon Teddy's normally playful artwork starts to depict a grisly murder, and Mallory begins to suspect something supernatural at work. As she sets about to solve the mystery, she discovers more than she bargained for…
This apparently won the Goodreads award for Best Horror novel of 2022, and to be fair, Jason Rekulak does have a knack for turning pages. Unfortunately, the overall story leaves a lot to be desired. It spends too much time on a particular red herring, and once the revelations start flying later in the book, they all feel pretty implausible.
I think I can see why this is successful and I didn't hate it or anything, but there were just too many little things that kept bugging me… There's always some tolerance for this sort of thing, but I've learned that when I find myself nitpicking things, it's a sign of some sort of deeper problems in the story. In some ways, the protagonist here is more likable than the ones in Dead Silence or The Dead Friends Society, but there's a similar sort of focus on a character who's been traumatized that's, again, getting kind of tired these days. And while she's able to make progress on the mystery, she does seem way too willing to jump to the supernatural, and she makes some baffling choices throughout. Again, I can see why this became popular, but I wasn't quite able to get on its wavelength…
---
Another successful Six Weeks of Halloween in the books (literally!) At 7 books, I didn't really approach the pandemic fueled record of 9 in 2020, but I'm still averaging about a book a week, which is a pretty solid pace…