I've basically given up trying to keep pace with Tired Hands. Even as they've started re-brewing various beers, I've found that I'll probably not even reach my previous pace. Accordingly, I haven't really been talking about them much here on the blog either. As of right now, I've written 37 posts covering literally hundreds of Tired Hands beers, most of which will never be seen again. There's not a whole lot to say about the beer that hasn't been said, though the intangibles have shifted considerably in the past few years. Once the Fermentaria opened, production ramped up. Then they started canning beer, which generated huge "lines" on a weekly basis. Scare quotes around "lines" because what you'd usually find were hundreds of empty chairs put out around noon on a release day, and maybe a few bearded dudes standing around a few hours early.
But the new hotness can't stay hot forever; entropy took hold and these releases started to unravel, only really getting crazy for their insane Milkshake beers. Bottle releases had long since dwindled (once they started canning hops, the demand for saison bottles dropped off a cliff), even for more prized and limited releases like the Parageusia bottles. During an impromptu visit on a random Tuesday, it turns out that the previous Wednesday's release was still available. The hype cycle has officially reached its end, I think. Perhaps insane popularity, long lines, and hype lead to backlash. Or maybe other local breweries stepping up their NEIPA game had an impact. Are NEIPAs are getting overexposed these days? Do insane "foraged" ingredients and other gimmicks grind people down? Maybe the polar vortex has people bunkering down and actually drinking the beer they have? All of the above?
I regularly waited in line for Tired Hands bottles back in the day. The can releases were never really my thing because they typically happened on Wednesdays and I have this thing called a "job" which generally prevented me from participating even if I wanted to. But frankly, I didn't care too much. There are always great things on tap, often the same beers that are being released in cans, so why bother? I know some folks used it as trade bait, but I suspect that's on the downswing as well. Still, I love me some Tired Hands beer, and it's been a while, so I figured I'd write up this goofy Milkshake variant. I've already gone over the amusing origins of the Milkshake IPA before, but this is a little more amped up from those original releases, and it incorporates more wacky ingredients. Let's take a closer look: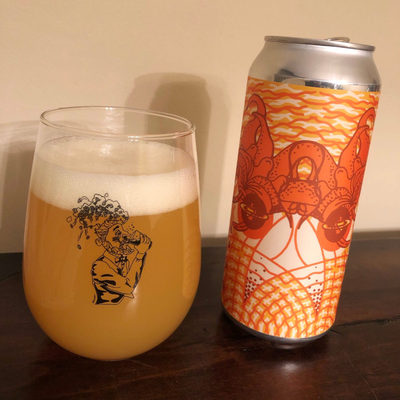 Tired Hands Cacao Hazelnut Tangerine Double Milkshake IPA – Pours that beyond murky pale yellow color with a finger of white head that leaves a bit of lacing as I drink. Smells great, juicy hops, orange juice, tangerine, no real cacao or hazelnut… but I count that as a blessing? Taste is very sweet, lots of juicy hops, that tangerine coming through, maybe a hint of the cacao and hazelnut, but it's not really identifiable and I'm only saying this because I know its there so it's probably like some sort of phantom flavor that I'm detecting, mostly towards the finish. Or, like, maybe I'm just really suggestible. Mouthfeel has that great TH milkshake character up front, medium to full bodied, well carbed, but this skirts the edge when it comes to the boozy factor, which throws it a bit off balance when comparing to the non-double milkshakes. It's still absolutely delicious and it's not like the booze is overpowering, but the balance isn't quite as great as the regular-strength milkshakes. Overall, a really nice milkshake IPA that is better than its name (or some of its ingredients) would imply. A-
Beer Nerd Details: 9.3% ABV canned (16 ounce). Drank out of a tulip on 1/25/19. Canned on 1/16/19.
There was a time when I would end up at Tired Hands once a week, but that time has passed. On the other hand, almost every time I do go, I think to myself "self, we should come here more often!" and then for some reason it still takes a month or two to get back.