This past Friday, Tired Hands Brewing Company opened up a new location that they've dubbed the Fermentaria. It's a much larger space than the original Brew Cafe, with greatly expanded brewing capacity (topping out at 10,000 barrels a year, more than doubling their current capacity), a much more spacious, open environment, and a full kitchen menu.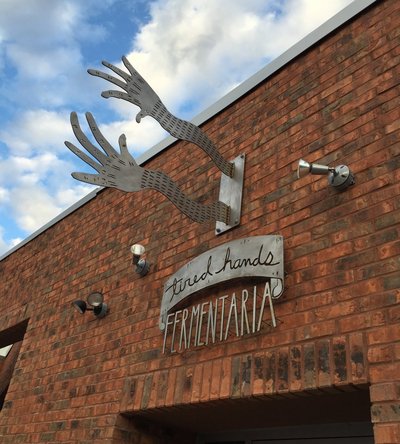 (Click to Embiggen)
Located just a couple blocks away from the Brew Cafe, they did a great job with the building. It feels very different from the original location, but with the same spirit, perhaps due to the their unconventional artwork and general attitude.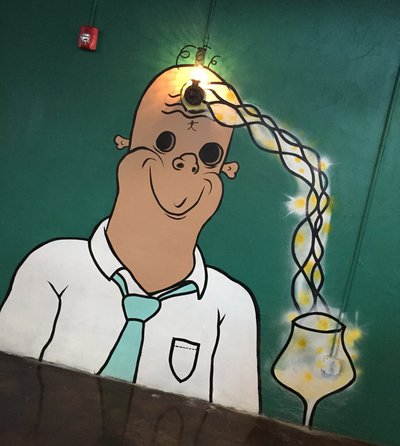 (Click to Embiggen)
The beer is as great as ever, but I've beaten that dead horse pretty thoroughly over the past couple years, so I won't focus on that too much. Suffice it to say that you should totally be taking advantage of the additional beer flowing through the region. The food menu looks to be taco focused at the moment, though it's got a more eclectic side as well. I had the shrimp tacos (which were very nice), but am greatly looking forward to exploring, well, just about everything I can. Here's to hoping a new batch of TacoHands makes its way to the taplist sometime soon…
(Click to Embiggen)
Beautiful bar, plentiful tables, open kitchen, lots of space, oak foeders, and it appears many barrels already in place (and if my eyes don't deceive, there are empty barrels in the back of this picture, just ready to be filled)…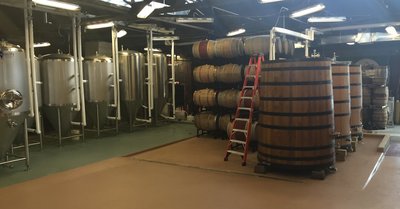 (Click to Embiggen)
The expanded production also means they'll be distributing more beer, and you can already see kegs of Tired Hands stuff filtering through the usual suspects in the Philly beer scene. Not sure what the bottle release plans are, but I think it's a safe bet that we'll see more of that in the future as well (and I can't wait to see what's in store for the Believer's Club!)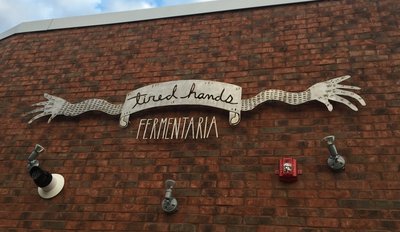 (Click to Embiggen)
I go to Tired Hands more often than any other beeratorium, and while it seems I'll be splitting my time between the Brew Cafe and Fermentaria, I don't see that changing much any time soon. Right now, it seems that the main difference is the menu, though time will tell if things start to converge or diverge in terms of the beer list and menu (surprised that the new location doesn't have charcuterie or Tired Hands famous bread, for instance).
Congrats to the Tired Hands team! I've always loved how small and intimate Tired Hands was, but the secret's out, and they're going to be making big waves. From what I've seen so far, this expansion won't change much, except getting their beer in front of more people. I'm a greedy man, but I can't find fault in getting Tired Hands more exposure!
Update: Holy hell. It's a thing of beauty. Poetry. Should have sent… a poet.