The other day, someone posted a thread on Facebook asking folks to post their top two breweries with the highest count of unique beers tasted (Untappd helps keep track of this sort of thing). For me, number two was Victory with 60 different brews.
Not too shabby, but regular readers (all 3 of you) who remember my epic recaps of hundreds of Tired Hands beers might guess that brewery would place number one. And they'd be correct! How correct? Oh, you know, something to the tune of 356 different beers. That's all. Ok, fine, before you start preparations for my intervention, there are a few mitigating factors. One is that, according to Untappd, there are 975 different Tired Hands beers (Beer Advocate only lists 769 beers though). So I haven't even had half of them! Second, the grand majority of these have been 4 or 8 ounce pours, with the occasional bottle and very rare pint (i.e. there were times where I've visited and had the equivalent of two pints, but that's 8 beers in 4 ounce increments). Finally, this is over the course of three years and while I used to pop over to Tired Hands every week, I've slowed my roll considerably of late.
Anywho, I've mostly given up on writing up notes when I visit, but I do tend to take note of their bottled offerings, so I'll probably continue posting these roundups from time to time, even if they're nowhere near as comprehensive as they once were. I've also managed to snag some cans from time to time, but they're generally released on Wednesdays at 4 pm or 5 pm and I have this thing called a job that prevents me from waiting in line for a few hours. I know, priorities, but you gotta do what you gotta do. Some of these are more detailed tasting notes, and others are more general observations, so take them with the appropriate mountain of salt.
Tired Hands Only Void (Single-Origin Awake Minds Ethiopian Coffee) – Cold conditioned on heavy amounts of Awake Minds Ethiopian coffee from ReAnimator Coffee – I feel like people slept on this release, as I just kinda walked up an hour after the release had started and snagged a couple four packs. You all know I'm not a big coffee person and while this doesn't exactly change my mind, it was a superb example of the style. Tons of roast and coffee, rich, intense but incredibly well balanced. Not sure how these cans are drinking now (released in April), but worth looking out for the next release. Since I didn't take formal notes and it's been several months, I'll refrain from rating, but I figured it was worth mentioning.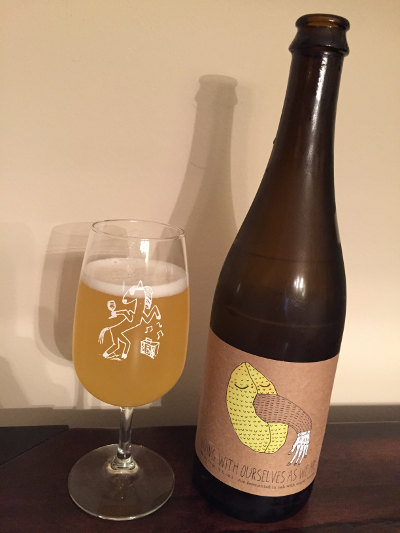 Tired Hands Living With Ourselves As We Are – French oak fermented wheat Saison conditioned on heaps of Meyer lemon purée – Pours a very pale straw yellow color with a finger of white head. Smells of tart fruit, those lemons coming through here, but a nice dollop of funk and oak pairs well. Taste has a nice sweet backbone, plenty of tart fruit, again with the lemons, but maybe some other fruity notes making themselves known (vinous fruit?) and plenty of oak, finishing on those sour lemons. Mouthfeel is well carbonated, medium bodied, moderately sour, quite well balanced. Overall, this is very nice, one of the better bottles of the year… A-
Beer Nerd Details: ??% ABV bottle (750 ml). Drank out of a flute glass on 7/16/16.
Tired Hands Rustic Pentagram – Sour Mango Saison. Brewed with Wheat. Hopped with Amarillo. Fermented in one of our large French oak foudres. Conditioned atop freshly made mango purée. – Had this at the Fermentaria anniversary and loved it, but it's even better out of the bottle. Pours a very pale, almost radiant yellow color, only slightly hazy, with a finger of white head that leaves some lacing. Smells amazing, a beautiful funk character mixed with a well balanced mango aroma and some oak playing go-between. Taste is sweet up front, with those mangos coming through strong, almost immediately followed by a big sour bite, then comes something a little more earthy, funky, almost cheesy and gueuze-like, and a well balanced oaky streak ties the whole thing together, finishing with another sour bite. Mouthfeel is medium bodied, well carbonated, moderate to high acidity, but very well balanced. Overall, this is spectacular, best TH bottle in a while. A
Beer Nerd Details: 6.9% ABV bottle (750 ml). Drank out of a wine glass on 7/29/16.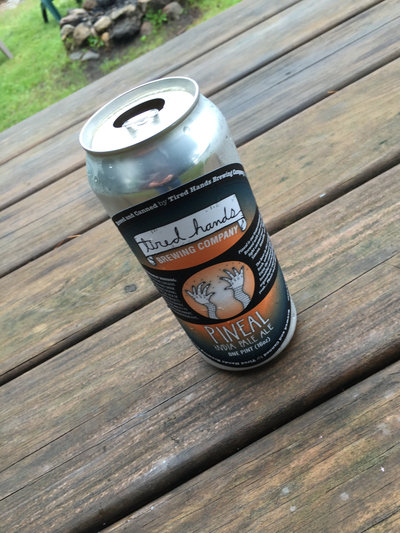 (Click to Embiggen)
Pineal – Have had this a few times on tap, one of Tired Hands' first recurring IPAs (and by recurring, it's like, once a year for the first two years? Though more often since they've started canning), it's always struck me as a pretty standard Tired Hands IPA. Fantastic, especially when compared to most other breweries, but not quite top tier TH single IPA. In the can? It's cloudier and juicier, I rather like it better. A-
Beer Nerd Details: 6% ABV canned (16 ounce pounder). Drank out of the can, like a man, on 7/31/16.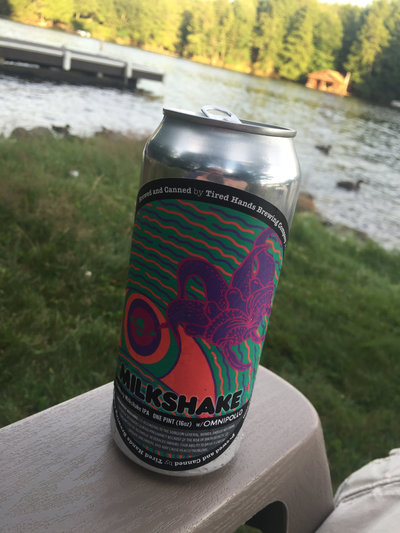 (Click to Embiggen)
Tired Hands Milkshake IPA – I went over the origins of this before in discussing the Northeast IPA, basically an IPA brewed with lactose, wheat flour, and strawberries – Pours a turbid, chicken broth looking pale yellow color with a finger of white head (I poured some out to see, but drank most out of the can). Smells great, huge wafts of juicy citrus, pineapple, orange, vanilla. Taste hits those big juicy citrus notes hard, lactose sweetness, mild bitterness in the finish. Mouthfeel is full bodied, thick, and chewy, well carbonated, did I mention thick? Overall, surprisingly enough, this is absolutely delicious. A
Beer Nerd Details: 7% ABV canned (16 ounce pounder). Drank out of the can, like a man, on 7/30/16.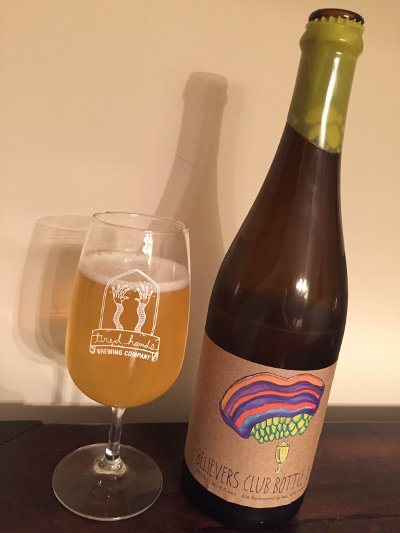 Tired Hands Believer's Club Bottle 1 – Fermented and conditioned with our magickal Saison yeast in French oak barrels. It was conditioned atop a copious amount of mango at a rate of one and a half pounds per gallon of beer and then dry hopped with Mosaic. – Pours a slightly hazy but still radiant straw yellow color with a finger of white head. Smells great, lots of musty funk, stone fruit, mangos, oak. Taste is sweet and tart up front, some of that mango showing itself, followed by some earthy notes and oak, finishing on that sour mango swerve. Mouthfeel is medium to light bodied, a tad lower on carbonation, moderate acidity, all very well balanced. Overall, this is fabulous, very, very similar to Rustic Pentagram and I could see it growing more complex over time too. We're splitting hairs here, so let's just go A- for now, though I'm guessing it will continue to evolve over time.
Beer Nerd Details: ??% ABV bottle (750 ml). Drank out of a flute glass on 9/2/16.
Tired Hands ROOMARAK – Saison brewed with local Deer Creek Malthouse barley and wheat, fermented and aged in a Vin Santo foudre with a ton of Merlot grapes from local Karamoor Winery – Pours a striking reddish orange color, robey tones, very little head that doesn't stick around at all. Smells very nice, musty funk, vinous fruit, oak. Taste hits that vinous fruit character hard, apparently that Merlot making itself known, even getting some wine tannin here, a little oak, finishing with a sour bite. Mouthfeel is well carbonated, medium bodied, only mildly acidic. Overall, an interesting wine/beer hybrid and a tasty beer. B+ or A-
Beer Nerd Details: ??% ABV bottle (750 ml). Drank out of a wine glass on 9/3/16.
Phew, I think that's enough for now. Next up on the Tired Hands bottle front: Parageuisia 6 and 7 are being released this Sunday. If you are in the area, it's worth trying to snag a bottle, they're wonderful.