The beer nerd world is all aflutter about the so-called "Northeast IPA" (aka "Milkshake IPA", which we'll get to… er, later in this post), exemplified by the juicy, unfiltered, cloudy looking wares of The Alchemist, Hill Farmstead, Treehouse, Trillium, and I'll include local favorite Tired Hands too. This isn't really a new observation, but the current kerfluffle kicked off a few weeks ago with an article in Willamette Week called IPA Is Dead, Long Live IPA in which the author cites Northeast influence on the famed Portland, Oregon brewery scene:
When Portland beer geeks sampled the beers blind, it turned out they preferred brighter, juicier versions like those in the Northeast, which have only recently popped up in Portland. The five best IPAs in the city come from brand-new breweries, and most of those have been influenced by Heady Topper, Julius and Sculpin, beers that present hops as a reward rather than a challenge.
There are a few different things to parse here. One is the transition from punishingly bitter IPAs to pleasantly bright and juicy takes on the style, which is unquestionably happening. Another is that this trend originated in the Northeast; an assertion that is more dubious, as Jeff Alworth points out:
The Northeast, like the rest of the country, is not a monolith. Martin seems to be talking about New England here, but New England was actually very late getting to the hops party. Heady Topper is a fascinating beer, but its influence was basically nil in the pubs and breweries of New England, which have largely tended toward English-inflected, balanced, and notably malty beers. (Its influence among the uber-geeks of BeerAdvocate is another matter.) Martin proves this pretty ably because in the three examples of Northeast IPAs he offers, one is from San Diego. It's not an old trend there. Those small New England breweries didn't even drive a palate shift in Portland, Maine, so I have a hard time believing they drove one in Portland, Oregon.
Certainly a fair point, and Alworth goes on to try and break down the trend to it's constituent parts: American Hops, Flavor, and IBUs. It's here that I think his argument doesn't really capture what's going on in the New Guard of Northeast, though his points are part of it and are also more widespread than just the Northeast (I left a comment on Jeff's blog that covers some of the below.)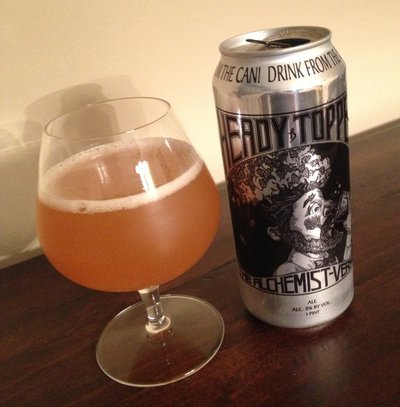 That one time I poured Heady Topper into a glass, what a rebel I am
To my mind, the whole trend culminating with the likes of Heady Topper (et al.) started with Greg Noonan at the Vermont Pub and Brewery in the 1990s. It's true that the Northeast is not a monolith and Alworth accurately pins down the old-school Northeastern style as "English-inflected, balanced, and notably malty beers" (think Hop Devil). However, beers like Bombay Grab IPA were precursors to what we're seeing today. Noonan alone was quite influential in the brewing world, having authored several books and just plain helped lots of other brewers.
Yes, American hops, dry hopping, and less bittering hops are part of the shift, but what I associate with the Northeast beers is yeast – Conan and other English strains that aren't as clean fermenting (i.e. they accentuate the fruitiness and juiciness of the hops) as the Chico American Ale stuff that drove so much of the West Coast IPA craze. Where did this come from? Greg Noonan.
Looking at the Northeast breweries listed above, there's also a tendency to use other adjuncts in place of something like crystal malt, so you get oats, wheat, maybe rye, and so on. The hops change with what's available, and a lot of breweries experiment with new or experimental hops, but when I started drinking IPAs (turn of the century timeframe), things seemed very different from the new guard of Northeast IPAs.
I'm not claiming causality here and can't speak to the influence of these beers outside the Northeast, but there's clearly something going on here that is more than just hop-driven. Heady Topper didn't happen by accident; John Kimmich worked for Greg Noonan. That's where he got the Conan yeast from. Heady was available in 2004, but it remained somewhat obscure until they started canning it. After that? you get an explosion of new breweries with a similar core approach.
Do all the Northeast Breweries take this approach? Of course not! But that doesn't mean there isn't a trend. Do some folks take the approach too far? Ah, now this is the next part of the controversy. Witness Jamil Zainasheff on Twitter:
I'm sorry, you who think this is acceptable beer have lost your minds. This overly yeasty crap is offensive. pic.twitter.com/TTTrT3nbhi

— Jamil Zainasheff (@mrmalty) March 2, 2016
And now we come to what is termed the "Milkshake IPA"; beers that are so cloudy that they barely look like a beer (interestingly, the beer that so offended Zainasheff looks pretty middle of the road in this respect). Part of this is the old-school BJCP emphasis on clarity in beer. It's true, a clear beer sure looks pretty in the glass. But as a result of using low flocculation yeast, starchy adjuncts like wheat or oats, and excessive dry hopping, you get a beer whose flavors are great, but which can appear hazy or worse (Ed gets into it more here).
For some reason, this really gets on some people's nerves. Which is fine! No one is forcing you to drink all the Hill Farmstead and those of us who enjoy their generally limited beer will thank you for leaving more for us. Instead, we just get a lot of whining. A few months ago, one of the Alstrom Bros (of Beer Advocate fame) visited Tired Hands and gave this review to HopHands:
Not feeling it with this brew, extremely cloudy and a mess to say the least. Staff at the pub should not be pouring it. Milkshake beers are not a trend or acceptable with traditional or even modern styles… No excuses. Carbonation seemed off, a muddled mess.
Yikes! In typical Tired Handsian fashion, Jean responded by putting out a series of "Milkshake" beers. IPAs brewed in their typical style, but with added lactose and usually some sort of high-pectin fruit puree in order to really amp up the cloudiness factor. I'm not positive about all of the beers in the series, but I know the recently released canned variety, Strawberry Milkshake IPA, also used wheat flour(!) for that extra turbid look: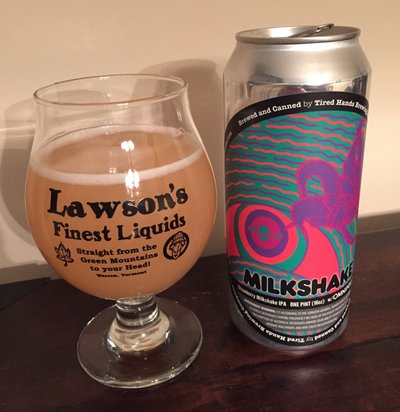 (Click to Embiggen)
Now, I can see why this particular pour might not be your thing, but it was absolutely delicious! Knowing the context, I think the appearance is perfectly cromulent (especially given how good it tastes). Most of the beers in question don't actually look like this, except maybe Hoof Hearted… and, um, look what they named their brewery! Those are clearly people who don't care what you think. But even standard Tired Hands IPAs can be pretty hazy, and this group of Northeast brewers all seem to have a taste for such beer. When visiting Tired Hands one time a couple years ago, Jean filled a couple of growlers and gave them to a customer who was making a trip to Hill Farmstead. Since Sean Hill apparently likes his beer cloudy, Jean renamed "Communication is the Key" to "Communication is the Murky" and "We Are All Infinite Energy Vibrating At The Same Frequency" to "We Are All Hazy As Hell Vibrating at the Same Cloudiness".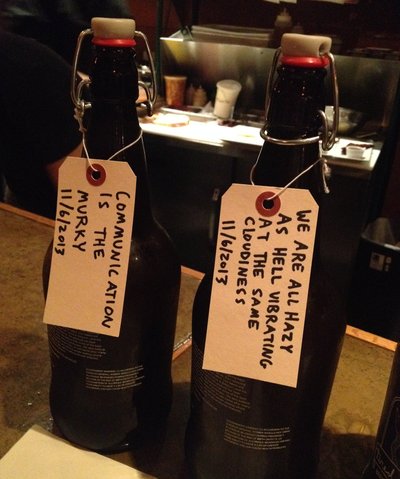 (Click to Embiggen)
I think that's another thing worth noting about this whole Northeast phenomenon – these guys all know each other. They collaborate, they swap beers, they're clearly feeding off of one another. The Bros have rated some other beers with similar comments (one I noticed a while back was Trillium Vicinity), so they're clearly bugged by hazy beer. I guess it's possible to get a bad pour. I mean, according to Untappd, I've had well over 300 checkins at Tired Hands, and I've never gotten something that was unintentionally milkshakey. Very hazy? Certainly. But nothing like the Milkshake beers (which, again, were made with tongue firmly in cheek).
Incidentally, I have no idea what beer Jamil Zainasheff was talking about above. This is becoming a bit of a pet peeve for me. People like to whine about "bad breweries" and "offensive" beers, but it seems like they rarely ever actually name names. I mean, I'm sure these things exist, but it's hard to accept your hot take if you won't actually tell us what you're talking about. Strawman arguments are bad enough even when you name the strawman. At least the Bros are clear.
But I digress and I have rambled on for far too long. My ultimate points are that the Northeast IPA appears to be more than just hop-based (yeast and starchy adjuncts seem to play a big role), there is a long tradition with traceable influence, and you know, drink what you like. I happen to have no problem with this trend. If you do, more power to you, but maybe tone down the rhetoric a bit. As for a causal relationship with newfangled Oregon beer, I have no idea. Cloudy beer is certainly not a new thing, even in Oregon, but part of the point is that it's not necessarily the cloudiness that defines Northeast IPA. That's just a symptom of the way these folks are brewing.
Or maybe I'm full of it. As mentioned yesterday, comments are working again, so feel free to register your disgust (assuming you have a Google, WordPress, etc… account). What say you? I made this post too long didn't I? None of you are actually reading this, are you? I'm the worst. Or the Würst. Are you still here or not? What's going on? Get off my lawn! Or no, wait, leave a comment. So it's getting late and I'm obviously getting loopy, so I'll stop now. Or will I? No, I will. I just haven't yet. Annnnd scene!