Now that the Fermentaria is open, it's getting difficult to keep up with the sheer variety of awesome emanating from the fine brewers at Tired Hands. I still hit up one location or another pretty often, but the small batch style simply yields a lot of new brews. Also, I'm getting more and more lazy about writing down any sort of notes on the beer I'm having, which means it's getting difficult to even remember what I've had. Still, I manage to squirrel away some notes every now and again, so I might as well append them to the more detailed tasting notes on two highly prized bottles.
First up is Parageusia5, a Cabernet Franc barrel-fermented Ale, aged for approximately 12 months. This is a prized line of sours, and this one takes a distinctly more Flandersy take than previous Parageusias, and while it doesn't quite live up to the hallowed realms of the first few iterations, it's pretty darned fantastic. This quote accompanies the beer:
"Trigeminal prisim on a sunny hillside. Will you engage indefinitely?" – Christian Zellersfield
I can kinda, sorta parse that, and my answer is yes. I will engage indefinitely. Or I would, but I only had this one bottle: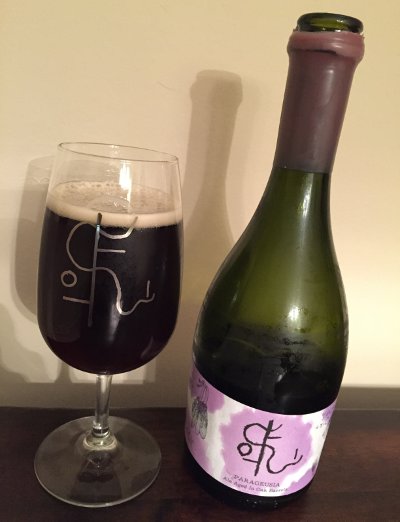 Tired Hands Parageusia5 – Pours a very dark, clear amber color, very pretty when held up to light, with a finger of off white head that sticks around for a bit. Smells of vinous fruit, cherries, oak, and acetic sourness, kinda Flandersy. Taste starts rich and sweet, cherries and oak followed by a bit of acetic sourness, vinegar, vinous fruit, finishing on that sour note. Mouthfeel is full and rich up front, but less so towards the finish, moderate sourness and acidity, reasonably well carbonated. Overall, doesn't quite compare to the initial Parageusia offerings, but is pretty impressive in its own right. Also: match with dark chocolate. Delicious. A-
Beer Nerd Details: Squiggle, Squiggle ABV bottled (500 ml waxed cap, no ABV listed, just various squiggles and tentacled creatures on the label). Drank out of a flute glass on 9/6/15.
Next we have one of them swanky beer and music collaborations, in this case it's jazz musician Mike Lorenz, who released an album of Black Sabbath and Nirvana covers along with this beer (Jean provided the art for the album, git that vinyl while it's still around), Scentless And Senseless. Lorenz is a fixture at Tired Hands, playing a show once a week and sometimes humoring the beer nerd masses during bottle releases. This beer is an oak fermented Saison dry hopped with Equinox and Mosaic, right up my alley: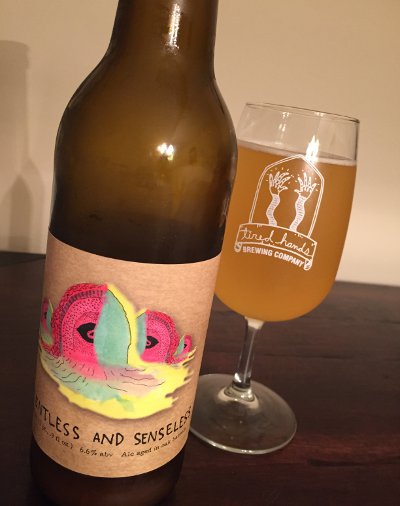 Tired Hands Scentless And Senseless – Pours a very pale, cloudy straw yellow color with a finger of white head. Smell definitely has that foudre thing going on, a little oak and vanilla, big citrus aromas too, partly from the funk, partly from hops. Taste hits again with that foudre character pretty hard, dry oak, vanilla, some citrusy fruit in the middle, just a bit of tartness, followed by some earthy funk in the finish. Mouthfeel is well carbonated, light body, hints of sourness, some very dry character happening, right up front too. Overall, a step up from the previously released foudre bottle (Astral Plane), and pretty delicious in its own right. A-
Beer Nerd Details: 6.6% ABV bottled (500 ml). Drank out of a flute glass on 9/12/15.
Dudholio – 4.5% ABV maize saison with motueka and Brett – Great little saison, light Brett feel, moderate fruity hops, and well carbed, really enjoying this! A-
Milkshake IPA – 7.4% ABV blackberry and blueberry IPA brewed with lactose sugar and Mosaic and Citra hops – So a while back one of the "Bros." from BeerAdvocate published a review of a cloudy pour of HopHands and called it a mess (the Bros. have a bug up their arse about beer clarity, I guess), saying literally "Milkshake beers are not a trend or acceptable with modern styles… No excuses." In response, Jean and crew have put together a series of "Milkshake" IPAs (that actually use lactose and are also generally cloudy beers); as usual, it's a fun way to respond to criticism. Anywho, this was a great Tired Hands style IPA, juicy fruit, fuller bodied than normal but velvety smooth, great! A
Hissing at Snakes – 7.5% ABV Rye IPA – Simcoe, Amarillo, and Nelson Sauvin, typically great TH IPA with a spicy rye kick, really nice! A-
Neutral Impulse From The Visual Cortex – 6.2% ABV IPA – Nice citrus hops and a surprising honey note, almost creamy mouthfeel… B+
Expansive Vestibule – 6.1% ABV sturdy Porter – Nice nose, dark chocolate and vanilla, with a more roasty taste and a relatively light body… B+
Einsteinium – 5% ABV hoppy sour – Not a huge fan of hoppy sours in general, though this is working just fine… B
Rutilant – 5.9% ABV Nelson Sauvin & Simcoe IPA – Beautiful little IPA, typical Tired Hands stuff but with significantly more carbonation, really nice… (IIRC this is one of the first beers I had at the Fermentaria, which seems to have a different carbonation profile) A-
Temporary Shape of My Own Person – 5.2% ABV Grissette – Like a slightly tart version of a typical th saison, crisp and light, refreshing summer drinking… B+
Vaporizer – 6.8% ABV IPA – Ah, now this is a typical TH IPA , bright, juicy citrus hops, something a little more on the green, grassy, floral hop side as well. Nice! B+ or A-
I'm Sad – 8.5% ABV imperial honey coffee Porter – Interesting interplay between the honey and coffee, both are there, but the combo sorta works for me, despite not particularly liking either honey or coffee! B
Can't Keep Up 23 – 5% ABV blended sour saison – Whoa cucumbers, blend of HandFarm, Parageusia, and Saisonhands conditioned on lemon, cucumber and agave nectar, tasty! Have liked other Can't Keep Up beers better, but this is nice. B+
Slowly Rotating Mass With Bright Lights – 5.2% ABV crushable pineapple IPA – Solid IPA, delicious and juicy, very light and quaffable, A-
Rigel – 6.8% Rye India Black Ale – This is all I wrote about this beer, and yeah, I don't really remember anything about it, though I'm guessing that means it didn't melt my face (nor did it make me do a spit take in disgust).
Fripp – 4.5% ABV American Bitter – Very nice bitter base with sweeter, more citrusy hop character, quaffable in the extreme! B+
Honey, I Love You – 5.8% ABV Honey Saison – Beautiful little saison here, nice citrus and spice character, a little oak and tartness in the finish… Foudre beer starting to come into its own. Delicious! A-
Avoiding Purgatory #1 – 6.6% ABV India Black Ale – Hrm, surprisingly muted hops and roasted malt here, one of those IBAs that makes me wish I was drinking an IPA or Stout instead of this quasi hybrid. Lack of roast probably has to do with the use of debittered black malt, but the hops (lemon drop and centennial) aren't doing the trick… Not really bad, to be sure, but TH has done much better in this realm! B
Yup – 5.1% ABV hoppy blonde ale – Amazing citrus nose, lemons and tropical fruit, tasty stuff! B+
Nope – 4.2% ABV dry stout – Polar opposite of Yup, dark, roasty, earthy goodness. B+
Rob "Strawberry" Berliner – 6% ABV strawberry Berliner Weisse – Very nice, lots of ripe, tart strawberry goodness, very well balanced, delicious. A-
Wound – 7.3% oat IPA – Awesome, back to basics Tired Hands style IPA, citrusy and floral, delicious! A-
Calm – 4.2% crushable IPA – Nice light pale ale, quaffable and refreshing. B+
Tuff Leather – 1.5% table saison – Whoa, beer nerd lite beer, nice carbonation profile, grassy, bready, a little watery, but not in a bad way for what this is… Very impressive for such a low ABV beer. B+
It's Okay – 7.6% ABV IPA – Nice IPA, sweeter than normal, lots of citrus, hints of dank pine, more body than normal, but really good stuff here… B+
Yellow & Green – 5.6% ABV dry hopped Pilsner – Dry hopped with Ella and Helga, 2 hops I've never heard of before! Earthy, grassy, floral, with enough citrus to take it away from traditional pils profile, nice! B+
Perfectly Preserved Brain – 8.2% ABV English Smoked Barleywine – Moar earthy than expected, sweet, slightly burnt bread, interesting, but not amazing.. B
Lambos & Mansions – 4.8% ABV crushable Galaxy IPA – Nice citrus hop character, dry, quaffable stuff, very nice! B+
Fuzzy Yellow – 6.3% ABV local peach IPA – Typically solid th IPA, citrusy, balanced, tasty! B+
Petalite Songbird – 5.2% ABV gooseberry saison – Whoa, was not expecting the tart, fruity funk on this, really nice, looks like Emptiness culture stuff, which explains it. Great stuff… A-
Minnow – 8% ABV DIPA – Nelson Sauvin & Citra Very nice, sweet, delicious, juicy, almost vinous stuff. A-
Kuro – 5.5% lime leaf schwarzbier – Muted black malt, burnt sugar, something bright, very nice! B+
Pathway of Beauty – 6.8% ABV Citra IPA – Holy hell, this is amazing, juicy hops, compulsively quaffable, delicious IPA, a kinda successor to Psychic Facelift (one of my favorite TH IPAs of all time)… A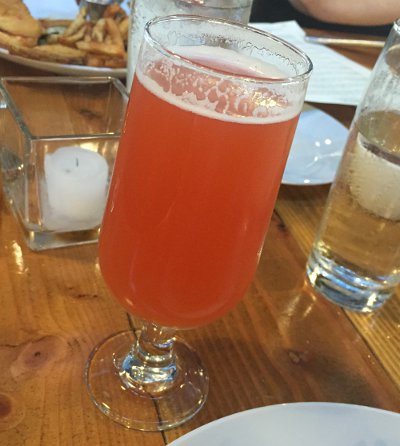 Freedom from the Known
Freedom from The Known – 7.2% ABV Cherry saison – Whoa, this is the most cherry I've ever gotten out of a beer, ever. Sometimes cherry flavors in beer are overwhelmed by other elements, but not at all here. Cherries are the star. Kind of like a cherry version of Peche 'n Brett. Amazing, tart, delicious, a little oak mellows things out, dryish, great stuff. A
Mosaic MagoTago – 7% Mango IPA – An interesting twist on the standard Simcoe Mago, beautiful juicy citrus IPA. Hard to believe this was on at the same time as regular Mago, Pathway of Beauty and Freedom from the Known. An embarrassment of riches at the Fermentaria! A
FunnieDuddie – 6.5% ABV Nelson Sauvin and Simcoe IPA – Typically good th IPA, but damn, this suffers from the comparison to the rest of the tap list right now. B+?
Yellow Fog – 3.7% cucumber Berliner wieise – Really nice, cucumber comes through well, still a nice tart beer, tasty! B
Lychee Milkshake IPA – 7.2% IPA made with lactose sugar, lychee purée, vanilla, and citra/Mosaic hops – Sweet and juicy, lots of citrus, almost rich, full bodied mouthfeel… Great! A-
Phew, that covers about 6-8 months of visits to Tired Hands, and honestly, I probably missed a few things. Indeed! I forgot to mention that the latest couple batches of SaisonHands, Tired Hands' flagship saison (and one of two beers that is almost always available) that used to be a rock solid standard-approach saison, but now spends time in the foudre and wow! You can really tell, this beer has changed a ton since the Fermentaria opened, and it's pretty amazing that it's this regularly available. This is the sort of thing that keeps me coming back (also the potential for that one night they had MagoTago, Pathway to Beauty, and Freedom from the Known on tap, seriously astounding).