Zwanze Day is a worldwide event in which Cantillon releases a new, limited lambic to the huddled masses, yearning to be drunk. The event spans many countries and is limited to 70 or so bars, worldwide. I attended the 2016 festivities at Monk's Cafe in Philly and was dutifully impressed with that year's Raspberry/Blueberry entry into the Zwanze canon. It's always a crowded event and some people get there very early and wait in line. If it means getting a table, that's a very good thing indeed and fortunately for me, I had some friends who decided to line up early and had an extra seat at their table.
Along with the Zwanze entry, which isn't tapped until later in the day, Monk's pulls out all the stops, with a whole assortment of other Cantillon lambics available. It was quite the rainbow:
Click to embiggen
A few of these were even new to me, which is always nice. Nath is made with macerated rhubarb in 2 year old lambic, and it provides a nice little bump in the tartness and funk profile of your typical Cantillon (I didn't take formal tasting notes, so I'll leave it at that – it was excellent).
The other new to me lambic was 20 Ans D'Amitié, a blend of Rhubarb and Raspberry lambics (so Nath and Rosé de Gambrinus?) that was produced for the 20th Anniversary of Monk's Cafe in 2017. As you might expect, it's delightful.
And of course, there were a whole slew of other Cantillons that we all know are fantastic, like the Kriek (still my favorite, to be honest!), Rosé de Gambrinus, Grand Cru Broucsella, the Classic Gueuze, and Vigneronne.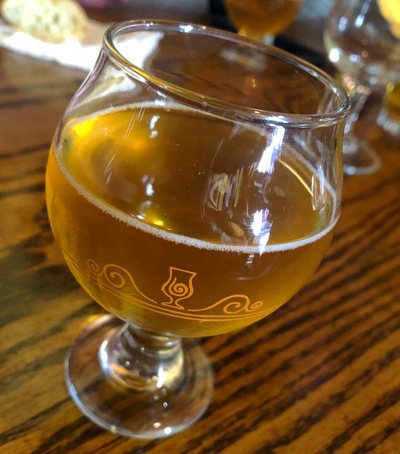 Finally, there was Zwanze 2018 Manneken Pise. If you're interested in lambic, you've no doubt discovered that it's damn near impossible to track down Cantillon lambic. Even ordering direct from Belgium (with it's absurd shipping prices) isn't a particularly viable option anymore. Back in 2015, Cantillion acquired a new building across the street from their current location. Over the next few years, they increased production and had to source a whole slew of new barrels to age their lambic. Enter three particular sets of barrels that stood out: those that had previously held Sangiovese, Amarone, and Chianti. Ah, the wine of my people! Anyway, Zwanze 2018 is a blend of lambic that had been aged in those three types of barrels. And it's quite nice, adding a noticeable but distinct vinous character to the typically oaky, tart, and funky Cantillon lambic base. Some subtle fruit notes and a nice, light, tannic dryness make this a somewhat unique experience. Again, I didn't take formal tasting notes, but they're normally pretty boring and ultimately, yeah, it's a big shock that Cantillon produced a good lambic. Stop the presses.
So yes, another successful Zwanze day under my belt. Well worth checking out if you have a Zwanze venue near you. I'd be curious to see what it would be like at a less crowded venue, but it's hard to turn down an afternoon at Monk's (and if you somehow manage to snag a table, many of the issues with the crowd are minimized!) Anywho, now that Cantillion has increased capacity, here's to hoping we see a little more of their stuff making its way into our hands… And maybe I won't wait a month to post something about it next time.
(Many thanks to Kaedrin friend Dana for taking/sharing that fancy picture with all the beers lined up.)