Astute readers will note that the grand majority of reviews here are for beers that I drink at home. This is not to say that I don't visit any local drinking establishments, just that I'm usually with other people and I don't want to be that dork who ignores his friends to write obsessive tasting notes. However, I do take my fair share of pictures and maybe check in to Untappd or somesuch. So I do have a fair amount of beer porn in my picture repository that doesn't really see the light of day. Until now! Enjoy these pictures and muddled recounting of various and sundry beers I've had recently, including a rather epic Birthday lineup. In fact, let's start there. It all started, naturally, at Tired Hands:
Tired Hands is a small but very popular operation, so every once in a while, especially on weekends, they sell through more beer than is ready. At that point, Jean dips into the cellar and blends up a stopgap, often using some proportion of barrel aged awesome. The resulting beers are called Can't Keep Up, and this was the 8th installment in the series, made with beer from one of Christian Zellersfield's barrels (if he really exists). And my oh my, it was spectacular. Perhaps not quite Parageusia levels awesome, but for a beer that was whipped together under duress, it was rather spectacular. Speaking of spectacular, the other highlight of Tired Hands that day was a Citra IPA called Psychic Facelift. It turns out that I'd already visited Tired Hands earlier in the week and loved this, indeed, I even housed a growler of the stuff.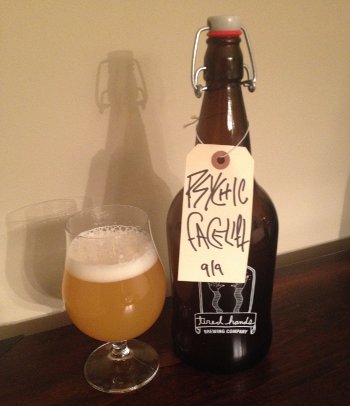 It seems like Tired Hands always has great IPAs on tap, but this wan was exceptional even for them. Huge, juicy citrus character, absolutely quaffable stuff. Just superb. It's rare that I drink the same beer more than twice in short succession these days, and I think I had about 2 liters in the course of a couple days (I totally should have filled the larger growler, but hindsight is 20/20). Anywho, after some time there, we headed over to Teresa's Cafe (a few miles down the road) for some more substantial food and, of course, great beer. I had a Pliny the Elder, because how can you ignore that when it's on tap? Then my friends proved adventurous and generous, and we went in on a bottle of Cantillon Iris:
It was fantastic, great balance between funk, sourness, and oak, really beautiful beer. And you can't beat the full pomp and circumstance, what with the proper glassware and pouring basket thingy… I had a few other beers, and they were all good, but I had a great birthday.
Some more random beer porn: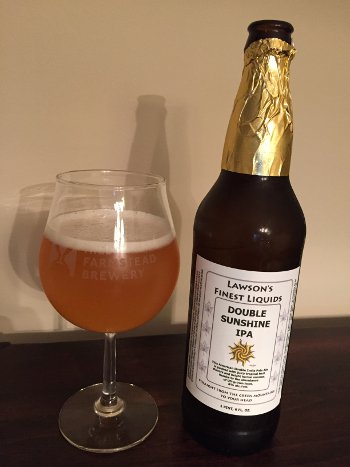 I guess I could have put up some Double Sunshine for trade, but I just couldn't handle having these in my fridge. I had to drink them.
It's no Double Sunshine, but I was very pleasantly surprised at how much I enjoyed this Flying Dog Single Hop Imperial IPA (Citra). I usually don't enjoy IPAs when they get into the 10% ABV range, but this was extremely well balanced between sweet and bitter, and it had that great Citra hop character, tropical fruits, floral notes, and even a bit of herbal goodness. I've always enjoyed Citra-based beers, but I think I'm starting to really crave the stuff, which is going to be dangerous.
This was from a long time ago, but it was another surprise, ordered totally at random one night. It's Bullfrog Top Banana, and it was a really solid saison made with bananas. I know that sounds a bit gimmicky and it's not one of those crazy funkified saisons either, but the banana fit seamlessly into their standard saison yeast profile, and it was an absolutely refreshing and tasty brew. Worth checking out if you see it. I should checkout this PA brewery sometime, perhaps go to a bottle release or something. Time will tell.
And that just about covers it. I hope you've enjoyed this rather lame stroll down beer lane. Until next time!