I'm not generally one for the pomp and circumstance of serving beer. Maybe it's just because the most elaborate process I've seen is the ridiculous 9 step ritual for serving Stella Artois. That's a lot of work for very little payoff, if you ask me. So anyway, whilst perusing the beer menu at a local establishment, I spied some of that prized Cantillon Fou' Foune and went in on a bottle with some friends. Now we all know Cantillon's stellar reputation, but the hype surrounding this particular loon (a lambic made with apricots) goes well beyond even that. It cost a pretty penny too, but that's softened somewhat by splitting the bottle (that being said, if you can find it, ordering direct from Belgium and paying the obscene shipping would probably work out to a similar price) and we were pretty happy to ritualize the tasting of this stuff.
Our original plan was to take it home and enjoy there, but the bar requires the bottle to be opened on the premises, as they've apparently run into douchebags who would buy bottles from them, then turn around and sell them online for a stiff markup. This is a topic I've bludgeoned to death before, so I'll leave it at that. But one advantage to having it at the bar was that pomp and circumstance. Check out the proper brewery glassware and that swanky lambic serving basket: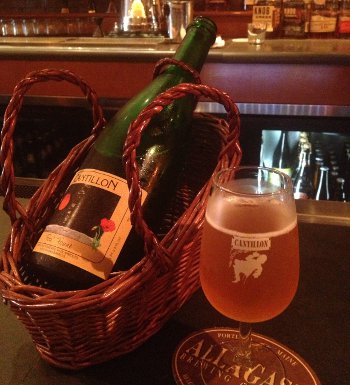 But as with the likes of Stella, ritual sez nothing about what's in the bottle, so let's find out if this khaki whale lives up to the hype:
Cantillon Fou' Foune – Pours a very pretty golden color. Nose is pure apricot and musty funk. Very nice. Taste has that beautiful oak aged character, with a big fruity, tart pop, moderate sourness. Intense and complex, but very well balanced. Mouthfeel is very well carbonated, crisp, a little acidic, some vinegar, perfect proportions. Overall, superb, delicious, would drink again (for the sarcasm impaired, this means that I'll be scouring the earth to find more bottles). A
Beer Nerd Details: 5% ABV bottled (750 ml capped and corked). Served from a lambic basket to a Cantillon flute.
I would have taken better notes, but then, I was trying to be social and felt bad enough scribbling in shorthand into my phone for a minute. Anywho, it's been a pretty fantastic few weeks here at Kaedrin. Things will likely not remain so exciting, but stay tuned, there's lots of fantastic beer on deck here at Kaedrin HQ, and a potential Vermont trip in the near future may result in more fun.