Sunday, November 29, 2015
The 2013 Egg Nog Tasting
Family Holiday traditions are very weird, like how my family does an Egg Nog tasting every Thanksgiving...
after dinner
. You know, because we're still hungry and it's not like Egg Nog is filling at all. In fairness, it was a tradition born by accident. One year, literally everyone thought they were in charge of bringing egg nog, so they brought a couple and we ended up with, like, 15 of them. Since then, we've intentionally started doing this. Sometimes, this gets super complicated and involves blind tastings and whatnot, but the last couple years have been pretty informal. Check out some previous recaps: [
2013
|
2012
|
2010
|
2008
].
The past few years have represented an attempt to find different egg nogs instead of crowning the same two every year (usually local mainstays Wawa or Swiss Farms). This has been fine, but I don't think any of those actually beats our normal champions. This year, we returned to previous champions, and went for some new things too. Not a crazy number of entries this year though:
Swiss Farms Premium Egg Nog
Southern Comfort Traditional Egg Nog
Wawa Egg Nog
Turkey Hill Egg Nog
Organic Valley Eggnog
International Delight Classic Nog
Upstate Farms Premium Egg Nog
So we've got three former winners (Swiss Farms, Wawa, Upstate Farms), two standard, middle of the pack entrants (Southern Comfort and Turkey Hill), one I don't remember having before (but which I apparently have), and one that isn't even Egg Nog. It's always amusing how these weirdos try to trick people into drinking this stuff. The giveaway is the use of the word "Nog" without the corresponding "Egg". That International Delight nog is described as a "Festive Dairy Beverage" whatever that means. You might think this would be a shoe-in for "Worst in Show", but in reality, it was kinda just like milk with some cinnamon and nutmeg or something. Not bad at all, but not really anything like an egg nog either.
In an odd turn of events, Upstate Farms got under some people's skin and ended up taking the award for worst egg nog. I didn't think it was that bad, but it was clearly inferior to the top two, Wawa and Swiss Farms. Someone mentioned that Upstate had a sorta artificial, chemically character to it. I didn't really get it, but whatever! Swiss Farms took first place, and at this point, remains undefeated. Personally, I still go for Wawa, but that's just me.
It was fun, as usual, but it was a pretty low key year. Perhaps next year will be the year we finally break down and make our own egg nog. If we can get over our fear of making everyone sick, which seems likely? I feel like it should be simple enough, but we'll see. Otherwise, I want to find something I can bring to rival Swiss Farms. It's good, but I don't know that it's quite as dominant as its performance the past few years indicates. Until next year!

Sunday, December 15, 2013
The 2013 Egg Nog Tasting
A tradition born by accident, my family's Egg Nog tasting happens every Thanksgiving. One Thanksgiving many moons ago, thanks to poor coordination, everyone brought one or two Egg Nogs, and thus we ended up with, like, 14 different types. I'm not actually positive what year this really went into overdrive, but ever since that fateful year, we've actually planned to have that many Egg Nogs, and have even gone so far as to orchestrate a double blind tasting in order to determine the Best Egg Nog (the "worst" is usually a pretty easy and uncontroversial decision that does not require any real debate). I mean, we're not scientists here or anything, but this is pretty rigorous for a family gathering. I could have sworn I did a better job recapping each year's proceedings, but only a few previous tastings have been chronicled: [
2012
|
2010
|
2008
].
One thing we've noticed is that the same Egg Nogs tend to show up every year, and we've got a few that consistently win (notably local mainstays Wawa and Swiss Farms). Last year we made a rule that the previous year's winner (and "winner" of worst nog) could not return. This year we made a concerted effort to seek out completely new and obscure Egg Nogs. I was actually shocked at how well we did in this mission, though of course there were a couple repeats. So let's do this, the Egg Nogs of 2013:
Turkey Hill Egg Nog
America's Choice Holiday Favorite Egg Nog
Bolthouse Farms Limited Edition Holiday Nog (Low Fat)
Promised Land Old Fashioned Egg Nog
Trader Joes Egg Nog
Trickling Springs Creamery Farm Friend Fresh Egg Nog
Califa Farms Almondmilk Holiday Nog
Lehigh Valley Holiday Eggnog
Borden Eggnog
Silk Seasonal Nog
The only returning contenders were the Turkey Hill, which has pretty much always shown up (but always places somewhere in the middle of the pack), and the Silk Seasonal Nog (which has won "worst" in the past). The Borden was arguably a returning contender as well, though it's now packaged in a resealable container (Borden was always famous for being canned) and while they claim the recipe is the same, this stuff was nothing like the Borden of years past (which was also a middle of the pack performer). Indeed, the Borden was nearly toxic and came out a weirdly bright, almost glowing color. Gross.
But as bad as it was, Borden was still at least marginally identifiable as Egg Nog. One thing I've noticed about the competition for worst egg nog is that it is dominated by entries that aren't actually "egg" nog. They're always just "Holiday Nog" or "Seasonal Nog" or "Coconut Nog" or some such lie. These really aren't Egg Nogs, but they've got some nutmeg and they're trying to capitalize on the season. I guess that's fine for big Soymilk fans, but when you have these right next to real Egg Nog, that just makes them seem all the worse. This year's competition was between the Bolthouse Farms Low Fat Holiday Nog, which was packaged so deceptively that we didn't realize what it was until we nearly gagged on it. Silk was its normal self, but the real revolution in bad flavor belongs to Califa Farms Almondmilk Holiday Nog. It was so bad, I think it somehow hurt my eyeballs. The decision was unanimous.
The competition for best was a little better, though I do think the champions of years past (Wawa, Swiss Farms, Upstate Farms) would have trounced all of this year's competitors. Indeed, the normally middle of the pack Turkey Hill was a clear favorite heading into the blind tasting, which only featured three Egg Nogs this year: Turkey Hill, America's Choice (whose box sez "fa-la-la-la-yum", which became its unofficial name), and Promised Land (whose label proclaims "From the finest Jersey Cows"). It was close, but Promised Land came out the victor.

Sunday, December 23, 2012
Holiday Link Dump
Things are getting festive around here, so here's a few quick links for your holiday enjoyment:
That's all for now, hope you all have a happy holiday!

Wednesday, December 19, 2012
The 2012 Egg Nog Tasting
Every year, on Thanksgiving, my family has an Egg Nog tasting. It's a tradition born by accident. One year, several of us mistakenly thought we were responsible for bringing egg nog, and thus we ended up with, like, 8 egg nogs and devised an impromptu tasting event. In
subsequent years
, the number of entries rose and our methodology grew stronger. Oh sure, it's still not perfect, but even the attempt at a double blind taste test seems pretty good for such an informal event.
In general, the egg nogs are judged for two awards: best and worst. Since the number of entries can get out of hand and you can only drink so much egg nog at once, we generally limit the competition to straight nogs, not those fancy flavored things (i.e. no pumpkin spice for us). This year, we added an additional restriction that last year's winner and loser should not be part of this competition. Since the same two brands seem to win every year, we thought this would yield some variety. So the field was a little smaller this year, but the tasting was as fun as ever:
Southern Comfort Traditional Egg Nog
Giant Light Egg Nog
Freddy Hill Farms Creamy Egg Nog
Shop Rite Egg Nog
So Delicious Coconut Milk Nog
Upstate Farms Premium Egg Nog
Nice! Egg Nog
It wound up being a small list, to be sure, but a lot of "missing" brands were things we've had several times before. With the exception of SoCo and I believe Upstate, the others are all new. Funnily enough, the race for best egg nog did come down to Upstate Farms, Southern Comfort, and Freddy Hill Farms, with Upstate Farms narrowly edging the competition in a blind taste test for its first win.
The race for worst egg nog was also interesting. I expected the "So Delicious Coconut Milk Nog" to wipe up the competition, and there were definitely a few people who thought it was the worst thing evar. However, the Giant Light Egg Nog (70% less fat, 1/3 less calories!) won decisively in the voting. The Coconut Nog wasn't excessively bad in my opinion, though it didn't really taste like egg nog. It was like coconut milk with nutmeg, maybe a bit thicker. But the Giant brand Light Egg Nog was absolutely disgusting. A word of advice: if you're trying to watch your fat intake or calories, just don't drink egg nog. You'll be much happier.
All in all, another successful tasting. We'll have to coordinate better next year and get some better, high quality, more obscure options.

Sunday, December 18, 2011
Holiday Horror
'Tis the season... for cheesy horror movies! It's
something
of an
annual
tradition
here at Kaedrin, though the pickings are getting a bit slim these days. Two of the three movies below are only slightly related to actual holiday scares. That being said, I always seem to have fun with these movies, even if they aren't so great:
Sheitan - So some morons go to a club on Christmas Eve, get kicked out, then decide to spend the holiday at the country house of a girl they just met. Little do they know that the caretaker, Joseph, has other plans for the crew. Satanic plans! Yeah, so the film's big problem is that the protagonists are complete and utter douchebags. French douchebags! Sometimes this isn't the worst failing in a horror movie, but there's a distinct lack of horror here as well (at least, until the end, when things get a little better). Vincent Cassel actually turns in a fun, scenery chewing performance as the satanic Joseph (and apparently he also plays Joseph's wife!) The film is shot well and there's something interesting in the general story. Unfortunately, it's all ruined by our douchey protagonists. **
Films to Keep You Awake: The Christmas Tale - Ahh, now this is more like it! Still not tremendously holiday focused, but at least there's a Santa-suit-wearing criminal in this one! 5 kids discover a woman (the aforementioned Santa-suit-wearing criminal) trapped in a well. It turns out that she's a bank robber on the run, so the kids attempt to blackmail her into giving them her stolen money. Things don't go as planned. Also: Zombies (kinda).

It's far from perfect, but it's fun and actually pretty tense at times. The kids all put in good performances, and the Santa-suit criminal manages to be pretty menacing after a while. There's a weird movie-within-a-movie thing going on that I'm not sure entirely works, but the general story works well enough and the ending is sufficiently satisfying. ***
Demonic Toys - Yeah, so I don't think this one has any relationship to the Holidays at all, except that a bunch of toys are attacking everyone, which is actually pretty cool. Don't get me wrong, this is not fine cinema, but it's fun schlock, and while there's a silliness to the proceedings, I did like the backstory. Something about a demon who wants to be reborn and needs to possess a pregnant woman, who happens to stumble into said toy warehouse. Ok, fine, there's not much to the story or, well, the movie, but I had fun with it. I mean, Baby Ooosy Daisy? Awesome. It's actually a pretty bad movie, but fans of bad horror might enjoy it... **1/2
Well, there you have it. There are still a few more Holiday Horror movies in the queue, including
Don't Open Till Christmas
(though this is apparently no longer available from Netflix) and
Santa Claws
(get it?) Well, there's always next year!

Sunday, December 26, 2010
Link Dump
Hope everyone had a great holiday, here's a few more links for your enjoyment:
And, of course, lots of Holiday/Winter beers reviewed on the
Kaedrin Beer Blog
...

Wednesday, December 22, 2010
Rare Exports: A Christmas Tale
Early Christian history shows a lot of attempts by Church leaders to attract followers by setting their holidays to coincide with existing festivals and celebrations. In the case of Christmas, the Church chose December 25, as it coincides with pagan winter solstice festivals that were popular in most cultures. As such, most of the folklore surrounding Christmas is an amalgam of both Christian and Pagan traditions. Examples include
Christmas trees
, mistletoe, and, of course, Santa Claus.
Santa Claus, as we know him, can largely be traced back to the poem
A Visit From Saint Nicholas
, published in 1823 and written by Clement Clarke Moore. However, Moore was pulling from a long tradition of Christmas gift givers, which were, in themselves, pulling from older pagan traditions. And while our current vision of Santa is jolly, many of the precursors are more varied. We all know about the "naughty or nice list", but we generally shy away from graphic descriptions of what happens to the naughty. Many older traditions did not. Case in point, the Finnish "Joulupukki", which translates to "Yule Buck" or "Yule Goat".
One of the reasons pagan cultures chose to celebrate the Winter solstice is that the shortest days of the year are in December, and once you reach the solstice, the days start to get longer again. In Finland, these festivals would celebrate the return of the daylight and would often feature a personification of the evil spirits that were leaving as the days got longer. These spirits were often wore goat skins and horns and demanded presents. It was a loathsome creature, and it frightened children (which parents no doubt used to their advantage, getting their kids to act nice). Once the Christian traditions reached Finland though, this somehow got flipped around, with the spirits now benevolent and delivering presents instead of wreaking havoc.
Rare Exports: A Christmas Tale
is a new Finnish movie that wonders what would happen if we discovered the original "Joulupukki". According to the research of the film's main character, young Pietari, the original Santa was not a very pleasant character, so villagers tricked him into freezing water, then covered the resulting ice cube in sawdust and so many rocks that they created a new mountain. Cut to present day, and a crazy American businessman is attempting to find the real Santa, and is excavating a nearby mountain, much to the dismay of local Reindeer ranchers. Pretty soon, their Reindeer show up dead and children start to go missing.
This is not your typical holiday movie, nor even is it your typical holiday horror film, a
subgenre
I've been
exploring
over the past few years. It takes a while to get going and while I enjoyed the ending, it was a bit of an anti-climax, as you never really get to see the true horrific power of Santa (on the other hand, I do wonder if that sort of explicit explanation would lose something)... That being said, the film has a dark, dry sense of humor that isn't quite explicit, but which made me laugh out loud several times. This is the debut film of writer/director Jalmari Helander, and it's clear that he has a good eye for interesting visuals and while he does not resort to many horror tropes, he does manage some creepifying visuals, such as the weird wooden dolls that Santa's little helpers leave behind while they're kidnapping naughty children or, heck, even Santa's little helpers themselves.
The ending of the film escalates into the absurd, but in an entertaining and welcome way. My favorite part was when young Pietari suddenly turns into an 80s action hero and starts dropping one liners like "It's either me or Santa. I suggest Santa." (OK, fine, that was 2 lines, but still.) I'm still not entirely sure what to make of the epilogue, though it's still a wonderfully absurd notion.
In the end, I don't know that this is up there with the Christmas horror classics like
Black Christmas
, but it's probably still an upper tier picture, and it's well worth a watch for fans of dark holiday shenanigans. ***
Update:
After the movie, I headed over to the local beer bar, Eulogy, and had a nice Austrian beer called
Samichlaus
. Guess what that translates to.

Sunday, December 19, 2010
Holiday Link Dump
It's that time of year, enjoy:
That's all for now. With any luck, I'll be seeing
Rare Exports: A Christmas Tale
on Wednesday, so perhaps a review...
Update:
Added some links...

Wednesday, December 15, 2010
The 2010 Egg Nog Tasting
Well, it appears that I've missed the opportunity to partake in the annual
12 Days of Christmas
Posting, but while I won't be posting every day like I've done the past few years, I'll still try to make some holiday posts. I'll start with the annual family egg nog tasting. I've
documented this
for the past few
years
, and this year started out in similar fashion, with 13 different varieties of eggnog:
For reference, these are the eggnogs pictured (from left to right):
Lehigh Valley Eggnog (not pictured)
Target Holiday Egg Nog
Silk Nog
Hood Pumpkin Eggnog
Rice Dream Rice Nog
Target Holiday Milk
Borden Eggnog
Swiss Farms Egg Nog
Wawa Egg Nog
Wegman's Holiday Egg Nog
Upstate Farms Premium Egg Nog
Hood Golden Eggnog
Southern Comfort Traditional Egg Nog
There was some controversy this year, notably centered around the competition for "Worst Egg Nog". You see, someone brought something from Target called "Holiday Milk", which was essentially strawberry milk... not an eggnog. This turned out to be a moot point, as it wasn't all that bad. As expected, the contest for worst eggnog came down to two options: Rice Dream Rice Nog and Silk Nog. I suppose neither of these are technically egg nog either, but in any case, Silk Nog came away as the "Champion". This is not to say that Rice Dream wasn't seriously considered, but it really just tastes like dirty, cinnamon flavored dishwater. That sounds bad (and it is!), but the watery consistency actually washes down quickly, unlike Silk Nog, which has an even worse taste coupled with the thick consistency of actual eggnog, meaning that it coats your mouth and lingers for a while. Therefore, Silk Nog reigns as the worst Eggnog (substitute) ever.
When it came to judging for "Best Overall Eggnog", things were a little more interesting. This year's tasting started out in our traditional, completely subjective manner, but then we narrowed the field down to 5 finalists (Wawa, Swiss Farms, Wegman's, Upstate Farms, and Target), and prepared a blind tasting methodology where our panel of 6 judges would rate each eggnog on Taste, Appearance and Viscosity.
The cups on the right were the "palate cleansers" and consisted of Rice Dream Rice Nog. It was surprisingly effective. Now, don't get me wrong, this test was still far from scientific, but the methodology was much more thorough this year... and yet, we came out with similar results!
Last year
, there was a tie between Wawa and Swiss Farms Egg Nog. This year, Swiss Farms takes home the prize, but it only nudged out Wawa by a small margin.
The best tasting note of the day came from my sister-in-law's sister, who claimed that Southern Comfort Traditional Eggnog (I think) tasted like suntan lotion. Once she said it, I couldn't
not
taste the suntan lotion. Disgusting. Anyway, it was a good year, and I'm looking forward to next year.

Friday, December 25, 2009
12DC - Day 12: Merry Christmas
In 1897, Virginia O'Hanlon sent a letter to the
New York Sun
asking a simple question: is there a Santa Claus? You see, she had a bad father. He didn't want to answer the question, so he transferred his fatherly responsibilities to the newspaper, claiming that "If you see it in The Sun, it's so." An editor at the
Sun
, Francis Pharcellus Church, took the opportunity to answer Virginia's question and also addressed the deeper philosophical quandry. His now famous response can be summed up as
"Yes, Virginia, there is a Santa Claus."

Merry Christmas, all!

Thursday, December 24, 2009
12DC - Day 11: The Night Before Christmas
This 1933 Disney short is a bit... unenlightened (check out that soot gag), but it was a different time then.
That's all for tonight. Merry Christmas Eve!

Wednesday, December 23, 2009
12DC - Day 10: Santa Slashers
Last year I checked out some holiday horror films and found myself enjoying them quite a bit. This year's crop turned out alright as well, though I wasn't able to get to
Don't Open Till Christmas
(very long wait on Netflix - the same fate that befell
Silent Night, Deadly Night
last year).
Santa's Slay: It's hard to believe that a film written and directed by a protégé of Brett Ratner could be entertaining at all, but then, here we are. Of course, it's not fine cinema or anything, but it's quite a bit of fun. Former professional wrestler Bill Goldberg plays Santa and does a reasonably menacing job in the role. Interestingly enough, the movie attempts to build in some history to the story of Santa and why he is the way he is... It turns out that Santa lost a bet with an angel around 1000 years ago, and thus he had to act nice and deliver presents to the world. But now that agreement has lapsed and Santa goes on a murderous rampage. The flashback that tells this part of the story in the film is done in a rather awesome stop-motion animation, reminiscent of the old Rankin/Bass stuff - a nice touch.




Indeed, there are a lot of little things that I really liked about this movie. Some of the jokes are actually funny and the pop culture references are present without being overbearing. I would have liked to have seen more Santa slayings, but ultimately, this film was a lot better than I expected. Again, it isn't especially brilliant, but it's rather well put together and worth a watch if you go in for this sort of thing. ***
Christmas Evil (aka You Better Watch Out): I had no idea that this was a Troma film until I saw it during the opening credits. However, despite the Troma reputation, this film is much more deliberate and measured than you might expect (there's not even much in the way of gore). The story follows Harry Stadling, a guy who works at a toy factory and has an unhealthy obsession with Santa Claus. For instance, he observes neighborhood kids and makes naughty and nice lists, tabulating all their deeds into two giant books. Eventually, Harry snaps, dresses up like Santa, paints his van to look like a sleigh, and heads out on Christmas Eve to give presents to the nice kids... and punish the naughty ones. Unlike Santa's Slay, Harry actually makes a distinction between naughty and nice, and does not harm the nice people. The naughty, on the other hand, well, they get what's coming to them. Harry is portrayed in a surprisingly sympathetic light, no doubt a result of a rather good lead performance by Brandon Maggart. The film was quite low budget, and it shows, but it's still a very interesting movie. Also, I rather loved the ending, despite the fact that it kinda comes out of nowhere and makes no sense. It's still fun. ***





Dead End: Not sure where I heard of this, but it takes a familiar premise and... doesn't really do all that much with it. A family driving to Christmas Eve dinner takes a "shortcut" and find themselves on a mysterious road through a mysterious forest where they pick up a mysterious woman who mysteriously disappears, but then someone sees a mysterious car that looks almost like a hearse driving away with one of the kids and it's all very mysterious. This sort of thing could work if there was some sort of reasonable explanation for all the mystery... or if the dialogue were good or if the plot progressed in a fashion that made sense in some way. Some serious horror movie tropes here. Like people walking off by themselves or other seriously stupid stuff. For a low budget film, it looks pretty good, and they did manage to find some reasonably good actors, but some of the dumber plot points and the ending just left a bad taste in my mouth. *1/2
That's all for now. Coming down the home stretch, we've got the night before Christmas and the big day itself!
12DC - Day 9: Rantlers!
Sometimes brilliant moments in cinematic history appear in the most unlikely places. Case in point,
Rocky V
, where Rocky coins a new holiday term: Rantlers! Take a listen:
A portmanteau of reindeer and anters, it's just another example of the genius of Rocky.

Tuesday, December 22, 2009
12DC - Day 8: Eggnog!
Last year, I posted about my family's eggnog tradition. Every Thanksgiving, we all bring a few eggnogs and have a tasting. We're pretty bad about organizing it, but this year things went reasonably well, with 12 varieties and even a few new ones. I'm determined to do a true double blind taste test next year... Anyway, here's this year's lineup: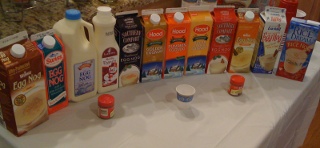 For reference, these are the eggnogs pictured (from left to right):
Wawa
Swiss Farms
Turkey Hill
Lucerne Farms
Southern Comfort (Traditional)
Hood (Golden)
Hood (Pumpkin)
Hood (Sugar Cookie)
Southern Comfort (Vanilla Spice)
Wawa (Pumpkin Spice)
Lactaid
Rice Dream Rice Nog
Just like last year, there wasn't particularly scientific or comprehensive about the process, but a general consensus arose. First, "flavored" eggnogs (like Vanilla Spice or Pumpkin, etc...), while tasty and a nice change of pace, were generally considered to be out of the running for the prize. For the most part, I don't think we'll be pursuing flavored brands in the future. This will lessen the quantity of egg nogs, but it will also make it easier to conduct a double blind taste test. Anyway, there was actually a tie when it came to decide the best eggnog. The winners: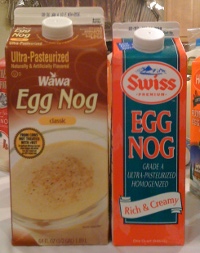 Wawa brand and Swiss Farms brand eggnogs came out on top, with 5 votes apiece. For those of you non-East-Coasters, Wawa is a popular convenience store (a la 7-Eleven, but better) and dairy farm, and their Eggnog is great. Swiss Farms is also a local dairy, and their stores are these strange drive through affairs... Their eggnog was a new addition this year, and obviously a successful one. It's quite good. On the other end of the spectrum, there was a unanimous decision to crown Rice Dream Rice Nog the most disgusting, though quite surprisingly, Lucerne eggnog did quite poorly. I'm not sure how Rice Nog would compare with Silk Soy Nog (last year's loser), but they're both pretty foul.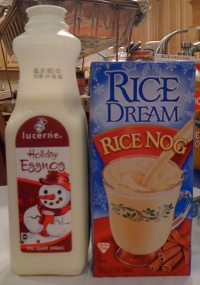 One of the funniest things about Rice Dream was a little warning label that was on the side. I took a picture, but
Kelson's is much better
, and I won't ruin the surprise.
Anywho, it was a good year, and I'm looking forward to next year's tasting!
12DC - Day 7: Treevenge!
On Saturday, I posted a picture of the
traditional Kaedrin Christmas Cactus
. I've been delayed a bit due to some server host issues, but today we're going to see a reason not to have a tree (though honestly, in my case, it's more due to laziness than to what you're about to see). It's a short film made by Canadian filmmaker Jason Eisener (he also made
this bit of insanity
, which I may have posted during the 6WH last year), and a word of warning, it starts out pleasant enough, but it eventually gets
very gory
, so proceed at your own risk.
Of course, that's complete fiction. Everyone knows that our bloodthirsty lust for Christmas trees leads to
the extinction of the pine tree
.

Saturday, December 19, 2009
12DC - Day 6: The Christmas Cactus
Last year, the strand of lights I had on the cactus burnt out, so I had to replace it... And now I remember why I never took lights off the thing before. Taking them off and putting them on can make for a painful experience. In any case, I present you with the 2009 traditional Kaedrin Christmas Cactus: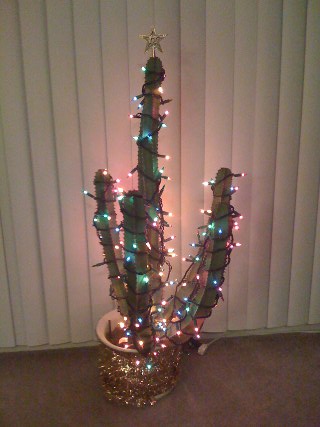 There you have it. Later in the 12DC, we'll go over some reasons not to have a tree (even though, hey, I love Christmas trees too).

Friday, December 18, 2009
12DC - Day 5: Friday is Holiday List Day
Even though it is infrequently observed, Friday
is
list day, so here's a couple lists...
Not So Random 10
Holiday music generally gets overplayed, but let's see what comes up:
Shostakovich - "Suite #2 For Jazz Orchestra - Waltz #2"
Vince Guaraldi - "Linus and Lucy"
Bobby Helms - "Jingle Bell Rock"
Weezer - "We Wish You a Merry Christmas"
John Lennon - "Happy Xmas"
Tchaikovsky - "The Nutcracker Suite"
Gary Hoey - "Carol of the Bells"
Bruce Springsteen - "Merry Christmas Baby"
Vince Guaraldi - "Christmas Time Is Here"
Sufjan Stevens - "Come on! Let's Boogey to the Elf Dance!"
Yeah, so some of those are
reallly
overplayed, but what the hey.
Holiday Link Dump
Well, that's all for now. Stay tuned for what passes as a Christmas tree around here as well as Egg Nog madness.

Thursday, December 17, 2009
12DC - Day 4: Christmas Light Hero
Apparently only 1.1 million of you have seen this, so I better do my part:
That's a lot of lights. I'm disappointed that the kid is only playing on easy though!

Tuesday, December 15, 2009
12DC - Day 2: Peter's Christmas Album
I think one of the funny things about this clip is that it appeared in an episode that was aired in September (i.e. not even close to the Holidays). Typical Family Guy.
Stay tuned for this year's edition of
Incidental Christmas Movies
...

Monday, December 14, 2009
12 Days of Christmas: Day 1 - Tarzan, Tonto & Frankenstein
It's that time of year again, and in keeping with the tradition of seasonal posts (i.e. last year's 12DC and the 6 Weeks of Halloween), today marks the first of twelve holiday themed posts. As with last year, most will be short posts (usually just a pic or video), but Wednesday and Sunday posts will tend to be longer. And so we begin with a bit of a softball, but for some reason one of my favorite SNL holiday gags growing up. I give you: Season's Greetings from Tarzan, Tonto & Frankenstein!
I don't know why, but this seriously cracked me up. Another vid in the extended entry (unfortunately, the best part gets cut off at the end, but it's still awesome).
Hilarious.

Thursday, December 25, 2008
Merry Christmas
And so we come to the last day of the
twelve days of Christmas
. I hope you had a good one! To mark the occassion, here's Eric Cartman's rendition of "O Holy Night":
Merry Christmas all! And now we return to our normally scheduled posting...

Wednesday, December 24, 2008
12DC: Day 11 - The Night Before Christmas
Today, we kick it old school with
The Night Before Christmas
, a 1905 silent film (loosely) based on the
classic poem by Clement Moore
.
Only the big day remains! See you tomorrow...

Tuesday, December 23, 2008
12DC: Day 10 - Seasons Eatings
I'm sure you've already seen this, but it's always worth watching again:
Aside from holiday balls, 'tis also the season for Pizzelles (or Italian death cookies, as my friend Dave calls them)... alas, I do not have any good pictures of my mom's famous Pizzelles. Perhaps later. Anyway, we're getting close now!

Monday, December 22, 2008
12DC: Day 9 - One of these is not like the other...
Seen while Christmas shopping: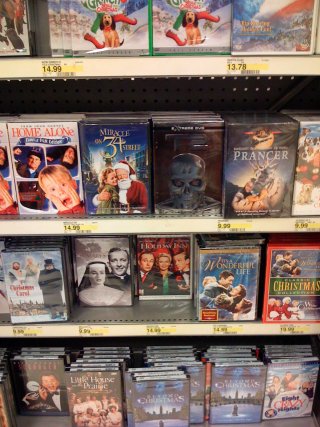 Apparently
T2
has entered the ranks of Christmas Classic. That endoskeleton skull fits right in on that shelf, doesn't it?

Sunday, December 21, 2008
12DC: Day 8 - Holiday Horror
It seems that even after the
Six Weeks of Halloween horror movie marathon
, I couldn't really stop. It doesn't help that there are plenty of Christmas themed horror films... though I must admit that I wasn't able to get to the infamous
Silent Night, Deadly Night
(very long wait on Netflix). Oh well, there's always next year. In the mean time, here's a trio of other Christmas horror films...
Gremlins: First up is a little bit of nostalgia for me. One of my favorites as a kid, this movie still works pretty well even today, though perhaps it's not as great as I remembered it. On the other hand, now that I've seen a lot more films, I started to pick up on a lot of the references in the film (and there are a ton of them). Director Joe Dante had a lot of fun with the referential nature of the film, and it shows. As Christmas films go, it is indeed a bit dark, but still a lot of fun. ***





Jack Frost: It's important to note that this film is not the heartwarming 1998 film starring Michael Keaton as a father who comes back to life as a snowman so he can visit his kids again. I imagine the fact that these two movies share a title has lead to at least a few memorable video rental store blunders. This movie is about a serial killer who crashes into some toxic waste truck during a blizzard. The toxic waste fuzes him with the snow and voila: murderous snowman! This movie is about as good as you'd expect it to be (which is to say it's bad, but a fun bad). You know you're in for a treat when our sherrif hero gets some oatmeal cookies from his daughter. The secret ingredient? Anti-freeze? If there's a more subtle technique for foreshadowing, I certainly can't think of one. The other notable aspect of this movie is that it marks the first appearance of Shannon Elizabeth, who shares an intimate moment in the shower with our abominable friend. Bad puns and ironic Christmas decorations abound. In the end, you get what you expect out of this one... in my case, I had some fun with it, but it's clearly a bad, bad movie. **
Black Christmas (1974 version): Interestingly enough, this film was directed by Bob Clark... director of the polar opposite A Christmas Story. I guess Clark had a lot to say about Christmas. In this case, things are darker and less nostalgic than his other film, but this one is no less a classic. Indeed, it deserves to be recognized as one of 3 or 4 films that created the slasher subgenre... but strangely, it's only really achieved this status in the horror aficionado world. Mainstream audiences don't seem to have heard much about this one, and it's a shame becaues it originates several of the key elements of slasher horror: the long POV shots, the creepy phone calls (and requisite police trackers who shockingly realize that the calls are coming from inside the house!), the final girl syndrome, and more. All of this was done 4 or 5 years before both Halloween (which is still a classic and deserving of all the praise heaped upon it) and When a Stranger Calls (which is perhaps not so much of a classic). Despite being aped by every 80s slasher movie, this film still retains its edge somehow, and is actually pretty effective. The film was remade in 2006, and of course, that didn't go so well (though I have to admit that I liked some of the ideas, I can't say it was executed all that well), but it did have the rather positive effect of getting more people to see the original, which is a plus in my book. It really is a great movie, and probably deserves more mainstream recognition than it gets. ***1/2





That's all for now... only a few days left!

Saturday, December 20, 2008
12DC: Day 7 - Weird Holiday Music
The 12 days of Christmas continues with a couple of strange Holiday songs for your enjoyment. First up is an animated Bob & Doug McKenzie singing
The 12 Days of Christmas
:
Next is the
Carol of the Bells
as performed by guitarist Gary Hoey:
Ok, so not that weird so far, but here's a genuinely odd one from Jonathan Coulton (with Paul & Storm) called
Chiron Beta Prime
. Just his description of the song, before he even starts singing, is worth watching...
Well that's weird enough for me. Special thanks to
Widgett
, who is one-upping me by doing
13
days of Christmas. Anyway, he's responsible for the Bob & Doug McKenzie and Jonathan Coulton songs and has a few other
demented holiday songs
too...

Friday, December 19, 2008
12DC: Day 6 - The Spirit of Christmas
During my freshman year of college, a friend called me into his room to show me this video he
downloaded from the internet
(Dude, it was 50 megabytes! That's huge!) The video featured crudely animated kids with hilarious potty mouths chearing on a fight between Jesus and Santa Claus. This was probably among the first internet video memes out there, and it's fully deserving... A few years later, the creators of this short got their own TV show, which became
South Park
. This original video still holds up though, even after all these years...
More tomorrow!

Thursday, December 18, 2008
12DC: Day 5 - It's an MST3k Christmas
There are lots of great Christmas movies, but of course, there are lots of
really bad
ones too. This is why these Mystery Science Theater 3000 episodes are so great - they make bad Christmas movies into great experiences. Without further ado, here are the full length episodes of both
Santa Claus Conquers the Martians
(with Joel Hodgson and including the infamous Patrick Swayze Christmas carol) and
Santa Claus
(with Mike Nelson).
Santa Claus Conquers the Martians:


Santa Claus:

Over 3 hours of brilliant stuff going on there... enjoy!

Wednesday, December 17, 2008
12DC: Day 4 - Eggnog
A family tradition has grown over the past few years. Every Thanksgiving, we have an Eggnog tasting. Nothing fancy or scientific (though perhaps that can be arranged next year!) and we're pretty bad about organizing this. Point of fact, this year, we only had 4 varieties to try out. Last year, however, was a different story. Again, due to poor planning, several people brought several different varieties, which lead us to have 14 different brands of eggnog.

For reference, these are the eggnogs pictured:
Turkey Hill
Southern Comfort (Traditional)
Southern Comfort (Vanilla Spice)
Organic Valley
Shop Rite
Hood (Sugar Cookie)
Hood (Pumpkin)
Hood (Gingerbread)
Hood (Cinnemon)
Axelrod
Wawa
Tuscan Dairy Farms
Soy Nog
Borden
Like I said, nothing particularly scientific or comprehensive about the process (heck, we don't even add alcohol), but a general consensus arose. First, "flavored" eggnogs (like Vanilla Spice or Pumpkin, etc...), while tasty and a nice change of pace, were generally considered to be out of the running for the prize. Second, Soy Nog was unanimously declared the worst egg nog evar. This may have had something to do with the fact that it didn't actually have egg in it, and thus isn't really eggnog, but still. And finally, the winner (not unanimous, but it scored a decisive victory), was actually Wawa brand eggnog. For those of you non-East-Coasters,
Wawa
is a popular convenience store (a la 7-Eleven, but better) and dairy farm, and their Eggnog is great.
Up until this event started, I'd never been much of a fan of eggnog. There's just something unappealing about a substance that is so scary-bad-for-you that you can only consume it for a limited period of the year. But I've grown into it and am looking forward to next year's tasting...

Tuesday, December 16, 2008
12DC: Day 3 - The Christmas Cactus
What do you use, a
tree
? Pfft!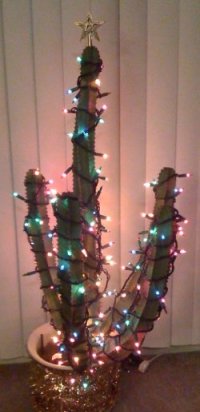 The traditional Kaedrin Christmas cactus strikes again. Also striking again, my poor photography skillz! More to come...

Monday, December 15, 2008
12DC: Day 2 - The Lost Ending of It's a Wonderful Life
A few years ago, the lost ending to the holiday classic
It's a Wonderful Life
was found. It's brilliant.
Tomorrow, we'll handle christmas trees... sorta.

Sunday, December 14, 2008
12 Days of Christmas: Day 1 - Incidental Christmas Movies
In keeping with the tradition of seasonal posts (i.e.
6 Weeks of Halloween
), today marks the first of twelve holiday themed posts (not all will be about movies, I promise!) We start off with what I'm calling Incidental Christmas Movies, meaning movies that take place during the holidays but aren't
about
the holidays.
Die Hard: "Now I have a machine gun. Ho, Ho, Ho." Okay, so that line sounds a lot better with Alan Rickman's eurotrash accent. In any case, the story takes place on Christmas Eve when a bunch of "terrorists" take over an LA highrise building, but neglect to count on NY cop John McClane. It's one of the best action movies of all time, and has spawned its own sub-genre (i.e. Die Hard on a plane, Die Hard on a boat, Die Hard on a bus, etc...) Not at all a holiday film, but there are a few songs and holiday decorations that set the mood...
Trading Places: Probably my favorite incidental holiday movie of all time, I watch this to kick off the holiday season almost every year. It takes place in the timeframe between Thanksgiving and ends just a few days after New Years, and it has some very memorable holiday related scenes. In particular, the scenes where Winthorpe dresses up like Santa and crashes the Duke & Duke party are classic. Unlike a lot of comedies, this movie seems to have something to say and it doesn't do so in a stupid fashion. It kinda resembles the classic comedies of the 30s and 40s, but with a modern sensibility. Fantastic movie...




Winthorpe Claus



Eyes Wide Shut: Stanley Kubrick's final film is perhaps not his best work, but I also think it's underrated. It takes place during the holiday season, and Kubrick takes full advantage of the high contrast lighting opportunities. I suppose the movie is something of a downer, and thus doesn't really make such a great introduction to the holiday season, but it's gorgeous to look at...




My house is decorated like this...



That's all for now, stay tuned for more tomorrow...