We've already taken a look at 2022 in book reading, so now it's time to examine our year in Movie Watching. Yes, there's a lot of important stuff going on the world, but contemplating the more mundane aspects of the year have value and besides, the time machine I'm building to make up for the tragic mistakes I made last year is difficult work and I need to take a break. As with book reading, I expected movie watching to revert to pre-pandemic levels, but as it turns out, this year was roughly equal to last year. However, last year was a dramatic decrease from the Covid heavy 2020, so I guess the movie watching just returned to pre-pandemic levels a little early.
I keep track of all my movie watching on Letterboxd, so if you're reading this and are a member, we should be friends there. One of the neat things I can get from there is fancy stats and graphs and whatnot, so let's take a deeper dive into my 2022 in movie watching:
Overall Stats
A general look at my 2022 in movie watching:
389 films watched (+5 films from 2021)
713 hours watched (-13.2 hours from 2021)
32.4 movies a month on average (+0.4 movies from 2021)
7.5 movies a week on average (+0.1 movies from 2021)
Breaking that down by decade: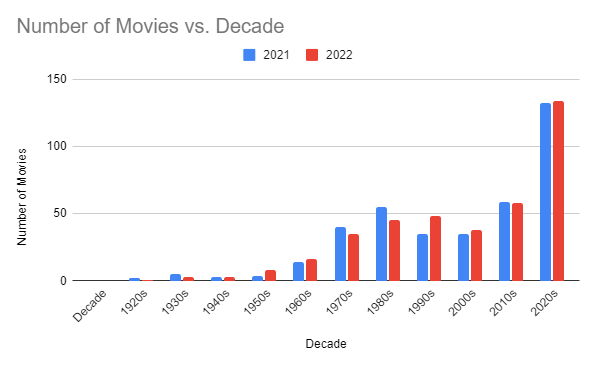 So even pre-pandemic numbers are a lot of movies, perhaps that will slide a bit this year, but who knows? Movies by decade was mildly surprising. Low viewing numbers from the 20s-40s isn't especially uncommon (though perhaps I'm due for another 50 Under 50 type project?), but the modest increase in viewing from the 50s and 60s was nice. I was a little surprised at the decline in the 1970s viewing until I realized that I was still doing the 1978 project in 2021, which drove a fair amount of viewing. Otherwise relatively consistent viewing for the year, with only a slight divergence on the 80s and 90s.

Mildly more consistent week to week, especially considering that 7 week stretch where I watched 8 movies a week. In terms of days of the week, we see some fluctuations on Tuesday, Thursday, Saturday, and Sunday, which would be higher but for the resumption of various social events. Nature is healing, and so on.
Genres, Languages, and Countries

The usual dominance of USA and English language here, with solid showing for other Anglosphere countries UK, Canada, and Australia (not on the list last year). The other addition this year was the triumphant return of Hong Kong. Dropping off the list from 2021 were Belgium and China. Every year I contemplate making a more conscious effort to watch foreign films, so perhaps I need to embark on another filmic project…
In terms of Genre, it's nearly identical to 2021, with only Mystery and Adventure swapping places this year (though Action and Drama genres increased their numbers at the expense of the genres below them, even if the sequence is still almost the same).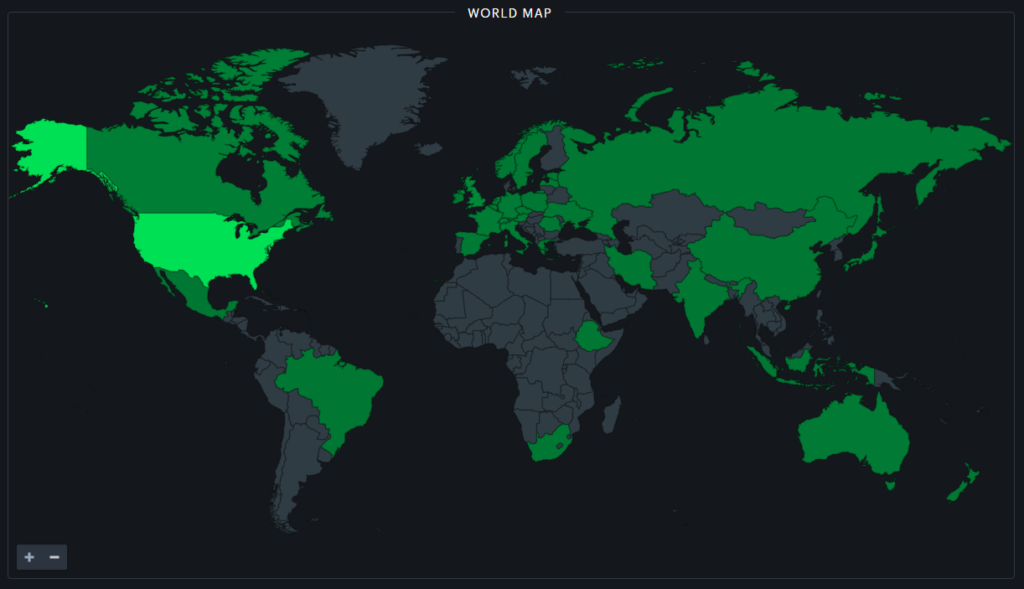 Despite the US dominance overall, the global map has pretty good coverage overall, though obviously the number of movies in each country is relatively small. The only real shock from the map is the total lack of South Korea here (something that will be rectified in the next few days of 2023 as I will be catching up with some 2022 South Korea films soon).
Ratings and Other Patterns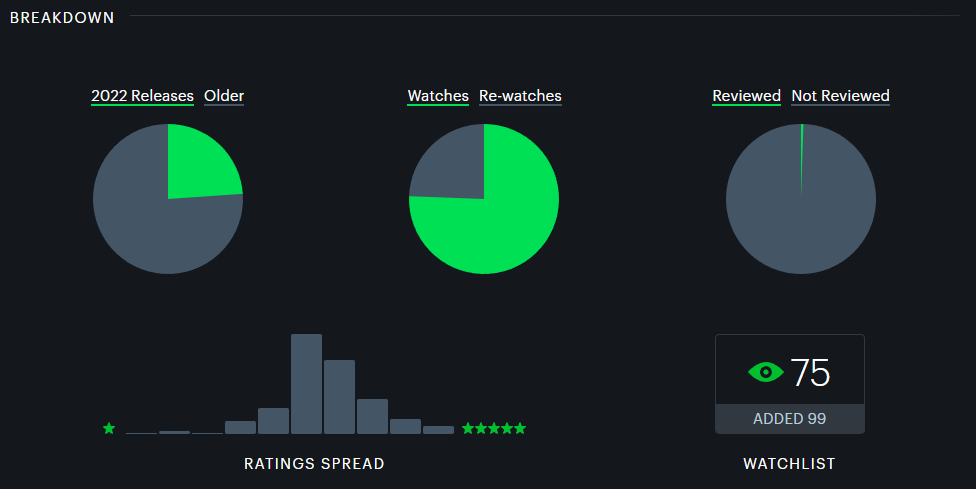 23.9% of my watches were a 2022 release, basically on par with 2021 (a difference of 0.3%). This is slightly above pre-pandemic numbers. 2020 was a big dip due to the pandemic, but the ascendance of streaming has really made more current releases more accessible than ever.
24.4% of my watches were actually rewatches, which is, again, just about on par with previous years.
Ratings Spread continues to be roughly bell-curve shaped and centered on a 3 star (out of 5) rating. Modest increase in 3 star ratings this year, actually. One thing that's not exactly prominent, but still notable is the number of 1 star ratings in 2022. Only 5 movies, but still, it's a 500% increase over 2021. It was driven by a deep dive into the worst comic book movies of all time, part of a group effort that may or may not see the light of day.
Letterboxd has a watchlist where you can add movies you want to watch (or at least, not lose track of). This year wasn't great – nowhere near parity between movies added to the list and movies watched. So the list continues to grow. Some of this has to do with availability – I might want to watch a movie, but it could be out of print or only available via physical media, or otherwise inaccessible etc… And some of it is just pure laziness.
Stars and Directors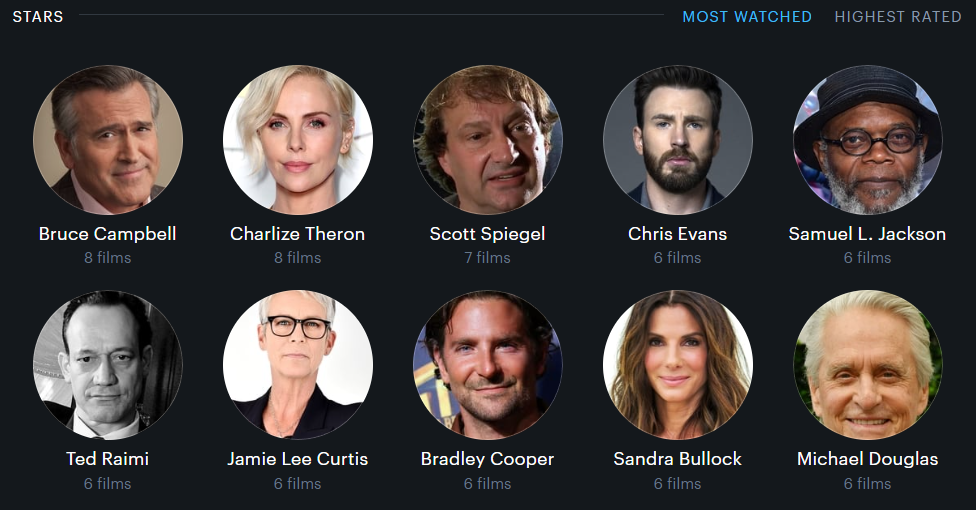 Bruce and Charlize take the top slots this year, Bruce due to following along with Blank Check's Sam Raimi marathon (which also drove the inclusion of Scott Spiegel and Ted Raimi on this list). Charlize Theron, on the other hand, made the list with completely spread out randomness – I had no idea she was going to be in some of the movies I watched this year, including a few obscure ones. Less black actors this year, but more women, so still not exactly diverse, but not totally generic either.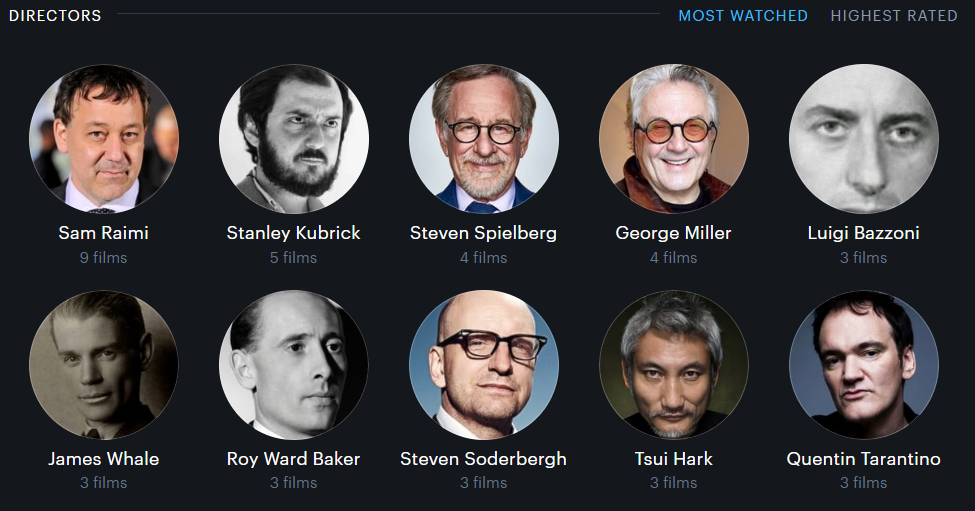 Raimi heads up the list, again due to the Blank Check marathon. Kubrick also shows up due to a similar marathon, though I obviously didn't play along with the whole thing. Overall, significantly whiter and more male than last year (and, like, there was only 1 woman on the list last year). The only diversity to speak of this year is Tsui Hark (driven by the Once Upon a Time in China movies). Otherwise some pretty standard stuff, with the only real oddball being Luigi Bazzoni, who shows up due to a series of Giallo films I watched this year during the Six Weeks of Halloween…
Highs and Lows

The Godfather takes its rightful place in the Highest Average slot (I even watched it a couple of times, as the 4K release is really fantastic.) Son of the Mask takes the Lowest Average rating this year; I only watched this due to the aforementioned effort to watch the worst comic book movies of all time (and this one is certainly in the running for that dubious honor). Knives Out picks up the Most Popular slot for the third year running (and I do truly love that movie). And finally, the Most Obscure movie I watched last year was One of My Wives Is Missing, a fantastic, twisty TV movie from 1976. It's not exactly fine art or anything, but it's really enjoyable stuff and it's still on Amazon Prime if you're interested…
So there you have it, 2022 in movie watching was pretty solid, though I think I have some areas to work on in 2023…