The most wonderful time of the year has rolled around, bringing with it the requisite leaf piles, mutilated pumpkins, paper skeletons, pumpkin spiced abominations, decorative corpses, "fun" cobwebs, and other oxymoronic traditions that are nominally ghastly but suddenly become socially acceptable during this season of seasons. To celebrate, I always embark on a six week long horror movie marathon. That's like two weeks longer than most Halloween movie marathons, because we're pretty awesome, that's why.
Today we examine a trio of films from Mario Bava, the godfather of Italian horror cinema and one of the more influential visual stylists of the 20th century. Bava is famous for his Gothic works and for popularizing the Giallo sub-genre (plus numerous pre-slashers), thus inspiring other Italian horror maestros like Dario Argento and Lucio Fulci. Bava is the first of what I'm calling "Obscure Horror Auteurs", though he's probably the least obscure of the ones I'm tackling (then again, he's obscure enough to general audiences, I think). Others will follow in the coming weeks.
It should be noted that I've already seen a good deal of Bava's work, so the below is actually filling in some gaps, rather than an ideal collection of his films. If you're looking for a good intro to Bava, go for Blood and Black Lace, Black Sunday, Black Sabbath, or A Bay of Blood (aka Twitch of the Death Nerve). I've covered some of these in past Six Weeks of Halloween posts. Several of these are available to stream on Netflix, and upstart horror streaming service Shudder recently had a big event. Check out this gif from Kill Baby, Kill: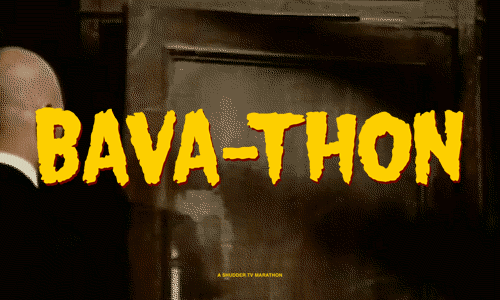 So let's get into it, here's three of Bava's lesser-known works:
That wraps up the first week. Stay tuned for another obscure horror auteur next week, the films of Larry Cohen! Also check out fellow practitioners of the six week marathon at Kernunrex Six Weeks of Halloween and Film Thoughts. Lots of fun stuff to come!