Continuing this week's theme of 1978 movies, here we'll cover two Giallo films of that era. Giallos have been a recurring topic during the Six Weeks of Halloween for the last decade or so. As such, I've already covered the origins and several iterations of the sub-genre. The real golden age of Giallos was in the early 1970s. The genre was running out of steam in 1975 when Dario Argento put out Deep Red, which reinvigorated things for a few years. Even then, by 1978, Giallos were at the tail end of their popularity. When combined with other factors influencing the Italian film industry (rising competition from television, etc…), the decline became more precipitous in the 80s and 90s, though the genre limped along with temporary boosts from Argento (Tenebre in 1982) and Lucio Fulci (The New York Ripper in 1987).
Still, in 1978 there was enough juice in the engine to crank out 6 Giallos. Availability is limited though and indeed, one of the films I'm watching has never had a good home video release until recently. None are available on any sort of streaming service (even for purchase/rent), though I'm sure less *ahem* reputable sources could be found. That said, Kaedrin's procurement department was able to rustle up some glorious physical media to view, so let's get to it:
The Six Weeks of Halloween: Week 4.5 – The Giallo Films of 1978
The Bloodstained Shadow – Two brothers get caught up in a rash of murders on an island near Venice. The murders seem connected to a 7 year old unsolved case, and our heroes are desperate to figure out what connects the victims. Not a well known Giallo, but it features all the hallmarks of a good one. A murder mystery with lots of red herrings, everyone has something to hide, the obligatory J&B whiskey appearance, incompetent police, and a cascade of revelations towards the end that might not entirely make sense, it's all here.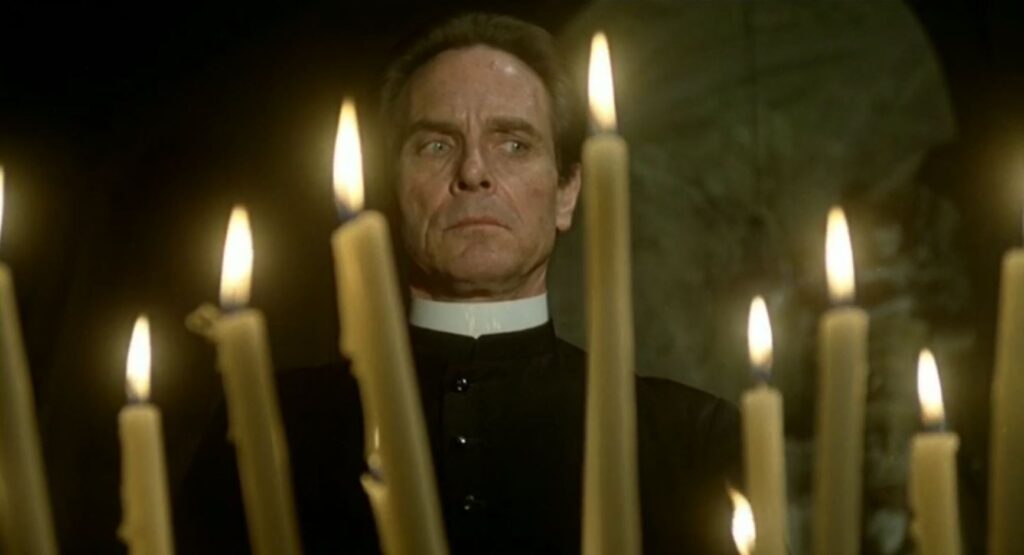 The filmmaking craft is on point as well. Venice is a setting that provides a more interesting canvas than most giallos, and director Antonio Bido takes full advantage. The funky rock music is from the infamous Goblin, which always stands out (though perhaps not as much as in Deep Red). The performances are all pretty good, though the traditional Italian practice of dubbing (it's unusual at first, but the more giallos I watch, the more it's become endearing) sometimes makes it difficult to tell.
Look, it's not the best giallo out there and coming later in the cycle means that this one has some repetitive elements compared to earlier giallos, but it's well done and I think probably a bit underrated. It's a deep cut for fans of the genre and I think there's plenty to love about it, even if it can't quite reach that top tier. **1/2
Rings of Fear (aka Red Rings of Fear aka Enigma rosso) – A young girl is found dead in a river and the inspector assigned to the case traces her back to an all girls school where some of the girls are receiving threatening poems. One by one, they start experiencing mysterious accidents, resulting in injury or even death. Will the inspector put together enough clues to stop the mayhem?! Spoiler alert: yes he will! And you probably won't see it coming!
Part of a sorta unofficial "school girls in peril" trilogy started by writer/director Massimo Dallamano, who made one of the most well regarded giallos in What Have You Done to Solange? Unfortunately, Dallamano died before he could complete the script to this, so the end result is perhaps a little more messy than his earlier entries, but replacement director Alberto Negrin does just fine. Still, you can see the seams here and there. There are some plot threads, such as a subplot involving our inspector's girlfriend, that are suddenly dropped for seemingly no reason. I suspect there was more here that didn't make it in to the finished film (the relatively short running time of 87 minutes seems to support that).
Like the Bloodstained Shadow, there isn't a ton here that is really new to the giallo, but it does manage a few standouts. One is a solid lead performance from Fabio Testi, who starred in the aforementioned Solange as well as another 1978 flick from a waning sub-genre, the spaghetti western China 9, Liberty 37. The score composed by Riz Ortolani is a little more swanky than the Goblin type soundtrack, but it works really well.
And finally, this movie is really, truly, deeply sleazy. Even to jaded eyes, this movie has some grody stuff. There is one notable scene where an abortion is cross cut with an orgy where young women are being slapped with a giant dildo and woof; maybe this isn't the sort of innovation the giallo needed and that's why it was dying out. Look, giallos have never been subtle, especially when it comes to sexuality, but I think they may have vaulted a little too far past the line on this one. It certainly stands out, even if I don't think it's exactly a good thing.
On the other hand, this is worth watching for the scene in which Testi interrogates a suspect by dragging him onto a rollercoaster and haranguing the poor guy as they whip around the tracks. I also think the double-fake-out ending, which I definitely did not see coming, was pretty solid stuff. I do sorta question Testi's inspector is all that dedicated to his job though, as he basically just lets a murderer go with a laugh and a head pat. Aw shucks, you wacky murderer, you got me this time!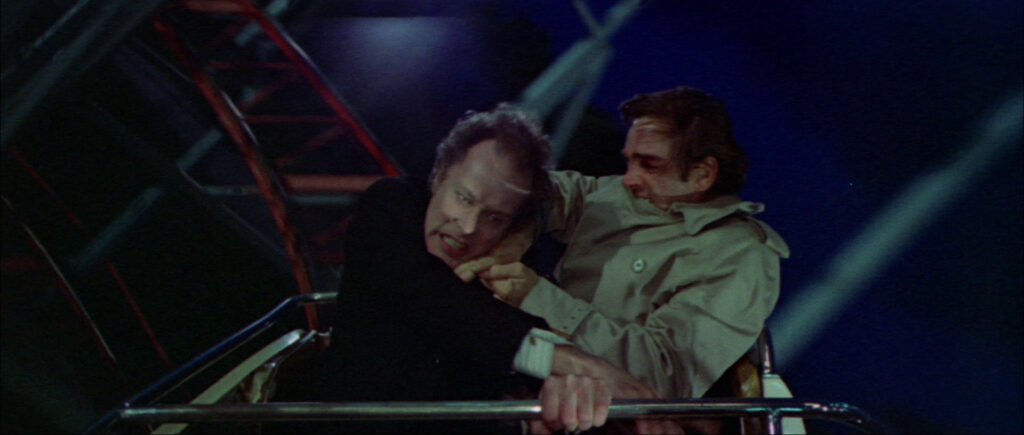 One last note, which is that one of the reasons this film is so obscure is that there really wasn't a decent copy of this film available until the 2018 Blu-Ray rescued the film, restored the proper aspect ratio (apparently this movie really suffered from the pan-and-scan treatment), and so on. I'm sure at some point the transfer will start showing up on streaming services somewhere, but the BD is pretty fantastic and includes an informative commentary. Yay physical media! Ultimately, this is probably only of interest to confirmed giallo fanatics, but despite my misgivings and lowish rating, it's a pretty interesting film. **
So there you have it, lots of 1978 giallo schlock to go around, for sure. Next up for the Six Weeks of Halloween will probably be a more modern set of flicks, perhaps even stuff made this year. Movie Theaters aren't exactly in great shape these days and there's a couple of things coming out that I want to catch up with that aren't playing very widely, but I'm sure I can find a few 2020 movies to watch…