Halloweentime is my favorite time of the year, and like kernunrex, I celebrate the season by watching a ton of horror movies, eating bite-sized candy, drinking pumpkin flavored beer, and playfully decorating my home with (fake) corpses and mutilated pumpkins. I've got Netflix queue full of movies and only 6 weeks to get through them all, but if you have any suggestions, feel free to leave a comment or play along!
I'm starting this year with a distinctive Italian sub-genre known as the Giallo. The word "giallo" means "yellow" in Italian, and the sub-genre takes that name because of the distinctive yellow backgrounds on a series of pulpy, Italian crime/mystery novels.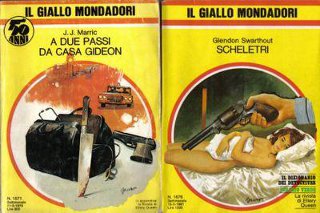 The defining characteristics of these stories are all familiar to fans of traditional pulp fiction. There's usually a whodunit murder/mystery element, combined with lurid sexual themes and often bloody violence. These films started appearing the in the early 1960s and ultimately lead into the slasher craze of the early 80s (may of the elements of the slasher are prefigured in Giallo films – more on this below).
Well, that about covers it for this week. Except that I probably need to watch a dozen other Giallo movies! Lots more movies on the docket for this year, including a few good old fashion hauntings, some crazy Japanese splatter films, and maybe even some silent horror. Stay tuned!