I've been woefully neglectful of my homebrewing hobby of late, and recently decided that I must rebrew my recent failed IPA. As you probably do not recall, I made an IPA using copious amounts of my favorite hops and fermented with the infamous Conan yeast (aka Vermont Ale yeast), then dry hopped with more of my favorite hops. It turned out fantastic, but when I kegged it, I was a little careless and allowed too much dry hop sediment into the keg, which clogged the whole thing up. I tried to salvage the beer by transferring to another keg, but that only served to oxidize the whole thing and basically ruin the batch. Which is a terrible shame, because the limited amout of the stuff I got to try when fresh was fantastic and exactly what I was going for. I mean, perhaps not Heady Topper good, but in the same league as the Alchemist, Hill Farmstead, and Tired Hands IPAs that I love so much. Drinking the oxidized remnants was a major disappointment, so I thought I should do something I almost never do and rebrew the original recipe. For posterity, here it is, in all it's glory:
Beer #16: Crom Approved Double IPA
Full-Batch (5 gallons)
November 28, 2015
12 oz. CaraPils (specialty grain)
8 oz. Crystal 20 (specialty grain)
6 lb. Muntons Extra Light DME
1 lb. Muntons Wheat DME
8 oz. Turbinado Sugar
1 oz. Simcoe (bittering @11.1 AA)
1 oz. Amarillo (flavor)
1 oz. Amarillo (aroma)
1 oz. Citra (aroma)
1 oz. Citra (first addition dry hop)
1 oz. Galaxy (first addition dry hop)
1 oz. Amarillo (second addition dry hop)
1 oz. Citra (second addition dry hop)
GigaYeast GY054 Vermont IPA Yeast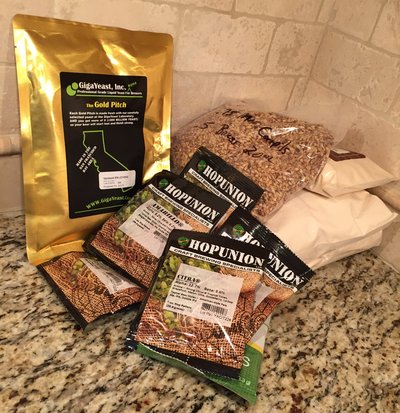 (Click to embiggen)
This is basically identical to the previous batch. Minor differences include the fact that the Simcoe hops I procured for the bittering addition were slightly lower in alpha acids, but that only resulted in a dip of about 2 IBUs, which I judge to be fine. Indeed, the original goal with this brew was to produce something light and aromatic, not something punishingly bitter. Also, my turbinado sugar addition was slightly different this time due to the fact that I did not have as much in the pantry as I thought, so I had to compensate with a bottle of liquid sugar that I had laying around. I'm pretty sure I got that amount right, but my guess is that there's slightly less simple sugar added in this batch. Otherwise, the recipe is the same, and the key component is really the Conan yeast.
As with the last batch, the target is an aromatic 8% ABV Double IPA with attenuation in the 75-80% range (maybe slightly less). The specialty grains and wheat addition will provide a nice malt backbone and platform for the hops, while not being too bitter. IBUs are targeted for slightly less than 50, which is a little low for the BJCP guidelines, but I'm shooting for that newfangled juicy, bright, and citrusy IPA rather than the old school dank and bitter IPA.
Original Gravity: 17.1 Bx, or 1.071, which is slightly lower than the target 1.074. This is not at all troubling since the last batch attenuated higher than expected and got us to something higher than 8%. This batch might hit closer to that target, assuming the yeast does its work.
Once again, I have high hopes for this batch, though I am cautiously optimistic. The last batch turned out great, but I will admit the fermentation of this batch started slow. I brewed this on Saturday, and the airlock was essentially inactive until Monday. It's bubbling away now, which is heartening, but now that I think about it, I did have the yeast in the fridge for a while, and perhaps it was not as viable as the last batch. Fingers crossed! Dry hopping will commence after this weekend, and this sucker will be kegged by 12/13. It will be a nice Christmas present, I think.
Next up? I'm not sure. I was thinking about making a small batch of wild ale (not sure what exactly I'll patter that after, but I'm looking at a full Brett/bacteria fermentation, rather than my previous mixed fermentation approach), but I've also been planning a Scotch Ale (which will, of course, be partially aged on bourbon soaked oak cubes). Only time will tell. Since both of those are time intensive, I might even get to brewing them sooner rather than later, even though they won't be ready for a few months (at which time, I'm sure the keg will be clear of Crom Approved!) At this point, I'm leaning towards Scotch Ale, because we're heading into winter, and that boozy, malty style is probably better suited for the season… We shall see. In the meantime, may Crom bless my current batch of beer. I'm sure the god of steel would appreciate such a brew!
(Cross Posted to Kaedrin Beer Blog)