Beer is quite sweet. Even highly attenuated beers still end up with a fair amount of residual sugars, and to counteract all this sweetness, brewers turn to our lovable friend: the hop. Among other trivial things like flavor and aroma, hops provide a bitterness that makes beer palatable, and one way to measure hop bitterness is through a system of International Bitterness Units (or IBUs for short). On the low end of the scale, you've got beers like industrial light lagers (of the macro-brewer kind), clocking in at around 8-12 IBU. This is apparently pretty close to the lower taste threshold for us humans. When you get into pale ales, you see stuff in the 35-50 IBU range, and IPAs go well beyond that. The theoretical limit of the human ability to detect bitterness is around 100 IBUs.
Now, the stronger the beer, the more malt sweetness there is to be balanced. Thus IBUs alone don't tell you very much about a beer. A monster 13% ABV imperial stout with 100 IBUs won't necessarily be the most bitter beer you've ever had. In fact, it's likely to be pretty darn sweet. On the other hand, a simple pale ale with 50 IBUs may hit you in the face like a sledgehammer. Brewers use various ratios comparing IBUs to Original Gravity units (BU:GU ratio), but now we're venturing into the dreaded mathematics territory, so we'll just leave it at that.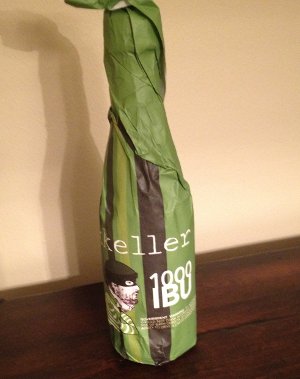 Now, if the taste threshold of bitterness is around 100 IBUs, what the heck is Mikkeller doing making something with ten times that amount of bitterness? I have a few theories. One is that Mikkeller is the leading edge of an insectoid alien race that craves bitter foods and drink, having a much higher threshold for bitterness than us puny humans. And I, for one, welcome our new insect overlords. But I digress. Another completely baseless speculation is that Mikkeller has some crazy palate that can actually detect higher IBUs in weird ways. Sorta like how audiophiles claim that records have superior sound quality or how MP3s (which basically compress music by getting rid of frequencies that are recorded by our equipment, but not detectable by the human ear, amongst other techniques) ruin music. Perhaps there's something too that, but I'm certainly not qualified to say for sure. Finally, it's almost certainly a gimmicky stunt or marketing fluff. Extreme beer always gets people talking, even if approximately half of the discussion is purists condemning the extremists. On the other hand, for a gimmicky beer, this thing is pretty darn spectacular: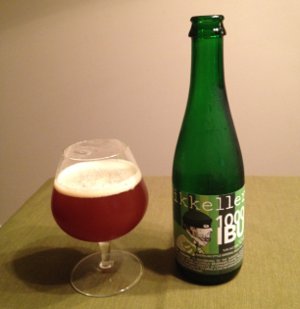 Mikkeller 1000 IBU – This is another beer with one of them fancy paper wrappings, though it's especially useful for this particular beer given the high hop content and green glass it was bottled in (I will never understand why good breweries insist on green glass). Pours a thick, very cloudy orange brown color with a little less than a finger of head with nice retention that leaves a bunch of lacing on the glass as I drink. The aroma is a dream. Tons of citrus and pine resin character in the nose (and when I say tons, I mean this literally), lots of other hop notes from earthy to spicy, along with a pronounced sweetness. I could sniff this stuff all night long. The taste is surprisingly balanced. There's a lot of sweetness, but it's all balanced by the massive hop character. Lots of that citrus, pine, and resin in the middle of the taste, followed by a solid bite of bitterness in the finish. Mouthfeel is thick, chewy, and full bodied, but well carbonated. As it warms, it starts to go down reallly easy, which is surprising for such a big beer. Overall, this is an impressive beer. If only all gimmicky beers were this good. A-
Beer Nerd Details: 9.6% ABV bottled (375 ml capped). Drank out of a snifter on 7/7/12.
It appears that this Mikkel guy knows what he's doing. You'll have to pay an arm and a leg for his stuff, but in most of my experience, it's worth the stretch. I've got a few more Mikkeller beers in the pipeline, including one brewed with weasel poop coffee. And another stout that's been aged in red wine barrels. So yeah, lots more Mikkeller to come on the blog in the coming months.