I've long enjoyed Boon's series of Mono Blends, which are basically single-barrel Geuzes. They even release a Discovery Box of four different Vats for easy comparison. By my count, I've had 7 different Mono Blends, and there's a surprising amount of variance between them. Some really lean into what I think of as Boon's house minerality, some are brighter and fruity, others are more funky and earthy, and so on. Eat your heart out, whiskey!
What we have here today is Boon Oude Geuze Apogee, which is brewed in honor of the two generations of family brewing talent now working at Boon. To symbolize the transition, this blend primarily consists of 2 year old lambic from Boon's newest foeder (Vat N°83) and 3 year old lambic from Boon's oldest foeder (Vat N°79 which, incidentally, is my favorite of the Mono Blends).
No sisyphean power struggles for succession in the Boon family, which may not be as exciting as Frank Boon pitting his two sons against one another in a bloody battle royale; two men enter, one man leaves and gets to continue making lambic… but hey, I guess we'll just have to console ourselves with some fine lambic wares: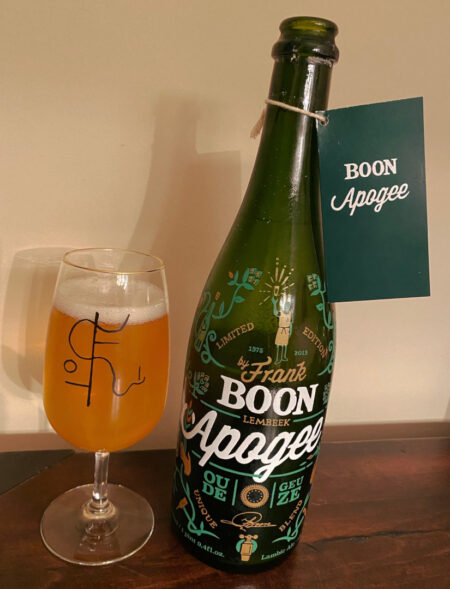 Boon Oude Geuze Apogee – Pours an almost clear yellow gold color with a finger of white head and moderate retention. Smells of sweet, tart fruit, oak, a bit of minerally funk. Taste starts with that sweet, tart fruit but quickly moves into that minerality that I always associate with Boon, then some more complex earthy funk, oak and a hint of vanilla, finishing on that tart fruit note again with some minerality sticking around. Mouthfeel is light bodied, well carbonated, and crisp, moderate acidity but still nicely dry. Overall, really solid and interesting little Geuze; not quite Boon's best, but it's a blend worthy of the celebration. B+
Beer Nerd Details: 7% ABV bottled (750 ml caged and corked). Drank out of a flute glass on 9/30/22. Batch #: 14902. Best Before: 31/12/2039. Bottled: 29/4/2019.
Always love the novelty of new Boon releases, though I will almost always find myself falling back on my beloved Boon Black Label (at this point I am contractually obligated to note that, as much as I love the beer, the label is not actually black, which has always annoyed me).