In anticipation of Red Wednesday, I figured it might be a good idea to check out some non-sour beers aged in red wine barrels. This one is part of a series of beers, all aged in different types of barrels. While the version aged in Scotch whisky barrels apparently represents a "scorching oral douche", all the other variations seem to be pretty well received, including this red-wine version: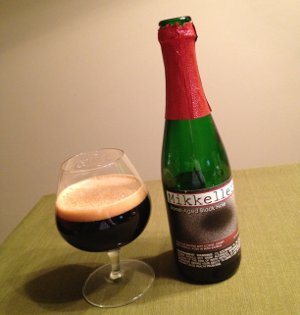 Mikkeller Barrel-Aged Black Hole (Red Wine Edition) – Pours a thick-looking, very dark brown (almost black) color with a solid finger of light brown head. Smells sugary sweet, dark caramel and roast malt aromas, something bright that I assume is the doing of the red wine, and that oak is adding a nice rich complexity to the nose too. The taste is… whoa… yeah, that happened. Starts off very sweet followed by a big wallop of oak, then a bit of those astringent red wine tannins kick in, finishing off with mellow roast and coffee notes. Each of those flavors hits at a discrete point in the taste. One flavor hits, then fades as the next flavor rides in, only to give way to another, and so on… It's like I'm drinking a boxing match. Fortunately, most of these flavors work well. Mouthfeel is full bodied and chewy, but not overwhelmingly so. There's an acidic tannin kick in the mouthfeel, presumably from the red wine, but it's not sour or even tart in any way (as expected). Overall, I'm really enjoying this unique, complex beer, though I don't know that it's something I'd hit up often. B+
Beer Nerd Details: 13.10% ABV bottled (375 ml capped). Drank out of a snifter on 11/9/12.
I am now officially excited for Red Thunder, as I think this sort of treatment might be better integrated into a slightly less hot base beer, but I guess we'll find out. I'm sure I'll pick up more of these Black Hole variations (in particular, it seems the Cognac version is popular) at some point, but I wouldn't expect to see that anytime soon. My cellar is becoming unruly again.