Tonight was beer club, a meeting of beer minded individuals from my work who get together for a meal and lots-o-beer once a month. As usual, a core group of stalwarts showed up, along with some new faces and other return guest stars. All told, a solid turnout, plenty of good beer, and a fun time had by all.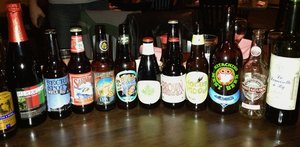 (Click for bigger image)
Apologies for the image quality. Brightness kinda got away from me there. Stupid flash. For the sake of posterity, some thoughts on each beer we tried are below. Standard disclaimers apply, though I think I've achieved a new level in beer nerdom in that I've already had (and probably reviewed) a lot of the beers presented here. Go figure. Roughly (yeah, yeah, gimme a break, it's a social gathering after all, you're lucky I can do this much) listed in order of drinking, not the order in the picture above:
So there you have it. Another successful beer club. Good company, good food, good beer. As always, already looking forward to the next installment.