Well, 2020 was a year that happened… and while the usual time to do year end musings is late-December/early-January, why not do it in mid-February? Yes, I know, lots of reasons, but I'm going to do it anyway. It's always good to take a step back and reflect on where we are, where we've been, and where we're going, so let's do exactly that. (Um, for beer. I know there are probably other, more important things to be reflecting on these days, but this is a beer blog, so here we go…)
We've all spent most of the past year at some point on the pandemic lockdown spectrum. As an introvert, this wasn't as hard on me as it was some of my more extroverted friends, and as a result, I've had record setting years when it comes to solitary hobbies like reading and movie watching. But what about beer? As per usual, I have some assorted thoughts:
A Mild Revival of Blogging
Recent years have seen a precipitous decline in my posting schedule here. Hard as it may be to believe, I once regularly posted 3-5 times a week. Last year it was down to once or twice a month (if that much). This year, perhaps bolstered by pandemic lockdowns, I've stepped things up a tad. I have obviously not reached heyday levels of posting, but I've settled into a 3-4 posts a month cadence that I think suits me well.
I've also noticed a tendency towards mega-posts like recent recaps of Black Friday releases or Bruery Societies. I may have only written 3 posts in January, but when one of them is covering literally 43 different beers, I think that counts for something. This trend probably also drove part of my earlier decline in the number of posts… I can't guarantee that I'm any more informative or entertaining than I've been before, nor that I'll keep this pace up as the pandemic hopefully softens, but it's been a decent year for blogging.
The Continued Rise of Lagers
This is a long term trend that simply continued in 2020: I've been seeking out and drinking more lagers. It's getting to the point where I feel kinda awkward lumping a whole family of styles into just "lagers." Ah, there's the pedantry that drives the blogging spirit.
In truth, the three of you who read this blog may not have noticed much about this trend because I tend to not write about these styles very much. As much as I've grown to love these beers, there often just isn't that much to say about them. But maybe I should take that as more of an opportunity. I've definitely covered more lagers in the past year than usual, so I expect this trend to continue into 2021.
Drinking Local
Not that this wasn't a trend, but with various bar and restaurant closures/lockdowns, I have made a more concerted effort to support local breweries. The biggest issue with this is that there's just too darned many of them. I'm sure every little bit counts, but as much as it might seem like it, I don't drink that much. Speaking of which:
Drinking Less and Taking a Break
Look, I probably still drink more than your average shmoe, and sure, I drink far too much in the way of barrel-aged monstrosities that are probably terrible for me (and my wasteline), but in some ways, my drinking has been tapering off over the last few years. The biggest difference in 2020 was that I wasn't going out much (or, er, at all) due to the pandemic. No happy hours. No bottle shares. No brewery visits. This means that drinking was mostly relegated to the weekends, and even then, no more than usual (if not less than usual).
This week I will embark on the eighth annual beer slowdown, wherein I don't drink beer during Lent. Most of the reasoning in the linked post still stands. While I still hit up other realms of booze like wine and whiskey (and I have a new-ish realm to explore this year – stay tuned!), I'm generally drinking significantly less than usual. I'm also going to try and hit up some local wineries/distilleries, so posting here will probably continue, though perhaps at a slightly diminished rate. Anyway, I've always found this to be a worthwhile exercise, both from a health and willpower perspective and at the minimum, it helps reset the palate in ways that are really interesting.
Hitting the Cellar
Once again, while this wasn't unusual in the past, the trend accelerated a bit in 2020 thanks to lockdowns and being cooped up in my home. My cellar is still kinda insane, to be sure, but I've definitely become less precious about most of the stuff down there and am usually willing to break anything out at the drop of a hat. There are definitely things that I'm "saving" for a share, but that's more because I don't want to drink a 750ml bottle of 20% ABV beer by myself than because of anything else. I definitely put a dent in the cellar this year, and I expect that to continue through this year. If things turn around and shares can resume, I'll be in good shape…
Online Ordering & Delivery
I don't want to even imply that the pandemic has been a good thing, so I won't call this a silver lining or anything, but the dramatic increase in breweries that offer online ordering with convenient pickup or even delivery is a good thing. For instance, Free Will's Ralphius release isn't a high pressure affair, but it usually involves a decent amount of line-waiting. This year? Super easy, barely an inconvenience.
I've always done some ordering from out of state, but options are severely restricted due to PA's draconian booze laws. Yet even that has been loosened of late. Breweries like Kane, Other Half, and even The Bruery (amongst many others) now ship to PA. I mean, the shipping restrictions still stink (you can only get 192 ounces per brewery shipped a month), but it's a start, and I hope it's a trend that continues.
The Return of Homebrewing
Well, let's not get carried away – I've made one batch of beer in the past year… but that's more than the previous two years, so it's a win. And it was a pretty ambitious Scotch Ale/Wee Heavy with variants like Scotch oaked and a weird experiment with fortification. Plus, I made spent grain cookies! Alas, I perhaps let the fermentation get too hot so I got a little autolysis action going with the beer. Also, the bottles didn't carbonate. Still, it was fun, and I might try something a little less ambitious soon.
Top 20
I usually do a list of top "new to me" beers, but this has gotten awkward as blogging declined… but given last year's mild revival, perhaps we can still cobble together a good list. Standard disclaimers apply: this is a list of beers that were new to me this year and which I reviewed on the blog. It's not an all time favorites list, so if you don't see something on here, then maybe I didn't try it this year or perhaps I had it in a previous year. Or you've just got awful taste, it could be that. This is a naturally arbitrary exercise, but I always have fun with it and enjoy making lists like this. Lists are American! So here goes nothing:
I suspect my list strays wide of most people's, given the distinct lack of IPAs and related beers (only three on the list, if you include pale ales, IPAs, and DIPAs as one group) and perhaps an over-reliance on barrel-aged monsters. What can I say? Those are the things that interest me, I guess…
The Unreviewed
For various reasons, there are always beers that I drink and love, but which I neglect to write about. Let's just list a few of these suckers: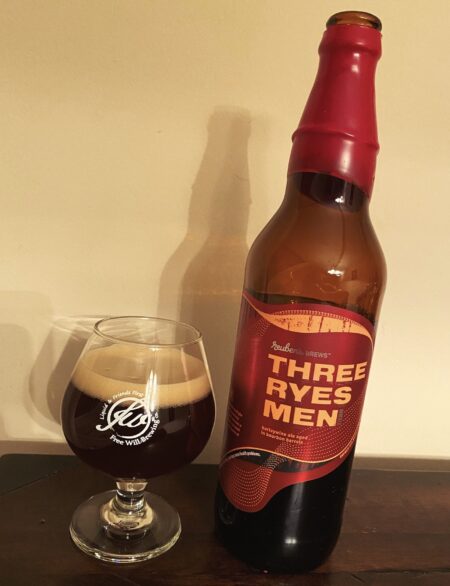 Alrighty, I think that's enough 2020 year end musings for now. A very strange year, but pretty good in terms of beer. I look forward to the day when we can return to bars and breweries to hang out, rather than just pick up some beer. Hopefully soon!