Am I alone in just wanting a straight bourbon barrel aged stout? Lately, I feel like there's always adjuncts or additions of stuff like lactose, vanilla, coffee, cinnamon, maple syrup, toasted coconut, chile peppers, cacao nibs, hazelnut, pecans, and ever more bizarre ingredients "foraged" in obscure ways. I'm pretty sure you could just bottle actual brownie batter and call it a beer, and you'll get people lining up five hours before opening. Don't get me wrong, I'm a total novelty whore and love a good pastry stout as much as the next guy, but sometimes you want to just get back to basics. Ultimately, that's what I really love, and when something only comes in, for example, a coffee treatment, I'm always stuck wondering how much I'd love a version that doesn't have that coffee. Blasphemy to some, I'm sure.
We all know that Kane has a pretty great barrel program, and their big flagship in that arena is their series of A Night To End All Dawns (henceforth ANTEAD) beers. In the past, they've made variants with coffee, vanilla, cacao nibs, coconut, and differing barrels (probably amongst others), but for whatever reason, this year there were only two: regular ol' Bourbon Barrel Aged and a Rye Barrel Aged. Speculation was that the yields were low this year, so there wasn't enough to go around for the variants. Fortunately for me, I managed to snag a couple bottles of the regular BBA ANTEAD (the other set with the rye barrel variant sold out in about 10 seconds during the online sale), and truth be told, I'm not all that broken up about not getting any variants (though I did have a taste of Vanilla ANTEAD once that was pretty darned great).
The description is pretty simple: it's a big imperial stout that spent about a year in bourbon barrels. I keep thinking the name must be an allusion to something, but as near as I can tell, it's just a nice, evocative name for a stout. Certainly it's not a reference to Kane's advocacy on behalf of the antichrist, who promises an eternity of darkness and thus a significant lack of dawns. A Night to End All Dawns soon approaches, and Kane will wreak doom upon the earth (they are located in New Jersey, after all*). Or maybe they're just making really good beer: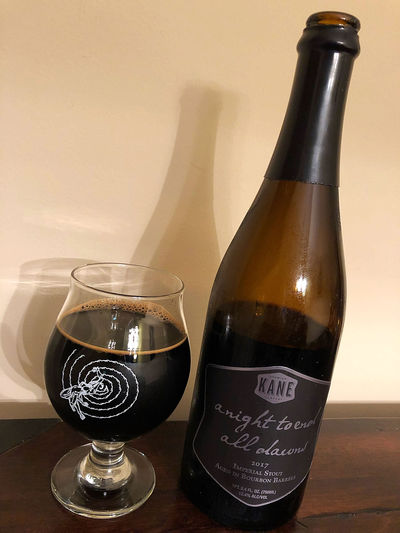 Kane A Night To End All Dawns – Pours a deep black color with half a finger of short-lived light brown head. Smells retains hints of underlying roast, with lots of caramel, chocolate, marshmallow, vanilla, oak and bourbon. Taste is sweet, rich caramel up front, some of that underlying roasted malt, chocolate, followed by the bourbon, oak, and vanilla, maybe that marshmallow, finishing with a boozy bite. Mouthfeel is perfect, rich, full bodied, and chewy, carbonation is just right, with plenty of boozy heat. Some might say it's too "hot", but I rather enjoyed that aspect of it. Overall, yup, it's a fantastic beer with depth and complexity, even (or maybe especially) without the adjuncts and crazy ingredients. A
Beer Nerd Details: 12.4% ABV bottled (750 ml black waxed cap). Drank out of a snifter on 11/9/18. Vintage: 2017 (released in 2018).
Yep, I really need to continue hunting down Kane's barrel aged wares, as they've been uniformly great so far. Or, you know, one of you local Philly area brewers could build up an equally effective barrel program (beyond sours and, believe it or not, coffee stouts). Or I could just drink Parabola all the time. Not the worst option in the world.
* I kid! I kid because I love.