During these pandemic-crazed times, I've tried to pay extra attention to local breweries I enjoy. It's not like I was going to serendipitously stumble upon one of their beers on tap at a local beeratorium, so I made sure to go out of my way to pick up some beer at a bunch of places, including Phoenixville's own Root Down Brewing.
I don't get out there very often, but I like their style, I've got a friend who works there, and their founder/brewer was my very first homebrew pusher purveyor. Oh yeah, and they brew good beer. Let's kick it Root Down (And Get It):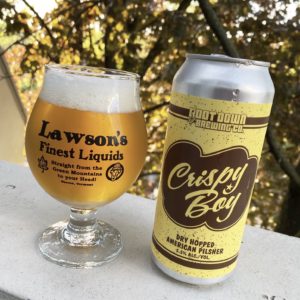 Root Down Brewing Crispy Boy – Just look at that can art! Does anyone remember Charles Chips? They were a snack company that specialized in potato chips packaged in distinctive tins and delivered right to your home on a regular schedule. Seriously, it was like the old-style milkman, only for potato chips. You'd finish your tin and put out the empty one and the Charles Chips delivery truck would pick up the old tin and deliver you a new one. Anyway, the design of this can calls to mind the Charles Chips logo, which was a nice nostalgic surprise. But how was the beer?
A dry-hopped American Pilsner, it pours a striking clear golden yellow color with a few fingers of fluffy white head and good retention. The aroma has lots of bright citrus hops with an underlying pilsner cracker character. Taste hits those pilsner notes more than the nose, crackers and biscuits, but the citrus hops are present, if more subdued. Consequently, this makes it feel more like a pils. Mouthfeel is crisp and clean, light bodied and well carbonated, quaffable. Overall, it's a good pils with some American hop character layered in, very nice. B+
Beer Nerd Details: 5.5% ABV canned (16 ounce pounder). Drank out of a tulip glass on 5/9/20.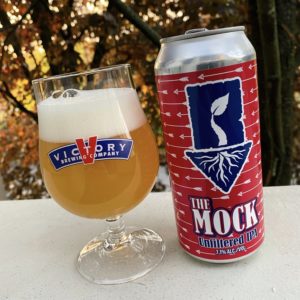 Root Down Brewing The Mock – A unfiltered hazy South Eastern IPA (SEIPA – presumably a play on SEPTA, our craptacular transit authority) hopped with Comet, Azacca, and El Dorado hops. Pours a murky yellow orange color with a couple fingers of head. Smells of sweet, tropical fruit hops, candied mango and the like. Taste hits those bright tropical citrus flavors up front, sweetness balanced by a moderate to high bitterness in the finish. Mouthfeel is medium bodied, well carbonated, a little sticky sweet up front with some balanced dry bitterness in the finish. Overall, rock solid little IPA here, probably my favorite IPA from RD… B+ or A- 
Beer Nerd Details: 7.1% ABV canned (16 ounce pounder). Drank out of a tulip glass on 5/10/20.
Rock solid stuff from Root Down, as per usual. Now that things are opening up again in PA, I may have to make the trek up to Phoenixville again soon…