Boon tends to get lost in the shuffle of lambic producers. Maybe it's their relatively lackluster fruited offerings, or perhaps their distinct minerality character isn't as exciting to folks, or it could be a cosmic roll of the dice, and Cantillon and Drie Fonteinen rolled higher (alright, Tilquin seems to have rolled well too). Maybe Frank Boon cheated the devil in a game of chance. That sort of thing. That said, I appreciate Boon's availability, usually approachable price-point, and their variety of releases. Their geuze offerings are generally underrated and plentiful.
This particular release is the third in their series of collaborations with Mikkeller. To my mind, the best is still the first collaboration, Bone Dry, and the subsequent Boon Black Label batches (basically the same beer, but without Mikkel's blending notions). Indeed, despite the glaring fact that the label is not actually black, Black Label is my go-to lambic and it's a terrible shame that it doesn't appear to be produced anymore (though hope springs eternal for a batch 5).
This beer is aged in old White Vermouth Foeders and the blend consists of mostly 2 year old lambic, with some 1 year old for bottle conditioning and just a touch of 3 year old for complexity and, I dunno, joy. Will these vermouth foeders provide a more noticeable character than the Calvados barrels from the second collaboration release? Only one way to find out: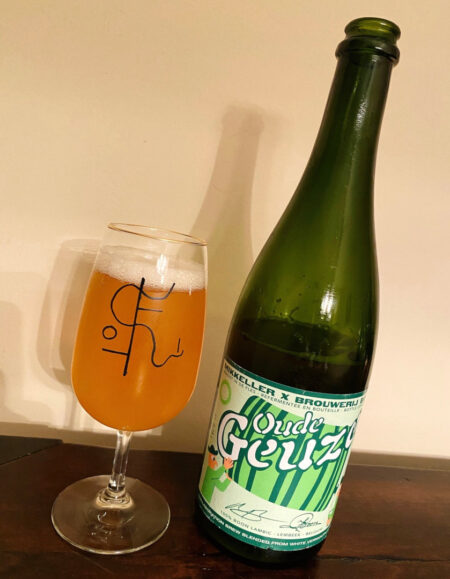 Boon/Mikkeller Oude Geuze White Vermouth Foeders – Pours a slightly hazy yellowish gold color with a solid finger of white, fluffy head, moderate retention. Smells good, a healthy amount of earthy funk leavened by some nice vinous notes from the vermouth. Taste is sweet up front, followed by funky earth, some herbal and spice notes, that Boon minerality, and then tart fruit with a sourness emerging towards the finish. Mouthfeel is light bodied, well carbonated, and crisp, dry up front yielding a bit into the finish. Moderate acidity. Overall, it's a nice vinous spin on your typical Boon Geuze, the Vermouth Foeder definitely provides more character than the Calvados barrels from the last release. A-
Beer Nerd Details: 6.6% ABV bottled (750 ml caged and corked). Drank out of a flute glass on 9/19/20. Lot: 73321.
It does seem as if Boon's riffing on Geuze is slowing down. There aren't any new Vat releases. Black Label seems dormant. And while these Mikkeller jams are interesting, the pricepoint does seem higher. Oh well, I guess we'll just have to keep drinking the regular OG or Marriage Parfait. Both are well worth your time, and there are still Black Label bottles can be scrounged off shelves. There is a fourth Boon/Mikkeller Collaboration that I'm sure will eventually make the rounds, so there is that.