I've been known to read a bit too much into the name of a beer, often positing obscure pop culture references that are almost certainly untrue (though sometimes I'm correct). Because it's fun and I'm the worst, that's why. Anyway, in this case, it's hard to avoid the obvious: this beer is named after a butterfly. More precisely, Baracus is a genus of grass skippers, or butterflies of the subfamily Hesperiinae. What I'm saying is that Mason Ale Works are closet lepidopterists and certainly not fans of a classic 80s television show about a crack commando unit that was sent to prison by a military court for a crime they didn't commit.
Alright, fine, it's named after Mr. T's character from the A-Team. Are you happy now? Fine then. Believe it or not, the initials "B.A." actually have several possible meanings. It's most frequently translated to "Bad Attitude", but it also stands for "Bosco Albert" (his real name), and while this one isn't canon, Mr. T has indicated that it could stand for "Born Again" (in terms of his Christian faith).
In context of this beer, B.A. also stands for "Barrel-Aged" – this barleywine spent over a year in bourbon and Cutwater single malt whiskey barrels (presumably that's Devil's Share American Whiskey). Cutwater is a venture started by the founder and master brewer of Ballast Point (after BP sold out to megacorp Constellation), so it appears Mason Ale Works wanted to support their former rivals by purchasing some barrels. Or perhaps they share an interest in lepidopterology. Um, whatever the case, let's get to the good stuff. By which I mean… tasting notes that will make your eyes gloss over.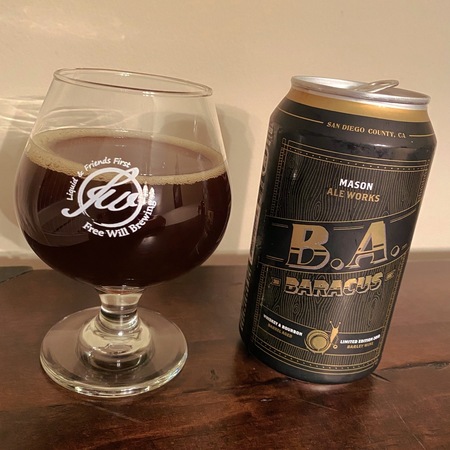 Mason Ale Works B.A. Baracus – Pours a muddy dark brown color with a half finger of head that quickly resolves to a ring around the edge of the glass. Smells great, lots of caramel, bourbon, oak, and vanilla, some resinous hops lurking in the background. Taste is sweet, toffee, caramel, that bourbon, oak, and vanilla, some of that resinous hop character too. Mouthfeel is full bodied and rich, moderate carbonation, plenty of booze. Overall, yup fantastic little BA barleywine. It's got some of that American Barleywine hoppiness to it, but it's well incorporated. I want to say that it's reminiscent of Mother of All Storms, but I had these beers far enough apart that I can't be sure. Gonna have to get fresh bottles/cans of each to do a proper comparison. Ultimately, both are pretty great and worth seeking out. A-
Beer Nerd Details: 14% ABV canned (12 ounce). Drank out of a snifter on 1/5/20. Vintage: Limited Edition 2018.
Yet another fine barleywine, I'm steadily making progress on my backlog of reviews (this is the last one from before quarantine times), so stay tuned. We've got some more barleywine, some stouts, and more local cans of IPAs and Pilsners coming your way.