Those who celebrate the Halloween season do so in many and varied ways and hard as it may be to believe here in 2023, they even maintain blogs to document their celebration. Here, we do the Six Weeks of Halloween horror movie marathon, but there are lots of other approaches. While most folks have migrated over to social media, blogs are still around – and truth be told, blogs are continually being reinvented and remain popular in some ways – witness the success of Substack, which represents, in theory, an even more antiquated internet practice: the email newsletter (even if I suspect most people read posts like they're a blog.) But I digress.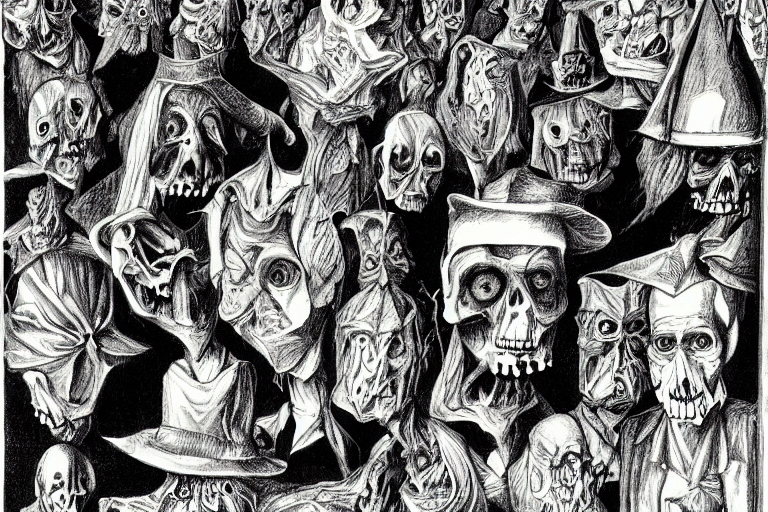 I goofed off with some AI image generators using the prompt "Fellow Travelers in the Halloween Ways" and huh, that's certainly a disturbing but kinda appropriate result, I think. Anywho, it's always interesting to take a look at how others are celebrating the season. It's sometimes challenging to find new stuff, but there's enough old hands out there that, wonder of wonders, still post up a storm during this hallowed season. Let's look at some blogs celebrating the Halloween season:
Old Hands
Film Thoughts – Zack is the only other remaining practitioner of the Six Weeks of Halloween (we both followed a guy named kernunrex down this path, but he went dark many moons ago. One assumes he still engages in the practice, but no longer documents it.) As usual, Zack's pace of both watching and writing outstrips mine by a significant degree, and his reviews are long and insightful. This year, he's been going through the Terrifier movies and he also watched all the Cabinet of Curiosities episodes, amongst tons of other things.
Cinema Crazed – Only discovered a couple years ago, this crew is still going strong, covering tons of stuff, including a spiffy new Toxic Avenger 4K boxed set, and of course, the unspeakable horrors of… Barbie.
Horror Movie a Day – Brian doesn't post every day anymore, but he did so for an absurdly long time, so his blog has an almost comprehensive list of reviews in the archives, and it's an invaluable resource if you're looking for thoughts on an obscure horror movie. He's actually been keeping pace with most of the new releases, including theatrical releases like the new Exorcist sequel/legacyqual/soft-reboot/whateveryoucallit, as well as some of the hyped streaming releases like No One Will Save You and Totally Killer (look for my thoughts on those in the traditional Speed Round at the end of the Six Weeks), and more. His book is also quite helpful when it comes to weekly themes or more obscure films to seek out.
Hellowe'en Horror -Well curated collection of images, posters, screenshots, and gifs from various horror flicks, still marching along with the season…
Final Girl – Shocktober is back! This time around, Stacie is pulling from her 2020 readers' poll of favorite horror movies. There were a whopping 950+ different movies named by her readers, so she went through what people had ranked #1 on their list, and selected 31 movies she hadn't seen before. As usual, Stacie's reviews have a unique perspective and are quite funny.
New Hands
Autumn Lives Here – Hey, remember when I said that Substack kinda represented the undead weblog concept risen from the grave? Well here's an example of a spooky season centered Substack from Jennifer Morrow that mostly focuses on books, but covers lots of other ground too.
Scare Me on Fridays – Do you like screenshots from movies? I mean, there are reviews too, but lots of screenshots. This is something I used to do more often, but while I always try to include a screenshot, I don't go all out like this blog does…
Severed Hands
Wonderful Wonderblog – Spreading the love beyond just movies and into various spooky versions of stuff like lottery tickets and records and whatnot.
Halloween Mixes – Well, technically, this blog is titled "The Murderer's Plague Of The Phantasmagoric Beast Of The Haunted Screaming Horror Of The Mad Scientist's Monster's Bride Of The Vampire's Bloody Psychotic Alien Werewolf Curse Of The Ghost Of The Zombie That Ate The Return of Dav's Ultimate Halloween", but uh, yeah it's got an archive of nice playlists of Halloween themed music (Apparently the 2022 music mix is coming soon).
Zombie Crossings – An assortment of Halloween themed goings-on (music, images, fun facts, that sort of thing).
So there you have it. Halloween blogs are still a thing and going strong. It's not just me. Anywho, stay tuned, we've got some Giallo movies coming in hot on Sunday…