For the past 8 years, I've taken an extended break from beer. There are numerous reasons for this, but one of the more fun ones is that I still explore other realms of beverage glory. One particular thing I kept meaning to try out (but was continually stymied by, for years) was Pétillant Naturel (aka Pét-Nat) wine.
Pétillant Naturel translates to "naturally sparkling" and is a sorta funky version of Champagne. I'll leave it to the experts to get into the distinctions between Pét-Nat and other sparkling styles, but from a beer dork's perspective, it seems like simple bottle conditioned stuff. It's even bottled with a crown cap, like beer is (presumably due to the pressurization that can occur). Various descriptions of these wines kinda reminded me of Belgian beers. Maybe not as funky or earthy as Gueuze, but more like a Belgian Strong Pale Ale.
Despite the frequent proclamations that Pét-Nat is an emerging hipster trend, I had trouble finding bottles in PA. Maybe I'm not hipstery enough, but my guess is that, frankly, like a lot of good beers out there, you have to want it. So it took me a few years to actually procure a bottle. What can I say: the Kaedrin procurement department is obsessed with beer, not as much with wine, but they'll come through if you give them enough time (and the requisite bribes).
Anyway, this appears to be a generally well regarded example of the style. I did leave instructions for the procurement department to seek out white wine varietals, as the notion of a sparkling red didn't really seem like a good place to start (anecdotal evidence from a wine nerd friend indicates that my instinct was the correct one). This particular Pét-Nat is made with Chardonnay grapes, and it was pretty much everything I hoped it would be.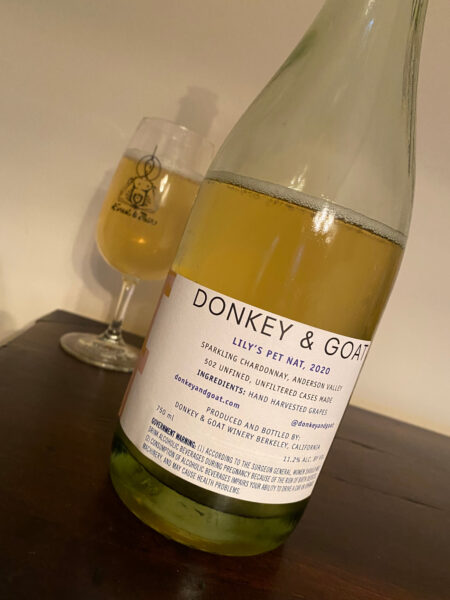 Donkey & Goat Lily's Pét Nat – Pours a clear, very pale straw yellow color with a finger or two of tight bubbles, very pretty. There is a small amount of sediment, but keep in mind that wine dorks would probably be horrified by the amount of sediment that appears in some unfiltered beers. There's maybe a slight haze, but none of the murky, muddy character some beers can have, nor are there tons of chunky floaters when you pour out the last of the bottle. Smells of musty yeast with some citrus zest, pears, honey it feels almost like a hybrid of a Belgian pale ale and Chardonnay. Taste starts off with some sweet vinous fruit, a little of that sort of musty, dusty yeasty funk, but quickly transitions into the more Chardonnay grape, pear, apple flavors, finishing dry, a hint of lemon zest. Mouthfeel is high carbonated and crisp, starts dry, gets a little sweet in the middle, finishing dry. When I say "dry", I don't mean like tannic dry, more in the way of little residual sugars (which the carbonation accentuates well). I really like this. It's playing in the middle of a triangle consisting of Belgian Strong Pale Ale, Chardonnay, and Sparkling Wine. A-
Wine Nerd Details: 11.2% ABV bottled and capped. Drank out of a flute glass on 3/25/22. Vintage: 2020. "502 unfined, unfiltered cases made" Region: Anderson Valley, CA
Food Pairing: I paired this with a reasonably high grade nigiri sushi plate, and I think the carbonation, and relatively dry nature of the Chardonnay went really well with the dish. A go-to beer pairing for that meal would be a Belgian Strong Pale Ale, Saison, or Gueuze, and this fits comfortably in that space. I suspect it would work well with turkey or roast pork loin too.
Beer Nerd Musings: As already mentioned, this sits comfortably in the middle of a triangle consisting of Belgian Strong Pale Ale, Chardonnay, and Sparkling Wine. I do wonder if other white wine grapes would get even closer to the Belgian Pale styles. Perhaps due to my (relative) familiarity with Chardonnay, it still felt a lot like wine, even if I could see some overlap with beer. Interestingly, almost every beer/wine hybrid that I've had has utilized red wine grapes. I'm actually having trouble thinking of a beer/wine hybrid that uses white wine grapes. I'll have to keep an eye out for that. I'm sure The Bruery, which does a lot of wine-forward takes on beer/wine hybrids, has done something like this.
This is definitely a winner. It's a bit pricey, but not overwhelming and I'll most certainly be seeking out more Pét-Nat wines in the coming years.