We're finally in the endgame of the 1978 Project. For the past year and a half or so, I've been watching as many 1978 movies as possible. Because I felt like it, that's why! When I started this project, I had seen about 30 movies made in that year. As of this moment, I've seen 87 movies made in 1978. It's possible that I'll catch up with something after this, but at this point, I'm going to start prepping the typical "year end" festivities like the movie awards and a top 10. Anywho, let's take a look at the most recent 1978 project flicks that I've watched.
---
Straight Time – A career burglar is released from prison, tries and fails to go straight. It's Recidivism: The Movie. To its credit, it spends a lot of time depicting the difficulties of reintegrating with a society that isn't cutting you any slack. It's also a tremendous acting showcase, particularly for Dustin Hoffman as the lead, but it's got a strong roster of supporting actors, ranging from a seedy M. Emmet Walsh as the parole officer, the rare restrained Gary Busey performance as another former-con, the always great Harry Dean Stanton as a fellow burglar, young Kathy Bates, and Theresa Russell as the love interest (who isn't given much to do, but is somehow still memorable thanks to her performance).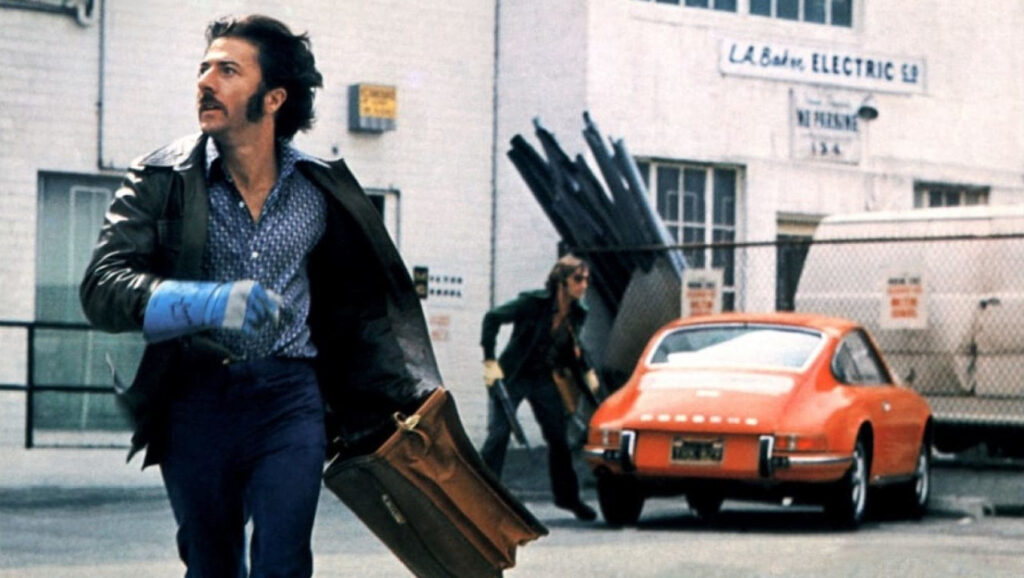 Unfortunately, this sort of character study and acting showcase often doesn't strike a chord with me, and while this is a pretty good example of the style, it's not enough to overcome my distaste for this sort of thing. I know we're not supposed to strictly like Dustin Hoffman's character, but the movie attempts to make him somewhat sympathetic when really, he's just a scumbag. And not even a particularly competent scumbag. This is certainly a me problem – I can't stand incompetent criminals. It's not impossible to do a character study about an incompetent thief that I'll like, it's just a bar this movie couldn't clear.
Indeed, a big part of my issues with this is that I kept thinking of better movies while watching it. In particular, the Coen brothers have a more farcical take on a similar story with Raising Arizona, and that movie just has so much more going for it than this one, both visually and thematically. It's also hard to watch a movie about the criminal underworld of heists and not think about Michael Mann's epics of the genre, like Thief or Heat. It's still a solid movie and totally in line with that dark 70s aesthetic that so many people love. That said, it's not something that did a lot for me. **1/2
---
The Meetings of Anna – Speaking of plotless character studies and performance showcases, this movie is about a lonely woman who travels through Western Europe and meets a bunch of people who, for some reason, just unload their emotional problems on her. It appears to be a semi-autobiographical work from writer/director Chantal Akerman, and to be sure, the film is visually beautiful and she pulls great performances out of the actors. That said, as mentioned above, this is pretty emphatically not my sort of thing. It's over two hours of just wallowing in angst and ennui, and while it's a well done example of that sort of thing, there's not much actual story to grasp onto here. Like most episodic stories, some of the segments are better and more affecting than others, but they don't really add up to a whole lot. There's absolutely an audience for movies like this, I'm just not part of it. That said, I'm glad that stuff like the 1978 project forces my hand in watching things like this. **
---
The Biggest Battle – Italian WWII epic with a pretty great cast that is nonetheless mostly dismissed… probably for good reason. The cast is pretty great, though. Stacy Keach, Henry Fonda, John Huston, Helmut Berger, Samantha Eggar, Giuliano Gemma, Ray Lovelock, and Edwige Fenech? Narration by Orson Welles? Sign me up. Unfortunately the whole thing is deeply mediocre and almost completely unmemorable. Director Umberto Lenzi has made some great, high-energy horror and poliziotteschi flicks, but falls a bit flat here. Clocking in at 104 minutes, it moves pretty quickly and there's some decent action I guess, but there's a lot of plot threads that never really get enough time to connect, resulting in a movie filled with underwhelming war vignettes that will probably remind you of better movies. Indeed, we covered a much better Italian WWII flick earlier in the 1978 Project with The Inglorious Bastards. It's not bad enough to laugh at, but neither is it good enough to recommend. *
---
Long Weekend – Australian horror flick about a couple who go camping on a remote beach, only to find that nature isn't in an accommodating mood. What seems like it might be a schlocky "animals run amok" story reveals itself to be more of a slow descent into madness in a world that's out of balance. There's a deep environmental concern here, as our bickering couple engage in all sorts of disrespectful behavior. They spray pesticides, shoot at animals, litter, and so on, and nature kinda fights back. It's all a bit ham-fisted and of course the two characters at the center of the film are deeply unlikable, even to each other. It's a hard movie to like, but I guess the math adds up, it's got a sort of odd energy that's interesting, and I suspect that a lot of modern audiences would get a lot out of it. Personally, I tend to prefer something a little more subtle or, I don't know, Herzogian. This never quite reaches the heights I think it was going for and it didn't especially work for me, but it's got some interesting stuff going on. **
---
Oof, I'm not usually this grumpy when it comes to this sort of thing, so maybe I've come to the end of my 1978 project explorations here. Stay tuned for the traditional (and more fun!) Movie Awards, Arbitrary Awards, and Top 10 for 1978, coming soon!