Now that we've gotten the Movie Awards and various year-end recaps out of the way, it's time to catch up on some science fiction reading. I did cover a few things already during Vintage SF Month, but I've been sorta slacking on the SF front of late. Still, I've read some things lately that are interesting enough.
The Puppet Masters by Robert A. Heinlein – I read this towards the end of Vintage SF Month but never got around to doing a full writeup. Slug-like alien parasites have arrived on earth, attached themselves to people's backs, taken control of their nervous systems in order to ride them like a puppet master. Two secret agents from a clandestine US intelligence agency have been sent to a small town to investigate a flying saucer sighting (and the disappearance of other government agents) and discover the plot.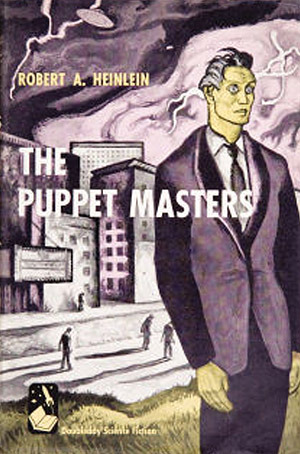 If this sounds a little familiar, that's because it's similar in content and theme to Jack Finney's Invasion of the Body Snatchers. It was published a few years after Heinlein's novel, yet it became far more famous thanks to a classic film adaptation (or two). Heinlein's novel did finally get a schlocky film adaptation in the 90s, but I don't remember thinking it was anything special (I do want to revisit it though) and really, it doesn't get at some of the more out-there ideas in Heinlein's novel.
Written in 1951, Heinlein was probing and echoing the paranoia and fear that drove the Red Scare, explicitly drawing comparisons between the mind-controlling parasites and Soviet communists. Still, much of this is really just an excuse for solidly paced storytelling and explorations of wacky ideas. Some of this has to do with the puppet masters themselves, but much of it is indirectly explored as part of the setting. You get the usual ray guns and flying car tropes, Heinlein reprises his infamous "the door dilated" line, and so on. There's so more out-there notions too, like the notion of marriage being nothing more than a contract (and one that is frequently limited to short terms).
The fight against the puppet masters involves lots of common sense maneuvering between both sides, though even that gets a bit wacky because Heinlein posits that the best way to fight the parasites is to normalize nudity (if you're nude, you can't hide the parasite, you see – totally not a perverted idea at all). Still, the pacing is good and each step makes sense, even if a couple stray a bit far afield.
One conversation towards the end felt particularly fitting: someone speculates that all of the measures they're taking to fight the Puppet Masters won't go away overnight, or probably ever. Because we won't be able to guarantee that every parasite has been eradicated, all of those protections will have to remain in place in one way or another. Fortunately, our battle with Covid 19 doesn't involve some of these extreme measures, but it does appear to be here to stay.
All in all, it's a solid little book, perhaps middle tier Heinlein. I can see why it wasn't immediately jumped on for a film adaptation, but it's a fun read for sure.
---
Masquerade in Lodi by Lois McMaster Bujold – The 9th novella in Bujold's Penric & Desdemona series, though in terms of the internal chronology of the series, it falls somewhere in the middle. This one finds Pen & Des trying to hunt down an ascendant demon and a shipwrecked madman with the help of various locals from the canal town of Lodi (think Venice). It's got the usual twists and turns one can expect from this series, and I always enjoy spending time with Pen & Des (and the ever expanding cast of characters in their orbit). The series as a whole is consistently great and highly recommended.
---
Into the Black by Evan Currie – The story of the human spacecraft Odyssey and her crew as they embark on their maiden voyage… and almost immediately get caught up in an interstellar war. It's a nice little military SF tale with some space opera elements, I found myself thinking it resembled Jack Campbell's Lost Fleet Series. This is only the first novel in Currie's series, so it hasn't quite built up the same level of enjoyment just yet, but I could see it getting there. It's not doing anything new, to be sure, but it's enjoyable and interesting in its own way. I will probably revisit the series at some point.
---
The Thief by Megan Whalen Turner – The King's chief scholar, called The Magus, has found the site of an ancient treasure. Said treasure is guarded by a series of locks and countermeasures that require the skills of a good thief. It just so happens that Gen has recently been imprisoned because of his excellent thieving skills. The Magus recruits Gen and they set off on a quest to find the secure the treasure for the king.
Short and sweet, this might bog down a tad in the middle, and while I wasn't entirely sure I loved the characters at first, they grew on me. There's a good setup and premise for sure, but some of the journey is a bit perfunctory. I wasn't especially engaged by long segments explaining the mythology of this world, and much of it seemed extraneous. However, by the time it ended, I was fully onboard, and actually kinda excited for the next book in the series. I found this because Lois McMaster Bujold posted something about it on Goodreads, and she seemed to indicate that the series gets better as it goes.