I'm apparently about a month late to the party (what else is new?), but National De-lurking Week is a neat idea, so I figured I'd give it a shot. Like a lot of bloggers, most of what I write here is primarily for my own benefit. At the same time, it's always nice to know that someone is reading, and I wouldn't publish it on the internet if I was writing only for myself. However, one of the frustrating things about blogging is that it can be difficult to know who is reading. I have been lucky enough to have a small group of regular readers, most of whom comment regularly on the blog (thanks guys!). And I've picked up a few more regular readers over the years as well, though many of them tend to be lurkers – people who regularly visit, but don't comment.
This post is aimed at that second group of people. To be honest, I'm not even sure how many there are, but if happen to be a regular reader of this blog and haven't commented, please do so! As Sheryl puts it:
…I just read a Psychology Today article which notes a direct correlation between weight loss, and commenting on your favorite blogs, so leave a comment because it will make you skinny. Not that you're fat, because you're not!! So tell me how long you've been reading my blog, or your favorite book, or the first word that pops into your mind when you hear the word shish-kabob, and remember, if you don't leave a comment, you're letting the terrorists win.
And heck, if you're a regular commenter (or someone who doesn't comment often), feel free to comment about whatever you like. After all, I have a feeling there aren't going to be so many comments on this post, and I'd love to hear from everyone.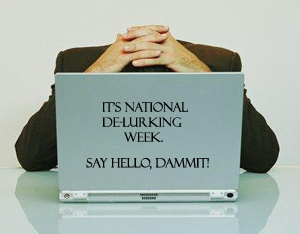 Update 2.11.07: Well then, this was not so much of a success. This is mildly strange, as I can see from my referrer logs that there are people coming here that have not posted. Either they're not reading this post, or they're being rebellious. Strange. Thanks to all who commented, though:)