When you think of the top wine producing regions in the world, you're probably thinking of somewhere in France, Italy, or California. You're almost certainly not thinking Southeast Pennsylvania. And yet, here is Va La Vineyards, smack dab in the middle of mushroom country.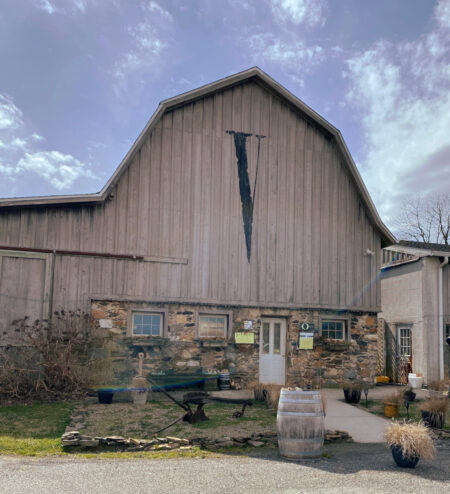 Indeed, for all you terroir nerds out there, Va La Vinyards' 6 acres are neighbored by a mushroom farm. Supposedly the farm's compost lot generates a steamy fog that drifts over the vinyard, providing a temperature-leveling effect that is good for grape growing. Said fog is referred to as "the ghost" by the Va La workers, who attribute part of their success with difficult wine grapes to their phantasmic friend.
Anywho, Va La is not a large producer and their wares are mostly available only at the winery itself (and maybe some restaurants). After reading about it at PA Vine Co, I decided to pop down and take a flier on local wine. To be quite honest, I was not expecting much, so imagine my surprise at recognizing that this was probably the best wine I've had all year. (Granted, I'm a beer dork and only really dabble in wine, but still…)
This particular red wine, Va La Mahogany, is made from a field blend of northern Italian grape varieties: "barbera, malvasia nera, petit verdot, charbono, carmine, lagrein, sagrantino, etc" (gotta love the grace note added by that unassuming little "etc" at the end there). It's quite a production:
The grapes were harvested by hand on the mornings of October 4 – 6. The wine was aged in barrels sourced from Burgundy & central Pennsylvania forests for ~ 28 months, and then aged 12 months in bottle before release.
They recommend an extended decanting time and note that it's well suited for aging. I will most certainly be revisiting this in years to come during the annual beer slowdowns…
Va La Vinyards Mahogany – Pours a very deep, dark red color. Smells of dark, jammy fruits, lots of cherry and blackberry, some oak and vanilla with earthy aromas in the background, chocolate, leather, spice, and the like. Taste starts sweet and fruity, those cherries and blackberries coming out to play, moves into funky territory, chocolate, a hint of spice, maybe leather or tobacco pitching in, finishing with a hit of acidity. Mouthfeel is full bodied, concentrated, bright, with moderate dry tannins underpinning the whole affair. This is complex, I keep discovering new notes, but incredibly well balanced and harmonious. Look, y'all know I'm no wine expert, but this is good wine. A- or maybe an A
Wine Nerd Details: 14.5% ABV bottled (750 ml corked). Drank out of a Bordeaux Wine Glass on 3/19/22. Vintage: 2017. Bottle No. 3250
I am very much looking forward to having this again, and to exploring more of Va La's wines during future breaks from beer. Certainly recommended for wine nerds who find themselves in the area.