During these times of beer recession, I find myself reaching for wine more than I would have thought. This despite being pretty clueless on the finer ins-and-outs of oenophilia. It can be pretty fun to just grab something off the shelf and explore, something that is less common for me when it comes to beer these days. Remember the days of Belgian beer roulette? Well, say hello to Italian wine roulette! I grabbed this bottle a little while ago knowing almost nothing about it other than that it was from Italy and had one of those ritzy DOC stickers.
How'd I do? It turns out that this is an Italian Amarone, typically a rich, dry red wine made from partially dried grapes. This particular bottle is made from grapes picked in October, then dried under shelter in the open air on flat wood crates until January or February. The classy name for this process is the "appassimento method", but most of us would just call these suckers raisins (perhaps not quite full-raisin, maybe just quasi-raisin). The "raisined" grapes are fermented and initially aged one year in stainless steel, followed by a lengthy 4-5 year stay in traditional, large Slovenian oak casks. This sounds quite intensive, so let's dig in: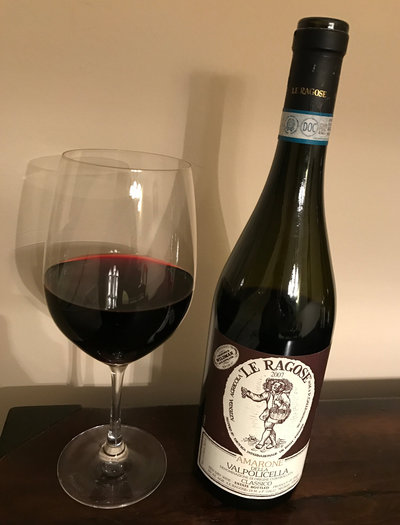 Le Ragose 2007 Amarone della Valpolicella Classico – Pours a deep, dark, garnet red color. Smells of dark fruits, cherries, plums, and the like, some vanilla, and something a little more earthy. Taste hits those jammy fruits up front, then moves into an earthy, almost spicy note, followed by dry tannins in the finish. Mouthfeel is medium to full bodied, rich, and intense with moderate to high dryness. Definitely benefits from a pairing with rich, hearty dishes (I had steak and sauteed mushrooms). It's not quite the beast that Sagrantino can be, but it's on that spectrum and would you look at that, the ABV is certainly on the higher end and kinda snuck up on me… Overall, this is a great little Italian wine, intense, complex, and tasty. Let's call it a victory for Italian wine roulette!
Wine Nerd Details: 15.5% ABV bottled (750 ml). Drank out of a wine glass on 3/19/17. Varietals: Corvina, Rondinella, and Molinara. Vintage: 2007.
Food Pairing: As mentioned above, this wine kinda needs rich, hearty dishes, and I prepared a nice NY Strip steak and sauteed mushrooms, which fit the bill nicely.
Beer Nerd Musings: Alas, I am unaware of any Amarone barrel aged beers, though I think the intensity of the wine could pair well with some American Wild sours or maybe even non-sour stouts. I'd also be curious about the idea of using "raisined" grapes as an adjunct in beer as well. That could lend a certain intensity that would be interesting. Again, I'm not really aware of any beers that make use of this though… Opportunity, thy name is raisin. Or something.
I have another Italian wine in the pipeline, one that I'm told pairs well with pizza, so stay tuned.