One of the many things I love about winter is that I generally take the opportunity to do some slow cooking. Soups are a staple, sometimes I'll slow cook ribs or pork shoulder, but this past weekend, I made some Italian tomato sauce. There are, of course, many ways to do so, but I went low and slow, ending up with something more on the chunky side. I also managed to procure some high end sausage, meatballs, and tortelinni, so all was well with the world. To pair with this magnificent feast, I obviously had to go with Italian wine, so I pulled out this bottle I bought a couple years ago.
Made in the Montepulciano region of Italy from 70% Prugnolo Gentile grapes (a Sangiovese clone) and 30% Canaiolo. These are both famous Italian varietals, though Sangiovese is clearly the more popular varietal, a component in numerous blends of Italian wine. This particular bottle is generally considered a "lesser" version of Vino Nobile di Montepulciano, but it still holds the DOC appellation, and I must admit, the price point of approximately $13 is attractive. It seemed like it would go well with my feast, so I popped the cork and let loose: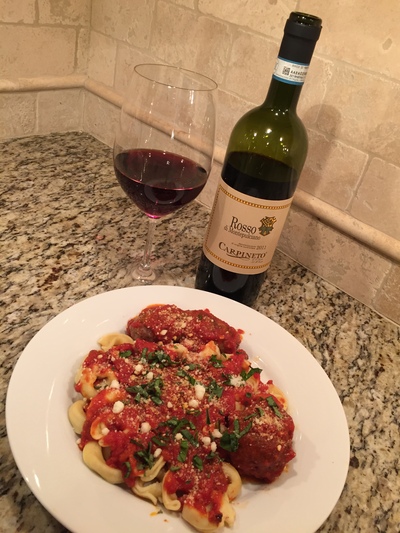 (Click to Embiggen)
Carpineto Rosso di Montepulciano 2011 – Pours a clear ruby red color, maybe a little of purple around the edges. Smells of fresh, ripe fruit, feels a bit straightforward, but maybe some earthy character in the background. Taste hits that ripe fruit up front, with acidity balanced out by a nice dry tannin character. Mouthfeel is medium bodied, with a well balanced acidity and dryness that makes for a really smooth mouthfeel. Dry, but not so much that you must eat something with it, it can work fine on its own. Overall, this is a very nice glass of wine, not going to make your face melt, but it's a solid choice that works well with food but can also work by itself. B
Wine Nerd Details: 13.5% ABV bottled (750 ml). Drank out of a wine glass on 2/13/16. Vintage: 2011.
Food Pairing: As mentioned and pictured above, I made some tomato sauce (starting with San Marzano tomatoes, with onions, garlic, oregano, red pepper, and fresh basil, simmered for a few hours with Parmesan cheese rind for added flavor), served atop a decent grade Italian sausage, veal/beef/pork meatball, and tortellini. The wine went well with this meal. Not a revelation or anything, but it worked, and that's what this wine is good for. It's not so dry that you need some sort of red meat, but it's not super jammy or acidic either, so it worked fine with this meal.
Beer Nerd Musings: I'm not aware of any beer specifically aged in Montepulciano barrels or anything like that, though the ubiquity of Sangiovese means that I've definitely had some beers that incorporate such grapes (or wines). Stillwater has made some Brunello barrel aged beer, and those wines are almost always comprised of 100% Sangiovese (though I gather that there was some sort of controversy a few years ago where producers were blending in small portions of other grapes to even out the wine). This particular blend seems like it could work well with beer, whether you go for the grapes or just use the barrel for some flavor.
Stay tuned for more wine blogging in the coming weeks. I've got a few bottles to get through here, so it should be fun. Next up on the blog, though, will be a Bourbon…