So if white wines are the lagers of wine, are red wines the ales of wine*? Alright, fine, I won't just write the inverse of Tuesday's post and will instead leave it as an exercise for the reader.
Clos Du Val Winery was founded by two Frenchmen** who were scouring the planet looking for areas where they might be able to produce Bordeaux-style wine. Interestingly enough, they settled on a particular stretch of Napa Valley known as… the Stags Leap District. I'm guessing this means that Clos Du Val is just a quick stumble away from Stags' Leap Winery (which we covered on Tuesday) and Stag's Leap Wine Cellars (which we covered last year). Anywho, Clos Du Val gained their reputation in part due to their participation in the Judgement of Paris, a blind wine tasting in which some American wines bested French wines, to much consternation. Clos Du Val came in 8th place (so it wasn't the controversial winner, but it was playing on the same field), but the same vintage would go on to do quite well at subsequent rematches, proving that their wine ages well too. A recommendation from a friend, and I must say, I really enjoyed this: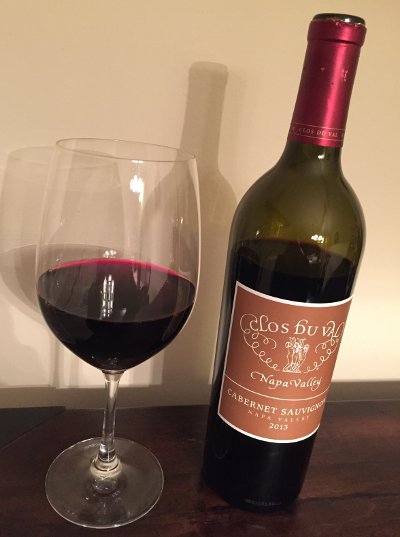 Clos Du Val Cabernet Sauvignon 2013 – Pours a deep, very dark ruby red color, purple highlights. Smells great, rich dark fruits, blackberries, blueberries, cherries, and a nice oak component pitches in as well. Taste is sweet berries up front, cherries and blackberries, nice acidity followed by a hefty tannin dryness towards the finish. Mouthfeel is rich and full bodied, robust with a medium to high dryness that lingers into the finish, perfect for red meat. Overall, this is a fabulous little Cab. I always hesitate to rate wines, but what the hell, A-
Wine Nerd Details: 14.1% ABV bottled (750 ml corked and served slightly below room temp). Drank out of a wine glass on 2/20/16. Vintage: 2013.
Food Pairing: It was unseasonably warm on Saturday, so I broke out the grill and made a nice Filet Mignon, and the pairing went quite beautifully. Sides were sauteed mushrooms and asparagus, both of which worked fine. I tried some dark chocolate, which worked well enough, but perhaps not as great as some beer/chocolate pairings I've had.
Beer Nerd Musings: It should be unsurprising that Cabernet Sauvignon barrels are quite popular with breweries making American Wild Ales. The proximity between Californian breweries and wineries often leads to collaborations of a sort, even if some winery employees are afraid to go to breweries like Russian River for fear of picking up some Brettanomyces at the brewery and inadvertently introducing the wild yeast back at their winery (Brett, while great in beer, is apparently deeply reviled in wine, though I'd be really curious to see what a Brett wine would be like, just for yucks). Russian River's Cabernet Sauvignon barrel aged sour is called Consecration, and it enjoys a great deal of popularity, though it's actually my least favorite of Russian River's standard lineup (I suspect this has more to do with the high level of alcohol than the wine though). Other Cab aged beers that I've reviewed include Dock Street Flemish Red and Avery Tectum Et Elix. Some beers will even be aged on Cabernet Sauvignon grapes (like, say, Cascade's Sang Royal, a great beer).
So that was quite nice. Stay tuned, we've got some Bourbon and Scotch coming your way, maybe even some Vintage Port…
* Or, as Cian asked, are red wines the stouts of wine? That is a trickier proposition, but my guess is that most red wines are not very stoutlike except in more general terms of intensity or complexity or something like that. However, I did have that Carmenere last year that was distinctly stoutlike, so there is that.
** Don't say "cheese eating surrender monkey", don't say "cheese eating surrender monkey", don't say "cheese eating surrender monkey", don't say "cheese eating surrender monkey", don't say "cheese eating surrender monkey", ah crap I just said it 5 times.