Coming down the homestretch of my temporary detour from beer, we've got another wine recommendation from PA Vine Co and current PA Chairman's Selection. In last year's limited wine sampling, I went with two relatively straightforward wines: A Chardonnay and a Pinot Noir. This year, I hit up a pretty standard varietal with a Merlot, but also gravitated towards some weirder, funkier, more obscure grapes that I'd never heard of, like the Sagrantino and now, a Carmenere.
Carmenere has its origins in Bordeaux, France as one of the six original grapes used in blending, but has mostly fallen out of use. It is now primarily grown in Chile, which is where this particular bottle comes from. The grape is a member of the Cabernet family and is frequently compared to Cabernet Sauvignon, though it seems to be a little more funky and intense than I usually think of Cabernet Sauvignon being… (though perhaps that Chilean terroir is the culprit there?)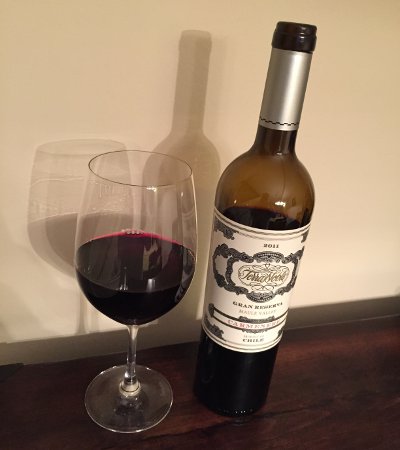 TerraNoble Carmenere Gran Reserva 2011 – Pours a deep purple color with amber highlights, lots of legs. Smells roasty, almost charred, like coffee (or tar), it's got some fruitiness lurking in the background, but it's really that almost smoky tar that dominates the nose. The taste starts with all sorts of fruit, cherries, blueberries, raspberries, and so on, with more earthy notes hitting later in the taste, tobacco, leather, coffee, spice, also some oak playing around, and finishing back with the fruit. Very intense, lots going on, with a complex, long finish. Mouthfeel is on the lower end of full bodied, rich and smooth, dry (but not extreme), a little acidic. It's not quite the Sagrantino-level monster of funk that absolutely must be paired with rich food, but it's got a similar funkiness going on. I can drink this by itself, though it obviously pairs very well with rich foods. Overall, I like this a lot, intense complex and funky, though it doesn't feel as integrated as the Sagrantino. Also, while I love how odd and intense this wine is, my legendary ambivalence to all things coffee isn't really doing this any favors (a matter of taste, not the fault of the wine itself) I suspect age would treat this well though, and I might grab a bottle to see what happens. I'll give it a B, but it's a fascinating B and well worth a shot for the adventurous (as with the Sagrantino, beer lovers who go in for novelty and funky flavors will probably get a kick out of this)…
Wine Nerd Details: 13.5% ABV bottled (750 ml). Drank out of a wine glass on 3/20/15. Vintage: 2011.
Food Pairing: Went pretty straightforward with this one, with a pan seared New York strip, Port-Wine Mushroom Sauce, and some of that leftover risotto (aka hot wet rice) from last week. It was glorious, even if I wasn't a huge fan of that sauce that I made…
Beer Nerd Musings: This is the closest thing to a stout I've tried in wine, and I honestly didn't think I'd ever be saying something like that. Red wine barrels tend to be used for sour beers, but they're usually familiar varieties like Cabernet Sauvignon or Pinot Noir. These weird, funky wines might work well with non-sours. This one in particular, with its roasty coffee tobacco notes that come out almost smoky or tarry, might work really well on its own with a big imperial stout. Would a coffee stout overpower the character of these barrels? I'm guessing it would – it would be more interesting to see if you could get the sorta coffee notes out of the roasted malt's interplay with these barrels. Maybe even a barleywine or Scotch ale could work with this. I'm sure darker sours and things like a Flanders Red would work in these barrels as well. Alas, I cannot find a single example of a Carmenere barrel aged beer.
So there you have it. If you're into novelty and love yourself some coffee stouts, this is worth a try. At $12.99, it's a pretty good deal too (if you happen to be in PA). Next week we've got some Scotch and Tea, and then our road converges back into beer!