Pizza and beer is one of my favorite pairings, but what to do when you've gone on a temporary beer hiatus? Obviously you need to go with an Italian wine, but that doesn't narrow things down much… I ran into this video (you guys, I watch Playboy for the food pairing advice) which suggested a specific wine and, for once, I was actually able to find that wine around here.
This wine hails from Vittoria, Sicily and is made by one of the rising stars of the wine world, Arianna Occhipinti. She fell in love with the process while working with her uncle, also a famous winemaker, when she was just 16 years old. She followed up by studying agriculture and oenology at university and started making her own wine right after she graduated. Starting on a tiny plot (1 hectare), she's slowly grown her winery, focusing on all natural, organic winemaking.
It's funny, in looking up this wine I keep running into the weirdly specific statistic that Arianna Occhipinti has had 27 articles about her wines featured in the New York Times. Well, I guess she can add "and one random beer blog" to her growing list of plaudits.
This particular wine is a blend of two indigenous grapes, Nero d'Avola and Frappato. As a beer dork, you'll have to excuse the fact that I'm not familiar with either, but from looking around, Frappato is known for light-bodied, low-tannin wines with a distinct, I shit you not, "grapey" aroma. Alright, so other, probably more reliable sources go beyond describing these grapes as "grapey" and go with descriptions of red fruits (raspberries, cherries, etc…) and floral notes. Nero d'Avola seems to be associated with bigger, bolder wines, dark fruits (plums and the like), and tannins. The blend goes 70% Frappato and 30% Nero d'Avola, so I'm guessing a medium bodied wine with a nice acidity to pair with the pizza.
SP68 apparently refers to the name of a highway near Vittoria, so let's hop on board, drink some wine and eat some pizza: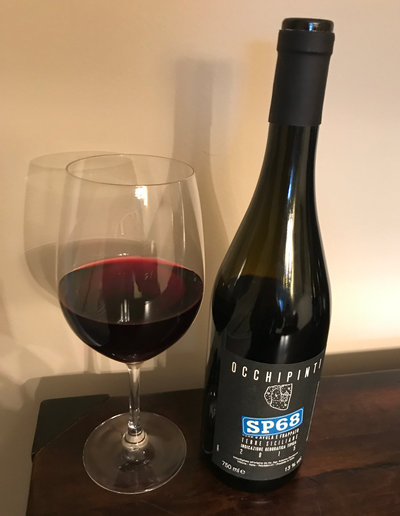 2015 Arianna Occhipinti Sicilia SP68 Nero d'Avola e Frappato – Pours a light, bright ruby red color. Smells nice, lots of fruit and berries, some floral notes, all leavened by hints of earthy funk in the background. Maybe it's because I love me some ultra-funky beer, but this does not seem as funky as many reviews seem to call out, though it is there. Taste again has a lot of fruit, berries, acidity, a bit of funky earth (though again, not that dramatic from my perspective). Mouthfeel is medium bodied and bright but still rich and robust, mild acidity, tingly tongue feeling but again, from the beery perspective this acid is nothing. Light on the dry tannins, making for an easy drinking wine. Overall, I'm really enjoying this wine, and it does indeed pair well with pizza… In fact, this is one of the more memorable wines I've sampled this year.
Wine Nerd Details: 13% ABV bottled (750 ml). Drank out of a wine glass on 4/7/17. Vintage: 2015.
Food Pairing: A pretty straightforward pizza with red sauce, asiago and mozzarella cheese, garlic, and fresh basil, and yes, the wine did indeed pair very well. Did it pair better than beer (or even my old favorite, Coca-Cola)? That is indeed the question. I think I might still prefer beer, but I will say that my experience with wine and pizza in the past (not a lot of experience here, but still) wouldn't have even been close, and this wine made for a really pleasant pairing…
Beer Nerd Musings: I don't know of any beers that have made use of these Sicilian grape varietals (or aged in wine barrels from these grapes), but I suspect Frappato would be a nice adjunct in a lambic or American wild ale. As I understand it, the beer scene in Italy is exploding (just like here), but that a lot of operations are tiny. I hear some are even connected to wineries, so this seems like a fruitful combination… that will probably never make it to the U.S. Still, a man can hope. As for pairing with pizza, lots of beers will work, but I usually end up with some form of IPA or Saison, thogh a nice, crisp pilsner or helles can work too. Even a stout or Belgian dark could do the trick…
While I have triumphantly emerged from this year's Beer Recession, I do still have a few non-beer things to cover this week before we get back to the beer. Next up: beer adjacent hot sauce!