Get your fainting pillow ready: I haven't drank much French wine. I'd say I'm the worst but you guys know this is a beer blog, right?
This bottle hails from the hills of the Rhone valley and thus sports a Côtes du Rhône Villages appellation, specifically the northwest facing slopes in the south of the area and oh geeze, I'm getting into that micro-climate terroir territory here, aren't I? I'm sure this is important, but this doesn't mean enough to me just yet, so let's move on to the varietal, which is 100% Syrah. Aged for 14 months in oak barrels too. Looking around, I see that these wines are "great for aging" and indeed, many reviews seem to indicate that it could use some time in the bottle before drinking. Fortunately, I'm drinking this about a year after those reviews were written, so let's get to it: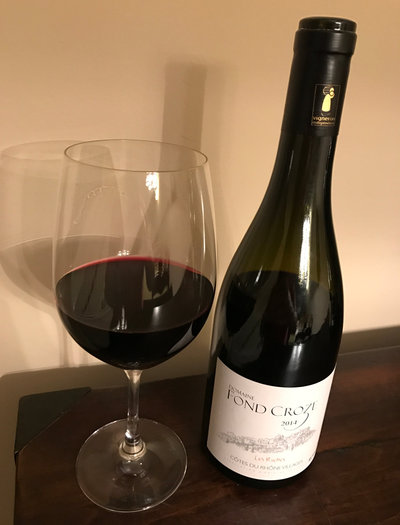 2014 Domaine Fond Croze Côtes du Rhône Villages les Roches – Pours a dark maroon, purplish red color. Smells fantastic, lots of fruit, almost tart fruit, maybe a floral note or earthy note too. Taste is rich, dark fruit and berries up front with a helping of mineral earthiness and leather or tobacco or something, but then it lightens up a bit and brings out an almost (but not quite) tart note towards the finish, which only displays moderate tannins. Some oak is present too, but so much that it overpowers anything. Mouthfeel is rich and coating, medium to full bodied, only moderately dry. Seems to pair well, but also drinks well on its own. Overall, this is quite nice!
Wine Nerd Details: 14% ABV bottled (750 ml). Drank out of a wine glass on 3/25/17. Vintage: 2014.
Food Pairing: Fronch fries. Fronch dressing. Fronch bread. And to drink… Peru. Or just the standard red wine pairing of grilled steak, sauteed mushrooms, and some steamed string beans. The wine was able to stand up to the hearty meal, but was also quite good on its own.
Beer Nerd Musings: I don't appear to have had a beer aged in old Syrah barrels, but the treatment isn't that unusual either (usually sours). I'm almost certain that BFM's Abbaye De Saint Bon-Chien series uses Syrah barrels in some vintages, but that's a blend from a bunch of different barrels, so not exactly a pure expression. And look here, BFM does make a version of their XV (√225 Saison) that is aged on actual Syrah grapes, so there is that. Also Jester King's Biere De Syrah, which I wouldn't mind trying. Hint, hint. Cause I assume one of my five readers is from Austin or something. What was I talking about?
I quite enjoyed this. Since it supposedly ages well, I may have to snag another while it's still at the PA Chairman's Selection pricing… though its still a bit pricey (on the other hand, it's nowhere near the infamously expensive French wines…) And the great 2017 Beer Recession continues unabated. Stay tuned for some Apple Brandy later this week, followed by a couple of Bourbons next week…