I'm sure there's a large contingent of oenophiles that would consider this concept nothing short of blasphemous, but as a guy who enjoys the occasional dram of bourbon and thinks that aging beer in bourbon barrels can result in something magical, I have to admit that I was curious.
To be fair, the concept does seem to be at odds with the typical wine playbook. The use of bourbon barrels would introduce intense flavors that would surely overwhelm any sense of subtlety, fruit, or terroir that most wine geeks seem to appreciate so much. Before I had tried any of these, I suspected that this sort of treatment would surely mellow out the acids and tannins while broadening the rich, jammy sweetness and adding body. I was kinda right, though the effect is not as extreme as expected.
There's a movie called Somm which follows a bunch of people on the quest to becoming a Master Sommolier, and it depicts a lot of people doing formal tasting where they attempt to narrow the wine down via various attributes: grapes, regions, sub-regions, type of terrain, weather influence, whatever. I suspect bourbon barrel-aging would irrevocably foil this process.
Naturally, there is a debate in the wine nerd community about this sort of stuff. Just because you can age wine in bourbon barrels doesn't mean you should! BBA Wine isn't "Real" Wine! And it does surely seem like a gimmick. But it appears to be popular with consumers, and thus will probably stick around. Some producers probably like it because bourbon barrels are cheaper than new barrels, and hey, if you have some inconsistency in your wine stores, this could help even things out a bit (while saving your best stock for more prestigious releases). In the increasingly competitive booze market, any chance for wine to make inroads with the bourbon and whiskey crowd is probably a boon to marketers (witness, for example, The Federalist's hand-crafted glassware that's meant to appeal to whiskey drinkers, having a tumbler-like appearance).
I'm a big tent guy, so I figured I'd take a flyer on a few bottles to see how they fared with this beer-drinker's palate. We can talk hypotheticals and speculate on business aspects all we want, but it's what's in the bottle that counts, so lets fire up a few bottles and see how it goes.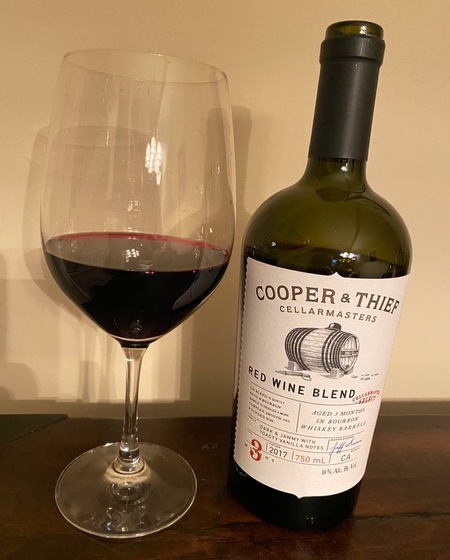 Cooper & Thief Red Wine Blend – A blend of red wine varietals aged in bourbon barrels for 3 months, this one certainly leans into the bourbon marketing aspects, especially when it comes to the label and even the bottle shape. I didn't take detailed notes for all of these wines, but I did for this one because it seemed the most distinctive. It's the most expensive of the wines in this post (around $25/bottle), but I did see a more noticeable difference here, so there is that. For the record, the composition of varietals breaks down as such: 38% Merlot. 37% Syrah. 11% Zinfandel. 7% Petite Sirah. 4% Cabernet Sauvignon. 3% Other Red Blenders.
Pours a very dark, inky maroon/purple color, much darker than your typical red wine, maybe thicker and more opaque than your typical red wine too. Smells of jammy fruit with that bourbon barrel character coming through well, lots of vanilla and oak, slight note of caramelized fruit, maybe even a hint of earthy leather and spice. Taste hits those caramelized jammy fruit notes pretty hard, a little bourbon, oak, and vanilla, very light on the dry tannins, plenty of booze. Mouthfeel is full bodied and rich, but silky and mildly dry. Overall, this is definitely the best of the bourbon barrel aged wines I've had, or at least, it's the wine that's taken on the most bourbon barrel character. This has, of course, completely wrecked the more delicate wine characteristics, but it does still read as "wine" and in many ways it's added complexity, even if it's detracting from the subtlety of some other characteristics. The reckless beer-drinker in me is enjoying this quite a bit…
Wine Nerd Details: 16% ABV bottled (750 ml corked). Drank out of a wine glass on 3/19/20. Vintage: 2017.
Robert Mondavi Private Selection Cabernet Sauvignon Aged in Bourbon Barrels – As the name implies, this is all Cabernet Sauvignon and it's also aged in bourbon barrels for 3 months. I didn't take detailed notes, but the bourbon barrel treatment here was noticeable, but not as much as the Cooper & Thief. It contributed lighter bourbon notes and the base wine stood out a little more here. The barrel character is not as overwhelming, but it makes a nice contribution. Again, the more subtle wine characteristics are a bit muted here, but it's still a tasty glass. This is also the cheapest of the BBA wines in this post but probably represents the best value in terms of BBA character.
Wine Nerd Details: 14.5% ABV bottled (750 ml corked). Drank out of a wine glass on 3/7/20. Vintage: 2017.
The Federalist Zinfandel Bourbon Barrel Aged – Despite the name, this is a blend of Zinfandel, Petite Sirah, and Merlot that has been aged in bourbon barrels for 6 months. So this was aged longer, but for whatever reason, it feels a bit lighter than the other wines in this post. Not bad at all, but something feels a bit out of whack here. I didn't take any notes on this one, but I remember it being solid, if not as remarkable as the first two wines mentioned in this post. It costs more than the Mondavi, but not as much as the Cooper, but I liked both of those better than this one.
Wine Nerd Details: 14.5% ABV Bottled (750 ml corked). Drank out of a wine glass on 3/15/20. Vintage 2016.
Gnarly Head 1924 Double Black Bourbon Barrel Aged Limited Edition Cabernet Sauvignon – I gotta be honest here, I didn't think I'd be writing about this, so I didn't take notes and this one left the least impression of any of the wines in this post, which probably says something. I will say that I think it was about on par with The Federalist, but it was a tad cheaper (about the same as the Mondavi), so it has that going for it… Weirdly, details for this wine are sparse on the internets and I recycled the bottle a while ago, so the nerd details below are kinda estimated.
Wine Nerd Details: 15% ABV bottled (750 ml corked). Drank out of a wine glass on 3/14/20. Vintage 2017.
So I drank a bunch. The verdict? I think the BBA treatment can be done well, but even the best can't quite stack up to the big difference that bourbon barrels can make with beer. Speaking of which:
Beer Nerd Musings: While I love beer aged in bourbon barrels and think the results can be magical, there's actually a fair amount of folks in the beer world who aren't big fans. There are plenty of debates about unbalanced monstrosities and people say things like "What ever happened to beer flavored beer?" and whatnot. These sorts of complaints seem to be more common with folks across the pond who tend to appreciate the sessionable character of lower abv beers, but I suspect you see the same pattern here as with wine. The traditionalists bemoan changes to their beloved styles, just like the wine folks aren't that into Bourbon Barrels. To be sure, they've got a point. For whatever reason, the craft beer community (especially in the U.S.) tends to thumb its nose at things like tradition, hence we're always adding weird ingredients and treatments to the process. Not always, but often enough. It's all in good fun, but I'm definitely of the mind that a lot of the more out-there treatments are unnecessary and sometimes exhausting. That being said, some of these non-standard additions are well matched. Stouts and barleywines make good companions with bourbon barrels and present complementary flavors. Vanilla and coffee can also work wonders. It's when you get to some of the more goofy additions that things start to go off the rails for me. I'm all for experimentation though, and it seems like the wine world is much more focused on tradition than pushing boundaries. I remain a massive fan of bourbon barrel aged beer though, and while I can see the traditionalists' point (and to be fair, have been partaking in more traditional offerings of late), I will always look forward to the Bourbon Barrel Aged treatment…
That just about covers it for the non-beer drinking portion of the year here at Kaedrin. Stay tuned for our triumphant return to beer reviews. Naturally, it will be a bourbon barrel-aged barleywine, so stay tuned.