Is white wine the lager of wine?
The problems with using a wisdom-of-the-crowds ranking of beer are myriad, but one thing that will almost certainly jump out at you is the distinct lack of lagers. I'm as guilty of this as anyone, but I have been trying to get my lager on in recent months (heck, I even included a lager in my top 40 of 2015!) There are lots of reasons for this perceived lack of enthusiasm and I could probably spend a few thousand more words on the subject (my own theory is along the lines of people associating lagers with Beast or Natty Light or whatever cheap garbage we drank in college), but I think we can all agree that lagers get short shrift from beer nerds.
I see a similar dynamic with white wine. Keeping in mind that I'm on the outside looking in, there is a stereotype that wine nerds tend to prefer red wine, some going so far as to say they don't ever really drink white wine. I have two informal guides to the world of wine, and one of them is definitely like that. The other is not, but then, most of what I see him talk about is reds. I gather the reasons for this tend to be the same. Reds (or ales) are richer, more complex, more intense, and go better with red meat, while whites (lagers) are more subtle and nuanced. Again, this isn't necessarily true, but it's what I see looking in from the outside.
Even the reversal revelations hold a similar pattern. I used to only drink reds until one day someone sprung a particularly great white on me and now I enjoy them too. I gather food pairing has a lot to do with this, moreso with wine than beer, but the point holds. My own lager revelation was after a week of particularly intense drinking in Vermont (so lots of face-melting IPAs). I was about to go to a beer festival later that night, so I didn't want to kill myself and picked a Czech Pilsener I had heard about. It was sublime, and ever since then, I've been giving lagers a chance. Mind you, my beer diet is still primarily ales, but the occasional lager is more diverse than no lagers.
In terms of wine, I have also tended to gravitate towards reds. But the whole point of this semi-hiatus from beer that I'm currently mired in is to try new things that I might not otherwise seek out. So I took a flier on this PLCB Chairman's Selection, in part because I really enjoyed last year's Stag's Leap Merlot. Funnily enough, I see that this is not actually the same winery. Stag's Leap Wine Cellars is different from Stags' Leap Winery. Both are located in what is now called the Stags Leap District. Truly, these people know how to strategically place (or not place) an apostrophe.
I am always curious about the winemaking process and you all know I am obsessed with barrel aging, so I was happy to see that the winery provided a lot of detail. 25% is fermented and aged in stainless steel, 25% on new French oak, and the remaining 50% on "seasoned" oak (which I assume means it's not a first use barrel) for six months. I have no idea how this compares to other Chardonnays, but I do know that people tend to whine about over-oaked wine, so mayhap this isn't their bag. Or maybe that 25% stainless is enough. Regardless, I think it's time we got down to drinking this sucker: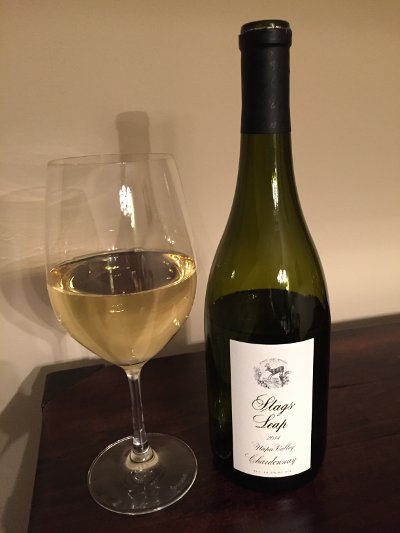 Stags' Leap Chardonnay – Pours a clear, very light yellow color. Smell has a nice stone fruit character going on, pears, maybe a little in the way of peach. Taste moves in a sweet direction, some oaky richness, some citrusy notes here too, maybe hints of lemon (but not really tart) in addition to the pear and peach from the nose. Mouthfeel is bigger bodied than I expected, some acidity, hints of alcohol warmth. Overall, this is a very nice Chardonnay, well balanced, sweet, tasty. Still not the revelation I was seeking, but I guess I'll give it a B?
Wine Nerd Details: 14.2% ABV bottled (750 ml corked and chilled). Drank out of a wine glass on 2/19/16. Vintage: 2014.
Food Pairing: I paired this with a pretty good grade plate of sashimi and nigiri sushi, and it worked well enough. Not a revelatory pairing, but I can picture the white wine pairing better with that dish than pretty much any red I've ever had (which might overpower some of the more delicate pieces of fish I had).
Beer Nerd Musings: I pretty well summed up my beer nerd musings above, but I will note that while I enjoyed this white, it didn't ignite a passion for exploring more whites. I do, however, think a good pilsner could pair very well with sushi, even if it's something I haven't done often (or lately). Once this hiatus is over, I may have to grab a growler of Victory's Braumeister Pils and pair it with the same meal to see how well the pairing compares to this white wine.
And that about covers the white wine portion of this current beer hiatus. Stay tuned for a red wine review later this week. Next week we'll probably hit Scotch, bourbon, and maybe a Port wine too. After that, who knows?