Today was Tired Hands' one year anniversary, and they had a big shindig featuring lots of fantastic beers. As per usual, their events are a bit of a madhouse, but they did a good job keeping up with the demand, and it helps that the new and special beers they were serving were nothing short of spectacular. Big congratulations to Tired Hands for living up to lofty expectations and establishing themselves as the best brewer in the area.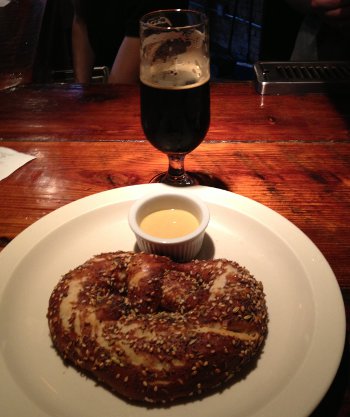 Yummy Everything Pretzel paired with Hophands mustard and Only Void
I had quite a few things today, and for shits and giggles, I'll include stuff I've had from the past few months as well, because why not? Yeah, I suppose the fact that most of them are already gone forever is a pretty good reason not to dwell on them, but how else am I to make my readers jealous?
St.Oner – No picture! Sorry about that! One of Tired Hands' typically fantastic IPAs. It's getting very hard to judge these against one another, as they're all so damn good. The big twist with this one is a very juicy citrus character, presumably from the hops but also maybe some fresh fruit. Pleasant bitterness, and at 6.5% ABV it was downright quaffable and refreshing on a hot day. A-
Romulon – Wow, this is a beautiful gueuze-like sour blend (wine barrel fermented Saison and fresh Saison). Very nice oak character, a bright but not overwhelming sourness, tart fruits, just fantastic! While technically a saison, I'd put it right up there with some of the fantastic gueuzes I've been having lately. Indeed, this is probably a contender for my favorite Tired Hands beer ever (even though that's a sorta impossible choice!) A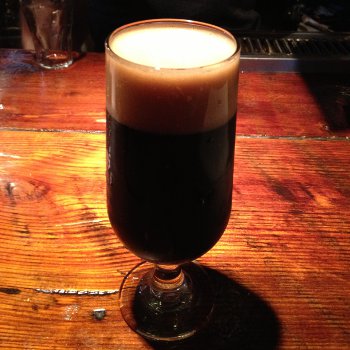 Only Void – Tired Hands has a little fermentation chalkboard and I feel like this beer has been sitting on there since last year. A massive 12% imperial stout conditioned on stainless steel (there are some barrel aged variants coming), pours black with tan head. Nice roasty nose, dark chocolate is there too (and becomes more pronounced as I drink), maybe a hint of coffee in the nose too. Taste has that well balanced roast and coffe note, some earthiness, but also lots of chocolate and some rich caramel and maybe even some hop bitterness in the finish. Really well balanced flavors for such a monster beer. Mouthfeel is rich, full bodied, and smooth. It's not quaffable or anything, and it would work as a dessert sipper, but it's pretty easy going for something this big. Only a slight alcohol warming in the belly… Because I drank too quickly! Overall, it's a fantastic imperial stout. A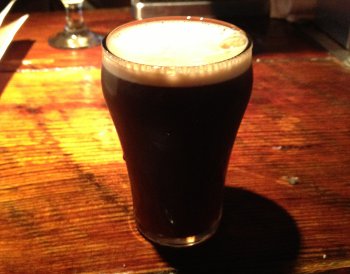 Our Berry Vest – A blend of the aforementioned Only Void and a strong brown ale called "So It Goes" (which I've never seen or had before) conditioned on fresh strawberries. At 11.5% ABV, this is no fru-fru beer, and it actually has some sour notes to go along with the fruity strawberry. Really interesting beer, it's got the Only Void notes of roast and dark chocolate softened considerably by a sour fruity character, strawberries coming through clearly, much lighter body than Only Void, but still a big beer. An almost chocolate covered strawberry feel (ok, perhaps not quite like that, but still really good). Great variation on the theme. Glad I sprung for this one. A-
And that covers what I managed to greedily gulp down today. In order to fan the flames of jealousy, here's some more stuff that I've had over the past couple months…
The Light That Spills Out of the Whole in Your Head – In the running for weirdest/awesomest beer name. A 6% citrus pale ale, great juicy hop character full of citrus, really easy drinking and refreshing. One of the few beers Tired Hands has brewed more than once (I think! I know I had this before, but for some reason, never recapped it). A-
Tralfamadorian – They called this a 6.8% barrel fermented biere de garde, but it basically feels like a lighter bodied Flanders Red. Whoa, robey tones, dense tan head, pretty. Taste is reminiscent of Domo, sorta a Flemish red, but with slightly less body. Light on the oak, some sharp sourness, but not overwhelming. Nice sour cherry notes, really well done. A-
Station – A 5.8% Simcoe IPA? Sign me up! Cloudy straw yellow, beautiful grapefruit citrus nose, ditto in taste, with some light herbal notes too. Light and quaffable, very nice! Grading on a curve: B+
Wiggle Wurm – 9.2% DIPA, clear golden yellow, citrus & pine hop aroma, very sweet on the palate, sticky but not cloying. Solid! B+
Wisdom Teeth – Darwin Solera series number 4, a 6% Brett pale ale. This series is seriously mellowing out with each new installment. It's still got that funky salinity, but it's more well rounded and integrated. It's a fun series of beers, highly drinkable stuff and getting better with each iteration. B+
My Briefcase Says "Time Is Money" – Another fantastic name. It's a 5.7% Black IPA, nice drinkable beer, not as hoppy as you'd expect, but not super roasty either, striking an interesting balance. B+
Eye 4A Face – A 4.5% dry hopped farmhouse mild conditioned on oak. Dark golden hues, nice citrus hops in the nose, taste more malt focused, maybe a hint of oak, plenty of bitterness, easy drinking. B+
CuzCuz – Southern Hemisphere IPA filled with New Zealand hops, etc – Super cloudy straw yellow, bright citrus and herbal hops, floral too, really nice, easy drinking stuff… B+
Tabula Rasa – Classic modern saison at 6.2% ABV. I got a super yeasty pour, almost milky looking, Jean said that happens sometimes and it's really annoying because he has to sacrifice a bunch of beer to get past the yeast plug. It was drinkable, but he gave me another glass after he cleared the line some. Once I got a proper glass, it was still super cloudy, but at least it was yellow! Nice peppery yeast in the nose, a lot like Farmhands. Taste has that big saison yeast character, spicy sweet, similar to Farmhands but a bit more body. Medium bodied, smooth, spicy, very nice. Overall, really nice. B+
Pineal – Mosaic Amarillo Simcoe IPA at 6%, this may be my first real Mosaic hopped beer? Can that be? Well if this is any indication, I'm going to have to seek out some more! Bright cloudy yellow, beautiful nose, citrus, pine, nice floral aspect, great nose. Taste has nice sweetness, big juicy citrus notes, pine and floral notes too. Great beer. A-
Caskette – Hoppy golden mild at 4%. Yellow color, fantastic juicy hop nose, biscuity malts make a nice platform for those hops, compulsively drinkable. Would have loved to tried the one they actually put on cask! B+
Jittery Tiger – An oatmeal stout brewed with espresso at 6.6%. Black with tan head, big roast coffee nose, strong coffee in taste, roasty, bitter. Coffee beers are not normally my thing… but I like this. Not my favorite evar or anything, but good, and goes down easy… B+
Yellow & Green – A 4.5% all Cascade Keller pils. Nice yellow color, some herbal hops, plenty if citrus too, classic Cascade hop character. Feels more like a pale ale than a pils, but it's really quite nice… B+
Carpathian Kitten Loss – An 8.8% DIPA brewed with rye. Citra & Simcoe hopped, this has an amazing aroma, bright oranges up in my noseballs, citrus hops all they way… Taste is fantastic too, lots of citrus hops, bright, nice spicy rye or caramel note, a hint of booze but well balanced, way too easy to drink for the ABV, smooth. Delicious, better than the last couple DIPAs that they've made… A-
Phew. That's a lot of beer (spread out over the past few months, I assure you!). I feel very lucky to have Tired Hands out here in my backyard (ok, a half hour away, but still). Really looking forward to the Only Void bottle release (coming soonish, I think), especially those bottle conditioned variants.