Ready for some hot Liefmans on Ommegang action? This is a Belgian style porter brewed with chocolate and, like Ommegang's most excellent Three Philosophers, blended with a Liefmans Cuvee Brut Kriek. It's an appealing idea, though I'm not sure I was entirely seduced by the end result: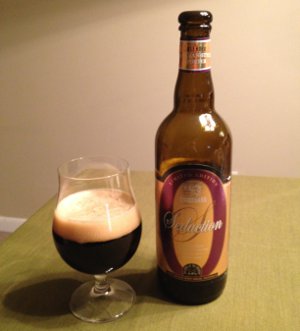 Ommegang Seduction – Pours a very dark brown color with a finger or two of tan head that leaves lots of lacing on the glass. Smells of roasted malts and Belgian yeast, with a hint of something else lurking in the background (perhaps those cherries?) Taste features lots of muted roasted malts (not nearly as strong or overpowering as most stouts or porters) with a hint of chocolate, but the beer sorta shifts midway through the taste, finishing with a lighter touch which calls to mind those cherries… while I'm sure I'd be able to pick out the distinct flavor blind, I don't know that I would have attributed it to cherries. As the beer warms, that flavor becomes a little more prominent. The mouthfeel is full bodied and chewy, with ample carbonation and just a bit of stickiness in the finish. Not exactly an easy drinking beer, but it's not difficult or anything. All in all, it's an interesting beer with lots of complexity and I really enjoyed it, but it feels like all the various flavors are competing for attention, rather than harmonizing into something new and great. An interesting experiment and better than most beers that I'd classify as such, but I expect more from Ommegang and it doesn't quite reach the heights it perhaps could… but it's still a lot better than their Chocolate Indulgence and again, I really had a good time with it. B+
Beer Nerd Details: 6.8% ABV bottled (750 ml caged and corked). Drank out of a goblet on 3/4/12. Bottled 12/5/11.
Ommegang was my introduction into the world of good (and Belgian style) beers, so I'm always willing to give them a shot, even on expensive gambles like this. I've actually had some old Cup O Kyndness sitting around for a while that I need get to at some point (I talked about it briefly in a beer club post a while back, but I'd like to do a full review), and I'm really looking forward to their forthcoming Belgian Strong Dark, called Art of Darkness…