Tired Hands bottle releases happen about once a month or two, but in the past month, Jean has seen fit to hold 3 bottle releases. In January. I suspect Jean is trying to breed a new cold-resistant strain of beer nerd. Or perhaps to kill off lesser beer nerds, thus keeping the line to a manageable size. Judging from the incredulous Main Liners driving by and asking what the hell everyone is waiting in line for ("Justin Bieber tickets"), sitting around on the curb for 2-3 hours out front for just a few bottles of beer is a dubious way to spend time, but I usually manage. Best case, the folks around me are cool and we partake in much discussion and merriment. Worst case, I put in my headphones and zone out to an audiobook (chances are, if I were at home, I'd be in bed reading anyway). Still, after 3 releases in the freezing cold, I'm ready for my Believer's Club membership to go into effect.
Most releases are announced well in advance, but there are the occasional stealth releases, and sometimes they're at weird times. One such occasion was Thanksgiving eve, 2013. Jean announces that bottles of the first Emptiness series beer, Out of the Emptiness, would be available when they open at 4. Now, typical bottle releases range from about 400-600 bottles, with a bottle limit of 2-4 (generally optimizing it so that 150-200 folks can snag a bottle). I don't remember the specific number of bottles available that day, but Jean must have been feeling capricious and whimsical, because that day was on the lower range of bottles available, but the bottle limit was 6. I managed to get off work early, but missed out on bottles by about 10 folks in line. Dejected, my new friend Andrew (met in line) and I retired to the bar upstairs where we drowned our sorrows in the always stellar taplist and discussed the merits of aging Samichlaus (it being the holiday season and all). Then Jean saunters up, pours three glasses from an unmarked bottle, and gives them to three of us at the bar (in fact, this generosity may have been the result of the third guy, who seemed to be friends with Jean).
So thanks to that, I actually did get to try Out of the Emptiness, a wine-barrel fermented saison conditioned atop local Italian plums. As fate would have it, a second batch was made, and released just a couple weeks ago. So I finally got to enjoy a bottle of this stuff in the comfort of my own home: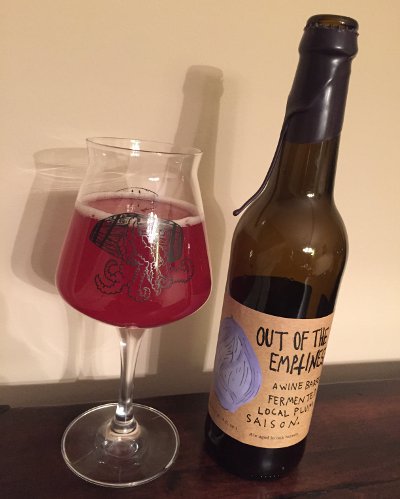 Tired Hands Out of the Emptiness – Pours a beautiful, almost radiant amber orange color with a finger of fluffy very light pink (almost white) head. Smells of vinous fruit, cherries, plums, fruit by the foot, with some barnyard funk. The taste hits with that fruit up front, cherries, plums, grapes, with a bunch of oak tannins kicking in rather quickly, a bit of sourness emerges later in the taste. Finishes oaky and dry. Mouthfeel is medium bodied, well carbonated, and effervescent, mildly acidic, dry oak. From memory, batch one had a much less carbonated mouthfeel, which is something that does make a big difference for me. Not sure if the b1 bottles ever carbed up better, but I'm glad this new batch turned out well. Overall, really pleased I waited in line to snag some of these. A-
Beer Nerd Details: 7% ABV bottled (500 ml waxed cap). Drank out of a flute glass on 1/31/15. Batch 2 (2015 vintage).
In case it's not abundantly clear, and if you've gotten this far, it really should be, I end up at Tired Hands often. They usually have 8 taps on, and at least 2-3 will change over from week to week (and sometimes even more). Two and a half years in, they've remade a handful of their favorite stuff, but for the most part, once it's done, it's done, and you won't see it again. To that end, I figure I need to lord it over all you plebians, and post whatever notes I've taken over the past, yikes, year or so. In fairness, I don't take notes upon every visit (especially if, for example, I'm with a friend or otherwise conversing with the friendly folks at the bar), but I've still got quite a few notes piled up. I'll start with a recent one, but after that one, we've got beers dating back a year or so.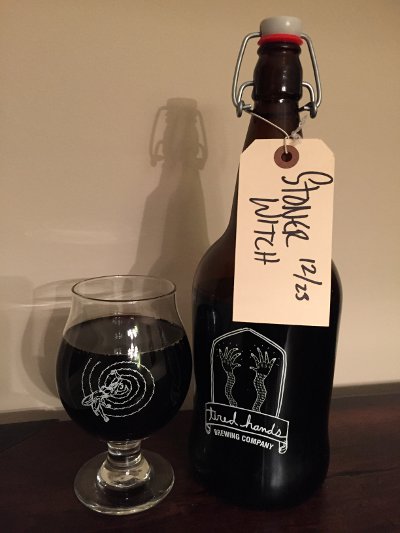 StonerWitch – 10.5% ABV Black Barleywine brewed with clementine juice and zest – I gather a lot of folks found this weird and off style. I found it strange and beautiful, which I believe was the intention, and really, really enjoyed it. Pours a deep dark brown, indeed almost black, with half a finger of short lived tan head. Looks almost like a stout, but the smell is decidedly more barleywinish, some juicy fruit aromas, wheat, toffee, caramel, very slight dark malt component too. Taste is rich and hearty, some caramel and toffee up front, a bready middle, with juicy citrus in the finish (presumably that clementine juice at work). Mouthfeel is rich and creamy, dense and full bodied, just enough carbonation to tie it all together. Overall, I actually love this beer. It's quite an unusual take on a barleywine, but it still hits the right notes, and is downright delicious. A-
Shep's Memory – 3.7% ABV Bitter – Good for the style, biscuity malts with a very light hop component, light bodied and crushable. B+
BrainHands – 5.5% ABV Pizza Inspired Gose – Whoa, this is unexpectedly fantastic. Nice lemony citrus sourness tempered by earthy spices (does not taste like pizza, but who cares, this is great!) tingly and spicy, even a little heat… A-
Al Baby – 6.8% ABV Hoppy Honey Brown Ale – Nice hoppy brown, solid, easy going stuff. B+
Uyawa Pog – 8% ABV Imperial IPA – Really bright citrus and a sorta honeyed malt backbone, really nice. The citrus is super peach-like too, which is not common (and I don't think they actually used peaches for this, perhaps they're getting this out of the Simcoe/Nelson Sauvin combo?) A-
Stout Budino – 6.3% Dessert Stout – Smore like ingredients, not quite as sweet or rich as that would imply, but a really nice stout, chocolate and roast, like. B+
I Love You, Friend – 7% ABV Rye IPA – Juicy citrus hops up front, rye finish, great… A
Broken Basement – 6.3% ABV IPA – Hopped with Ahtanum and Simcoe, a typically fantastic IPA, maybe some more malt character than usual, still great. A-
Shambolic – 6.5% ABV dry hopped spelt saison – Nice, I feel like it's been a while since TH did something like this, great peppery saison character with a citrus, vinous hop kick… (Update: I opened a bottle of this recently, after a few months in the cellar), and while the hop character is still there, the farmhouse saisony elements came to the fore as well. Great.) A-
Lord Ladybug – 6% ABV dark sour cherry Berliner Weisse – Very tart, puckering sour beer. Chocolate covered cherries. Me likey. B+
EXTOL – 7.6% ABV Imperial Porter – my kinda porter, sweet, low roast, dark chocolate (hint of coffee?), very nice B+
Wilbur – 5.9% ABV Rye IPA – nice rye character, floral hops, well matched, very good! B+
Everything was Beautiful and Nothing Hurt – 6.6% ABV Black Coffee Saison – Interesting mixture of elements, earthy saison yeast, fruity hops, and just a bit of that roasty coffee. B+
PowerChord – 4.2% ABV Crushable IPA – Beautiful citrus hop nose (clearly Mosaic hops involved here), more floral and piney in the taste, quaffable. B+
Exact Negative Charge – 7.7% ABV emptiness saison – Typical funky TH saison, very nice, really fruity, light earth, not a ton of funk, but really nice! B+
Sunulate – 6.4% ABV blood orange & chamomile saison – Solid stuff, not as funky, but really nice floral and citrus notes… B+
Go Ride A Bike – 5.5% ABV crushable IPA – Motueka bomb, lots of citrus and a little dank pine, crushable! A-
Exploding Nuclear Cauldron – 5.1% hoppy honey Grissette – Lemon zest, light spice, grassy hops, soft feel, really nice and refreshing… A-
Experience Neutral Chamber – 5.7% ABV emptiness saison – Bright, fruity funk, light salinity, lemon zest, quaffable… B+
Modern Artisinal Tragedy – 6.8% honey saison – Straightforward saison stuff, typical TH quality, very nice peppery spice and light hop character… B+
BloodRoot – 6.6% hoppy red saison – Brewed with rye, and you can tell, big spicy note along with peppery yeast, and a good amount of hop character, including more bitterness than I'm used to from TH – nothing wrong with that, of course… B+
Only Void 2014 – 11% imperial stout – This year's version is slightly less alcohol and not as sweet as last year's version. As a result, more roast and chocolate come to the fore. Still very nice. A
Here Lies – 2.5% hoppy bitter – Whoa, very tasty for such an extremely low alcohol beer. Beautiful hoppy nose, perhaps not as intense, but really tasty. Totally quaffable, not as thin as you'd expect, but very light. Crushable! B+
Gose is My Copilot – 4.7% Gose – Wheated Gose with sea salt, lime juice and zest, and cilantro from Jeans garden. Well balanced, sour, a little sticky. I'm not really a huge Gose fan or anything, but this is very nice (I got a growler, made a Top Gun ("Talk to me, Gose") joke on twitter, but no one got it, or they did and didn't care). B+
Savage Gold – 5.2% ABV IPA – Nelson Sauvin and Hallertau Blanc… Typically great tired hands ipa, beautiful hop character, crushable. A-
Boogie Board – 5.2% ABV blended saison (some 4 month cab franc barrel aged saison in the blend) – Very nice saison, light barrel character, but a big juicy fruit kick, tart lemons and grapes, some typical saison spice, super smooth, a little acidic, highly drinkable. A-
Fool in the Full Moon – 6% ABV coffee wheat porter – So I entered the name for this beer, but took no notes. I'm the worst. I'm pretty seriously doubting that anyone will ever actually read this though. Why am I even doing this?
Carpet on your Heart – 6% ABV Rye IPA – Darker and more substantial than your typical TH IPA, perhaps even more bitterness than usual, but great hop presence, juicy citrus, very well composed. B+
Watching Trees Decompose – 7% ABV blueberry IPA – Very pretty, a striking amber purple with light purple head… Taste has an extra sweetness that battles with the citrus hops, still decent beer though. B+
Reincarnated as a Cloud – 6.1% ABV Wheat IPA – More of a bitter bite here than normal, but a very nice citrus and pine hop character and clean wheat makes this worthy. B+
Green Fuzz – 7% ABV Cucumber Galaxy IPA – holy cucumber, Batman! I don't think of cucumber as being a particularly powerful aroma or flavor, but it's here in spades… Though more standard ipa notes come through too. B+
Red Fuzz – 6.5% Raspberry & Sumac Saison – Another one where I wrote the name, but not any notes. I really am the worst.
Psychic Facelift – 6.5% ABV Citra IPA – Beautiful, juicy IPA, all sorts of citrus, super quaffable, absolutely superb! Drank, like, 3 liters of this stuff during the one week it was on tap (it's rare that I get something more than once, so that's saying something). A
Yeast & Cats – 6.4% ABV wheat saison – Typically great TH saison, distinctive farmhouse awesome. B+
Ambassador Aardvark – 4.5% ABV Berlinerweiss – I seem to be relying on the "typical TH style" description for these reviews, and this is no exception – this is a typical TH Berliner and it's quite nice. Tart, tasty, and refreshing. B+
I See A Darkness – 8.5% ABV imperial honey espresso porter – Relatively light on the coffee, which is a good thing in my book, but it's really tasty, nice roast character, a little espresso, really solid stuff. B+
Singel Hop Saison Cascade – 5% ABV – This is a really interesting melding of farmhouse and hops, with neither element dominating. This represents a more balanced take in the series, and it's really nice… A-
Purple Fuzz – 6% ABV blackberry and purple basil Saison – Nice farmhouse going on here, spicy and fruity, though the fruit is not super powerful, well balanced, a little weird in a good way… B+
Yellow Fuzz – 7.2% ABV peach ipa – Beautiful juicy citrus, quaffable, typically great TH IPA! A-
Many Mouths With Pointy Teeth– 6% ABV Rye IPA – Very nice ipa, citrus hops and spicy rye, well carbonated and quaffable. A-
Cyclical Paranoia – 6% ABV Mohogany Hued saison – Light farmhouse with typical saison yeast character, but also some almost vinous notes. B+
Aphillyation – 6.6% Cabernet Franc IPA- Interesting, floral hops, a little grape character and an almost creamy mouthfeel. B+
Paranormalized – 8.2% blended barrel fermented super saison – Very nice saison, spice and fruit, with a very light sourness and decent oaky character. Delicious! A-
Pope Lick Monster – 8.5% imperial Porter – nice and dark, creamy tan head, sweet and roasty, with a mallow finish. B+ or A-
Mind Meet Mind – 6% ABV Coffee IPA – My ambivalence towards coffee is world renowned, but I still enjoyed this well enough. Great hop character, juicy citrus, with some coffee peeking through… B
Funny Top Hat Serenade – 7% ABV Classical Progressive Saison – Very nice saison of the TH house style, with a nice fruity hop character (not bitter though) B+
The Still-Beating Heart of the Hummingbird – 7% ABV Barrel Fermented Saison – Whoa, slightly lactic sourness, but not really that sour. A little oak, and that TH funk, very good! A-
GrassMan – 8.7% ABV Honey Double IPA – Hugely dank DIPA, Nelson Sauvin coming through strong, tropical fruits all over. I'm sure the Citra is contributing to that, but it's got a distinctly grassy character too. A-
Deathtripper – 6.7% ABV IPA – Fabulous, dank, juicy ipa, lots of citrus and pine, delicious. A-
Ekstra – 6.6% ABV collaborative saison – Collab with pizzeria beddia, first TH use of Hallertau… B
Cannibal Okt – 6.2% Sweet Potato IPA – A sorta heftier IPA, more of a balance between hops and sweetness here, quite nice! B
Lizard Man of Scape Ore Swamp – 6.2% ABV IPA – Another great TH house style IPA, less juicy, but still citrus and pine all over, higher than normal carbonation, great! A-
Chupacabra – 6.6% mole Porter – Whoa coffee! A little thinner than your typical Porter, but that matches nicely with the roasty coffee, so it's still tasty! If only I liked coffee more. B
Dobhar-chú – 4.2% heirloom squash bitter – Very nice, clean, malt forward, tasty… Not on cask right now, but would be perfect from the hand pump! B+
Watcher in the Dark – 6% ABV India Black Ale – whoa, beautiful citrus hops is the nose, with that slight roast coming through a little more in the taste, utterly fantastic! A
Corpse Finder – 4.4% ABV Galaxy IPA – Nice citrus, substantial considering the ABV, maybe a little more bitter than typical, but still quite crushable B+
Foliage – 8% ABV Double IPA – awesome, darker than typical TH IPA, sweet, citrusy and floral hops, smooth, medium bodied, delicious! A-
Infinite Universe Mind – 6% ABV sour IPA – Nice! I don't normally go in for sour IPAs but this is very well balanced, light sourness, well integrated, tasty! B+
Fifth Level – 6.2% Single Hop Motueka IPA – Typical TH house style IPA, very nice, juicy hops, yum. B+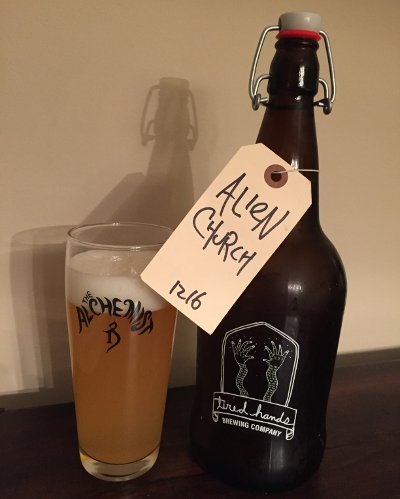 Alien Church – 7% ABV IPA – My only notes were: Must. Get. Growler. (And I did. This was a great IPA) A
Window Mirror Section – 6.8% Hearty Wheat Saison fermented in oak barrels with our Emptiness culture and conditioned on oranges – Holy hell, this is Emptiness level stuff. Nice balanced with the oak, funk, and juicy, tart fruitiness. A
ALTAR – 4.6% ABV Berliner Weisse with hibiscus, Madagascar vanilla beans, and cinnamon sticks – I usually enjoy TH's berliners, but this one is a step above the norm. Very well done. A-
Such Passion – 7.5% Simcoe IPA conditioned on passionfruit purée – Um, yes please. Very good. A-
Whatever, Nevermind – 8.1% ABV barrel saison – According to Untappd, this was my 200th checkin at Tired Hands. Holy Crap. A-
So I'll end it there. Despite waiting in line several times over the past month, it's actually been a few weeks since I've made my way over there. I love the Winter, but it's cold and so easy to just stay home. We shall rectify that soon enough, and in time, the new production facility will open and I'll be drinking as much as ever… Alas, I don't know that I'll keep doing these posts. I can't imagine anyone actually reading through all of this, and it's starting to get repetitive (not to mention that just about everything gets B+ or A-, TH breaks my grading scale. Can't even do a curve, really.)