Tonight was Beer Club, a gathering of beer minded folk from my work who get together every month at a local BYOB for drinkening and fun. Minor error in tonight's choice of establishment in that it's summertime, so it's super hot, and this place isn't air conditioned. Great pizza and sandwiches though. It actually wasn't that bad, but it's off the list for summer events from nows on… Anywho, solid turnout and lots of great beer. I event remembered to take a picture (unlike last month):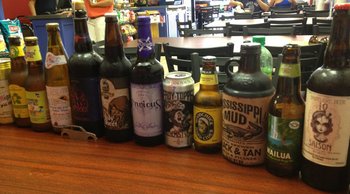 One of my friends was all scared about what she should bring and so she was trying to downplay her contribution, but then was all "So my friend from Vermont thought you might like this," and pulled out two cans of Heady Topper. She wins beer club.
For the sake of posterity, random thoughts on each beer below. Standard disclaimers regarding small samples and less than ideal conditions, but don't worry, next month we're renting out sensory deprivation chambers and using industrial grade palate cleansers between each sip. But for now, you'll have to settle for imperfection:
At this point I got a phone call telling my that my neighbors (the folks who live under me) had water dripping into their condo, so I had to leave (fortunately, I think we were mostly finished at this point). It turns out that the water leak was not coming from my condo, so all is well at Kaedrin HQ. Stay tuned, some exciting beer on its way, including that Heady Topper review (so good). So all in all, a successful night and naturally, already looking forward to the next meeting.