Vanberg & DeWulf is an importer with a long history of bringing Belgian beer to America, even back in the Dark Ages of U.S. beer in the 1980s. At various times, they handled the likes of Duvel, Rodenbach, and Boon, but those operations eventually outgrew Vanberg & DeWulf's small-scale focus. These days, they're probably best known as the importers of Brasserie Dupont and, for you lambic dorks out there, Geuzestekkerij DeCam. They also seem to have good relationships with Oud Beersel, De Troch, and Boon, sometimes importing one-offs or oddball lines like the Bzart series of champagne/lambic hybrids.
I'm not huge into the business side of beer, but one aspect that does interest me a bit is the sort of strange commodity market that has evolved around lambic. This sort of thing seems to happen more often with aged booze, and given the 3 year lead time for a good Gueuze (typically a blend of 1, 2, and 3 year old lambic) it seems to be present in Belgium. Granted, it's probably not as widespread as NDP bourbon and Scotch houses, but there's a few blenderies that don't actually make the beer, but rather just age and blend it. And they're not scrubs either; Tilquin has quickly become a Kaedrin favorite, for instance. This is also how you end up with all those weird mad scientist blends that we've been covering lately.
Anyway, Vanberg & DeWulf's founder Don Feinberg used his connections in the lambic world to purchase his own lambic reserves and bottle his own selections under a the Lambickx brand. Some of these have clear provenance (usually an unblended DeTroch lambic), but others label the source as the cryptic "Private Domain". Vanberg's website says they're from De Troch and Oud Beersal, but other sources claim Boon is also involved. What we have here is actually the Kriek, two year old lambic with cherries added (actual fruit, none of that syrupy, artificial adjunct gunk they put in the cheap fruited lambics). It hails from that ever-mysterious Private Domain, but it's actually one of the better fruited lambics I've had outside of the big boys (i.e. Cantillon and 3F). I've always been scared away from the regular Lambickx offerings because they're unblended and nearly still, and I have this thing about carbonation and whatnot, but this one is actually pretty well carbonated. Let's take a closer look: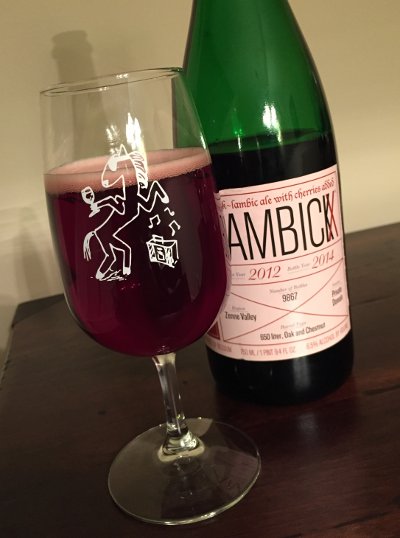 Vanberg & DeWulf Lambickx Kriek – Pours a striking clear red, so many robey tones bro, with avery pretty finger of pink head that sticks around for a bit. Smells nice, lots of sour cherry and some earthy funk, maybe some hints of oak. Taste is very sweet, lots of cherries up front, buttressed by oak and earthy funk in the middle, ending back on cherry character, more syrupy this time, in the finish. Mouthfeel is well carbonated, medium bodied, lightly acidic, with just a hint of syrupy character but then, it kinda dries out in the finish. Overall, this is an excellent Kriek, one of the better ones that I've snagged off of a shelf. A-
Beer Nerd Details: 6.5% ABV bottled (750 ml caged and corked). Drank out of a flute glass on 4/9/16. Batch 2. Brew Year: 2012. Bottle Year: 2014. Number of Bottles: 9867. Region: Zenne Valley. Source: Private Domain. Barrel Type: 650 liter, Oak and Chestnut.
This was good enough that I'd like to snag another sometime and age it, see if that funk blossoms over time. Someday, I'm sure I'll take a flier on regular Lambickx, despite the supposed lack of carbonation. In the meantime, I've got a couple other Kriek lambic reviews coming your way, so stay tuned.