Your typical Oude Kriek lambic will be made by blending young lambic with somewhere on the order of 25%-30% (by weight) of cherries. Intense Red? Well, it uses 40% whole sour cherries. Madness, I tell you! Madness. In any case, the name "Intense Red" is most certainly appropriate. I was unable to figure out why this particular offering has a completely different labeling style from all of Drie Fonteinen's other artwork, but then, maybe that's why I was able to find this on a shelf. I'm not complaining, so let's wade into this potent cherry potion: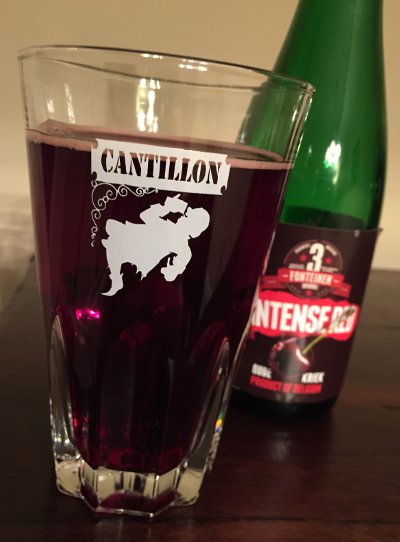 Drie Fonteinen Intense Red Oude Kriek – Pours a clear, vivid ruby red color, quite striking, with a cap of bright pink head. Smells very sweet, tons of cherries of course, but also hints of underlying earthy funk and maybe really faint notes of oak. Taste is syrupy sweet, lots of sour cherries, just hints of earthy funk present themselves in the middle along with some oak, only to be drowned out by tart cherries in the finish. Mouthfeel is medium to full bodied, very sticky, but not cloying, low-ish carbonation, but enough to make it palatable… Light to moderate sourness. The impact is generally pretty powerful, making this something that'd be worth sharing (even this small bottle). Overall, this is very good, somehow managing to be simultaniously unique and yet a little one note… but if you like cherries, you'll love that note. B+
Beer Nerd Details: 5% ABV bottled (375 ml caged and corked). Drank out of a tumbler glass on 4/16/16. Bottled: 02-05-2014.
As always, 3 Fonteinen delivers. Alas, no new varieties on the horizon for me… yet. I'm sure I'll find a way to try something else soon enough. I'm looking at you, Framboos.