I think my first lambic evar was a draft pour of Lindeman's straight up Kriek. It was not a great beer… and it still isn't particularly good. Why? It turns out that the process for the regular kriek is to take young lambic and add cherry juice and artificial sweetener. In the past, this included something called Acesulfame K, which I know sounds delicious, but is actually pretty gross. These days they use Stevia, but it still tastes odd. It's a cheaper process and thus the beer is more widely available, but then all these sweetened lambics basically taste like sugary Robitussin.
Lindemans Cuvée René Gueuze, though, is a decent example of that style and doesn't cut such corners. Now they've expanded the line to include Kriek Cuvée René, where they blend lambic that is at least 6 months old and throw it into an oak foudre with actual whole cherries (pits and all) to age for another 6 months or so. The result is wholly different and a vast improvement over the regular kriek. Let's dive in: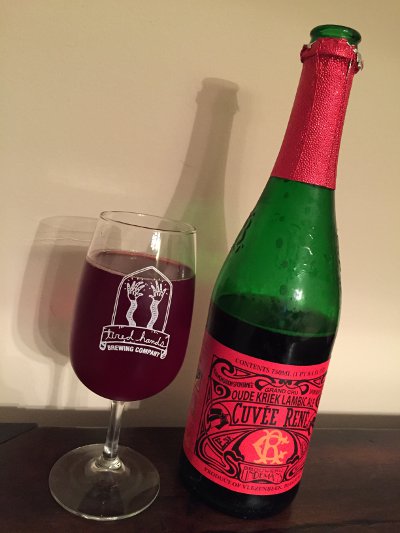 Lindemans Kriek Cuvée René – Pours a deep, dark red color with a finger of fizzy, short-lived pink head. Smells great, plenty of cherries of course, but also a really nice musky funk. Taste is sweet, with those cherries up front, followed by a little oak and vanilla, finishing with an intense blast of sourness. Mouthfeel is medium bodied, well carbonated, with lots of acidity, especially in the finish. This sucker is drinking really well right now, but from my experience, it seems like the sort of thing that will age really well too. Overall, this is great, seek it out. A-
Beer Nerd Details: 7% ABV bottled (750 ml capped and corked). Drank out of a flute glass on 5/13/16. Bottled 12 Aug 2015.
I've been getting more and more enchanted with lambics of late, which is kinda bad news since they are so expensive and hard to find. Still, with stuff like this hitting shelves semi-reliably, there's plenty to explore. This one is worth checking out for sure. I'm curious to see if Lindemans steps up their game in other ways, too…