Lambic in general, and Gueuze in particular, have slowly but steadily taken up more of my allotted drinking cycles. Channeling my inner-wonk, nothing beats the harmony, complexity, and balance involved in the traditional three vintage blend of spontaneously fermented beer that marks Gueuze. I suppose this sounds like marketing fluff or just plain wanking, but who cares, Gueuze is probably awesomer than you are. I mean, not you, the other readers. Wink wink, nudge nudge. As producers go, the conventional wisdom is that Cantillon is well known for their fruited lambics, but Drie Fonteinen is most famous for their Gueuze blends (not to belittle their other offerings, nor other lambic producers, who all have their strengths, and what the hell, conventional wisdom can go pound sand, but I digress – the point is that Drie is great at blending.)
After Drie Fonteinen recovered from their "Thermostat Incident", they actually managed to rev up a new production facility, and a few years later, the first vintages of their Gueuze were ready for blending. Of course, their OG standard is wonderful, but since they were finally self-sufficient again, Armand Debelder decided to blend up a special batch in honor of his father, Gaston. This beer consists only of lambic brewed by 3 Fonteinen, and this post will actually cover two batches. One, with the old label, was one of the earlier 2015 batches, and I shared that with a bunch of friends recently (so didn't take detailed notes, but I'll give some background on why I was sharing such a bottle and whatever thoughts I can muster below). The other is a newer 2017 release, and has the new, swanky silkscreen label with stickers, which I was able to write tasting notes for. Because you all love those, right? Right. The label sez that this is "blended from lambics aged and matured on 4 different barrels, originating from wort of 7 different brews. The old lambic was brewed with slightly darker malts and was destined for another Straffe Winter (but we actually forgot about it…)" (Straffe Winter is a Faro that they have still only released once, in case you were wondering.) Ok, enough wanking, let's get to it.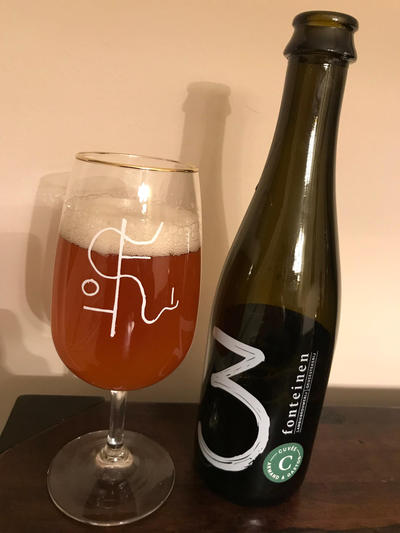 Brouwerij 3 Fonteinen Oude Geuze Cuvée Armand & Gaston (2017) – Pours a dark golden orange color with a couple fingers of fluffy, bubbly head. Smells fantastic, deep, earthy funk, oak, plenty of fruity esters. Taste hits the fruity ester notes more than the nose, but that earthy funk provides some good complexity in the background and the oak leavens things well. A well balanced sourness emerges in the middle and lasts through the finish. It's delicious. Mouthfeel is highly carbonated, crisp, and effervescent, medium bodied, with a moderate and well balanced acidity. Overall, this is one spectacular, well balanced, complex geuze. A
Beer Nerd Details: 5.3% ABV bottled (375 ml caged and corked). Drank out of a flute glass on 2/9/18. Bottling Date: 01/25/17. Best Before: 10/26/37. Blend n° 17 – Season 16-17.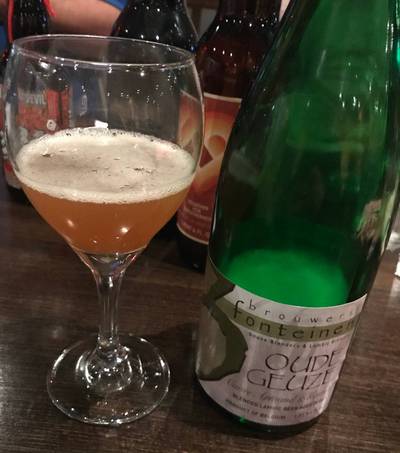 Brouwerij 3 Fonteinen Oude Geuze Cuvée Armand & Gaston (2015) – I hate the sport of basketball. However, I do make one exception, and that is Villanova basketball, which I have watched with some regularity since I graced that fine university, jeeze, over twenty years ago? Anyway, two years ago, Villanova won the NCAA championship and my friend and fellow VU alum Rich brought a BCBS Vanilla Rye to a share the night after we won. It was a spectacular beer; age had treated it very well and I'd go so far as to say it's one of the few beers I've had where age has actually improved the beer. Anyway, a few weeks ago, Villanova won their second NCAA championship in 3 years (and third overall), and Rich and I immediately started putting together a share where we'd dig out something great from our cellars. He brought a spectacular bottle of ADWTD, and I brought this beauty: the first vintage of Armand and Gaston. This consists of some of the first lambic brewed on their new system in 2013, and according to the bottle logs, it's the second 750 ml bottling (both in October of 2015), and there were approximately 3,800 bottles in this batch (there was an additional 375 ml bottling and a thusfar unreleased 1.5 l bottling that is aging in the 3F cellars).
Opening the bottle resulted in some mild gushing (cork basically popped out on its own), but fortunately, not too much of our precious juice was lost. And yes, my impression was that this was somehow even better than the 2017 vintage I just praised to high heaven above. Super funky, but it didn't quite veer into extra-pungent blue-cheese territory that is fascinating for sure, but not quite as nice as this. Earthy, fruity, tart but not overly acidic, highly carbed and effervescent, great balance,depth, and complexity, I could have easily rocked the entire bottle by myself, but I was glad I shared it with some friends who could appreciate its charms. Again, I didn't really take any notes, but it was great. I'll give it an A too, and this is definitely the sort of thing to seek out.
Beer Nerd Details: 6% ABV bottled (750 ml caged and corked). Drank out of a wine glass on 4/12/18. Bottling Date: 2015, October 20. Best Before: 2035, October 26th.
I love the Best Before date on the bottle. Not just 20 years, but 20 years and 6 days. A minute longer and it'll spoil. Anywho, both vintages were phenomenal. Seek this out. It may be pricey, but it's worth a stretch. But my priorities are way out of whack, so you do you.