Tilquin was the beer that made a believer out of me. Ever since that first fateful Tilquin Gueuze, my regard for lambic (and sours in general) has only increased. At the time, you could reliably find bottles of Tilquin out and about, but these days, they seem to have gone the way of Cantillon and 3 Fonteinen. You can still find them on occasion, but they don't normally sit on shelves for very long. Not bad for a Gueuzerie that only opened their doors in 2011.
Since the beginning, they had a fruited variant made with plums, but that offering didn't make its way to the US until a larger batch was produced in 2013, whereupon beer dorks like myself declared it a success. (Funny, at the time, I marveled that this stuff was still available on shelves…)
Now we have a second fruited variant, this time using German "Lock Ness" (aka Rubus fruticosus) blackberries (aka Mûre in French) and blending with small amounts of 2 and 3 year old lambic. I always knew I wanted Mûre Tilquin: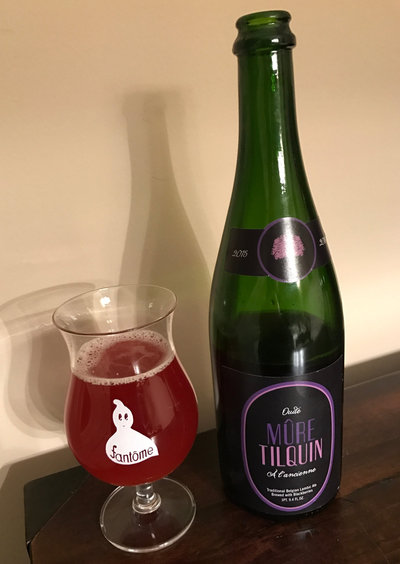 Oude Mûre Tilquin à L'ancienne – Pours an orange crimson color with half a finger of white head (maybe some pink tonez). Smells very funky, earthy, a little unidentifiable but tart fruit. Taste starts off sweet, hits some earthy funk notes in the middle, then moves into jammy tart fruit territory (not obviously blackberries, but something clearly there) with a sour kick. As it warms, it feels a bit richer and the oak comes out a bit more. Mouthfeel is light to medium bodied, well carbonated, moderate acidity. Overall, this is great, complex, jammy, stuff. A-
Beer Nerd Details: 6.4% ABV bottled (750 ml caged and corked). Drank out of a charente glass on 1/27/17. Best by: 05/01/2026.
Excellent stuff, as you would expect. Up next on the Tilquin front is a Pinot Noir variant that should be making its way to the US in 2017. Fingers crossed that Kaedrin's beer acquisition team stays on top of it.